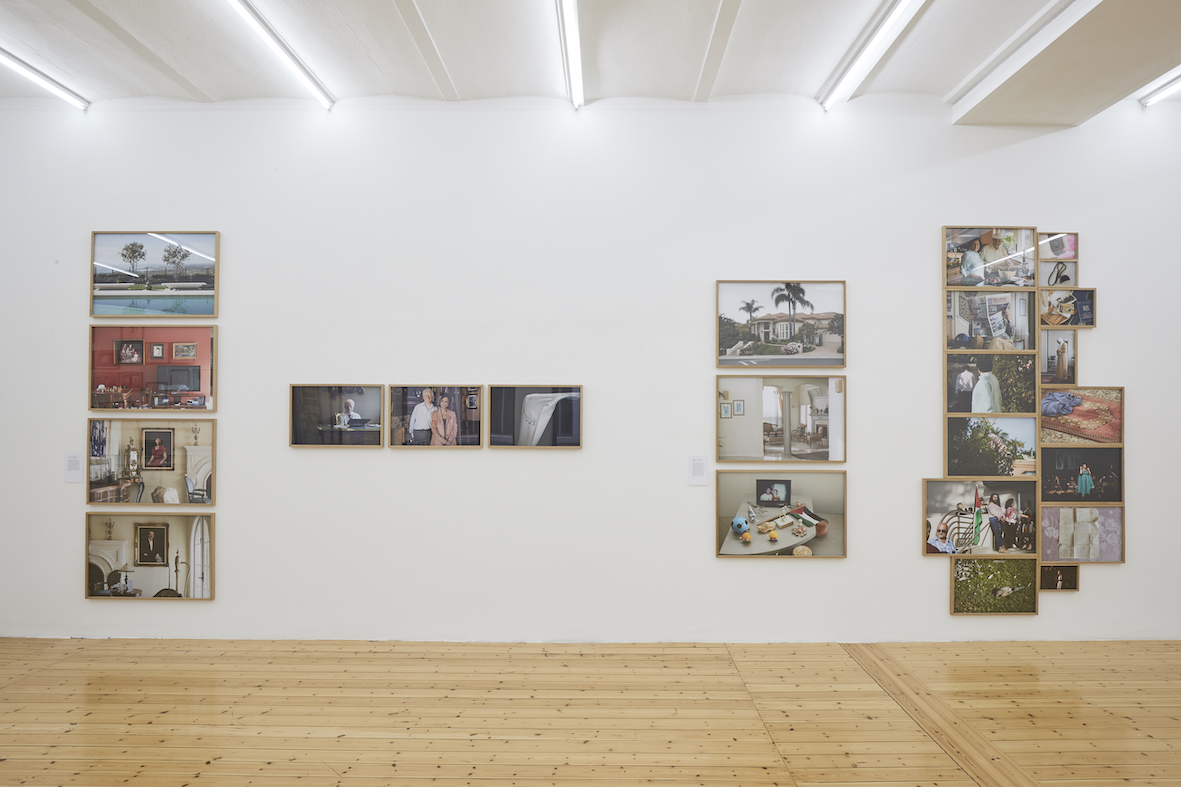 Sfeir-Semler Gallery Hamburg, 2019

Taysir Batniji (b.1966, Gaza, Palestine) lives and works between Paris and Palestine. He studied Fine Art at Al Najah University in Nablus, Palestine and at the School of Arts in Bourges, France.

In recent years he has held solo exhibitions at Les Rencontres Internationales de la Photographie, Arles (2018); Aperture Foundation, New York (2018); Contemporary Art Space André Malraux, Colmar (2016); Espace Culturel Robert de Lamanon, Colmar (2016); Cultural Center Salon de Provence, Marseille (2013); Musée d'Art et d'Histoire, Geneva (2007); and Witte de With Center for Contemporary Art, Rotterdam (2004).
His works were shown in the following group exhibitions: Boghossian Foundation, Brussels (2018); Mulhouse Art Center - Mulhouse (2017); Württembergischer Kunstverein Stuttgart (2017); Valencia Institute of Modern Art, Valencia (2016); and Center Pompidou (2014).
He participated in the Venice Biennale in 2011, 2009 and 2003. His works are part of prominent collections such as Center Georges Pompidou, Paris, Victoria & Albert Museum, London and Kunsthalle Wien, Vienna, among others.
 

Selected Solo Exhibitions

2023
Quadrillages et bifurcations, Pavillon Carré de Baudouin, Paris, France
2022
Home Away from Home, Bleu du Ciel, Lyon, France
No Condition is Permanent, Mathaf: Arab Museum of Modern Art, Doha, Qatar
2021
Taysir Batniji: Quelques bribes arrachées au vide qui se creuse, MAC VAL - Musée d'Art contemporain du Val-de-Marne, France
2020
Artist's Rooms: Taysir Batniji, Jameel Arts Centre, Dubai, UAE
2019
Sand Comes Through The Window, Mina Image Center, Beirut, Lebanon
Home Away from Home, Sfeir-Semler Gallery, Hamburg, Germany
2018
Home Away from Home, Les Rencontres de la Photographie, Arles, France
Home Away from Home, Aperture Foundation, New York, USA
2016
DIPLOPIA, Contemporary Art Space André Malraux, Colmar, France
2014
Memory is Evergreen, Sfeir-Semler Gallery, Beirut, Lebanon
2013
Taysir Batniji. Man does not live by bread alone, Cultural Center Salon de Provence, Marseille, France
2012
Troubles, Gallery BF15, Lyon, France
2010
Mobile Home, Sfeir-Semler Gallery, Hamburg, Germany
2009
Acting Memories, Syndicat Potentiel, Strasbourg, France
Fathers, CCF of Algiers, Algeria
2007
Fathers, Talmart Gallery, Paris, France
Background Noise, La Compagnie, Marseille, France
Fathers, Museum of Art and History, Geneva, Switzerland
2004
Transit, Witte from With Center for Contemporary Art, Rotterdam, Netherlands
2002
Impossible Journey, K & S Gallery, Berlin, Germany
2001
News / Breaking News, Arts and Crafts Village, Gaza


Selected Group Exhibitions

2023
About Sharing. Art on the (German-Polish) Border, The National Museum Poznan, Poland
Ce que la Palestine apporte au monde, Institut du Monde Arabe, Paris, France
2022
Grasping at Straws, The 5th Floor, Taitō City, Japan
Les Sentinelles | Œuvres de la collection du Cnap, Tourcoing, France
Jaou photo 2022, Tunis, Tunisia
Taysir Batniji, Kunsthalle Trier, Germany
12th Berlin Biennale, Berlin, Germany
2020
Global(e) Resistance, Centre Pompidou, Paris, France
2019
Mara'ina, King Abdulaziz Center for World Culture - Ithra, Saudi Arabia
hybrID, Kunsthaus Hamburg, Germany
14th Fellbach Triennial For Small Sculpture:40,000 – A Museum Of Curiosity, Fellbach, Germany
Enfermement, Musée d'art et d'histoire de Saint-Denis, France
Lignes de vies - une exposition de légendes, MAC VAL, Vitry-sur-Seine, France
2019
Mara'ina, King Abdulaziz Center for World Culture - Ithra, Saudi Arabia
hybrID, Kunsthaus Hamburg, Germany
14th Fellbach Triennial For Small Sculpture:40,000 – A Museum Of Curiosity, Fellbach, Germany
Enfermement, Musée d'art et d'histoire de Saint-Denis, France
Lignes de vies - une exposition de légendes, MAC VAL, Vitry-sur-Seine, France
2018
Living in the Mediterranean, Institut Valencià d'art Modern, Valencia, Spain
Beyond Borders, Boghossian Foundation, Villa Empain, Brussels, Belgium
2017
Titos Bunker, Württembergischer Kunstverein Stuttgart, Germany
A World Not Ours, La Kunsthalle Mulhouse - Center for Contemporary Art, France
Kunsten Festival Watou, Belgium
2016
Uprisings, Jeu de Paume, Paris
Between Myth and Fright. The Mediterranean as conflict, Valencia Institute of Modern Art, Valencia, Spain
Dream of another world, Centre D'Histoire, Lyon, France
Uncertain States, Akademie der Künste Berlin, Germany
2015
[7P] Fotofestival Mannheim - Ludwigshafen - Heidelberg, Mannheim, Germany
2014
A History. Art, Architecture, Design from the 1980s until today, Centre Pompidou, Paris, France
BNLMTL, L'avenir, Biennial of Montreal, Canada
Recreational Purpose, Bahrain National Museum, Manama, Bahrain
Les Horizons, La Criée Art Center, Rennes, France
Keep Your Eye on the Wall, Palestinian Landscapes, Contemporary Art Platform, Kuwait
Customs Made: Quotidian Practices and Everyday Rituals, Maraya Art Centre, Sharjah, UAE
Thanks for Writing, 601 Artspace, New York, USA
Arab Contemporary: Architecture, Culture and Identity, Louisiana Museum Of Modern Art, Denmark
A Guest Without A Host Is A Ghost, CIC, Cairo, Egypt
2013
The sea is my land. Artists from the Mediterranean, MAXXI, Rome, Italy
Summa Art Fair, Madrid, Spain
Here, Elsewhere, Friche La Belle De Mai, Tour-Panorama, Marseille, France
2012
Light from the Middle East, Victoria and Albert Museum, London, United Kingdom
Forays. Self-interest systems - mechanisms of looting, Fotohof Salzburg, Germany
Systems and Patterns, International of Graphic Arts, Ljubljana, Slovenia
When Attitudes Became Form Become Attitudes, CCA Wattis Institute for Contemporary Arts, San Francisco, USA
Newtopia: The state of human rights, Cultuurcentrum Mechelen, Belgium
Making History, Frankfurter Kunstverein, MMK Museum für Moderne Kunst, MMK Zollamt, Germany
State of Transit, Open Systems, Zentrum für Kunstprojekte, Vienna, Austria
2011
Seeing is Believing, KW Berlin, Germany
Istanbul Biennial 12, Istanbul, Turkey
The Future of a Promise, 54th Venice Biennial, Venice, Italy
2010
Biennial Cuvée, OK Center for Contemporary Art, Linz, Austria
2009
Taswir – Pictorial Mappings of Islam and Modernity, Martin-Gropius-Bau, Berlin, Germany
Jerusalem Show III: The Jerusalem Syndrome, Al-Ma'mal Foundation, Jerusalem
Palestine c / o Venice, 53rd Venice Biennale, La Giudecca, Venice, Italy
Palestine, La création dans tous ses états, Institut du Monde Arabe, Paris, France
Paris Photo, Paris, France
2008
Water: Misery and Delight, IFA gallery, Stuttgart, Germany
Minimum Security, The Bank, Paris, France
Our Realities, The Neighborhood, Contemporary Art Center of Quimper, France
2007
The 2nd Riwaq Biennial, Ramallah, Palestine
1st Thessaloniki Biennale of Contemporary Art, Greece
Still Life: Art, Ecology and the Politics of Change, Sharjah Biennial 8, Sharjah, UAE
2006
Coding: Decoding, Nikolaj, Copenhagen Contemporary Art Center, Denmark
New Territories, Belfry, Stadshallen, Bruges, Belgium
Middle East News, On Culture and Politics, HAU, Berlin, Germany
2005
KunstFilmBiennale, Sankt Peter Art Station, Cologne, Germany
2003
Dreams and Conflicts - The Viewer's Dictatorship, Utopia Station, 50th International Art Exhibition, La Biennale di Venezia, Venice, Italy
2002
A Need of Realism. Solitude in Ujazdowski, Center for Contemporary Art, Ujazdowski Castle, Warsaw, Poland


Awards

2012
Abraaj Capital Art Prize, Joint Winner


Public Collections

 
Foundation Louis Vuitton, Paris; Fondazione Goetz, Munich; Victoria and Albert Museum, London; Georges Pompidou Center, Paris; Neuflize Foundation, Paris; Villa Bernasconi, Lancy, FNAC (National Fund of Contemporary Art), Paris; Immigration Museum, Paris; "Ursula Blikle Video Archive", Kunsthalle Wien, University of Applied Arts, Vienna, AU and Ursula Blikle Foundation, Kraichtal; Fresnoy Media Library, Tourcoing Art Center, France; Multimedia library of Videochroniques, Friche de Belle de Mai, Marseille


Education

1997
DNSEP, Ecole Nationale des Beaux-Arts de Bourges, Bourges, France
1992
BA, Plastic Arts, Al-Najah University, Nablus, Palestine