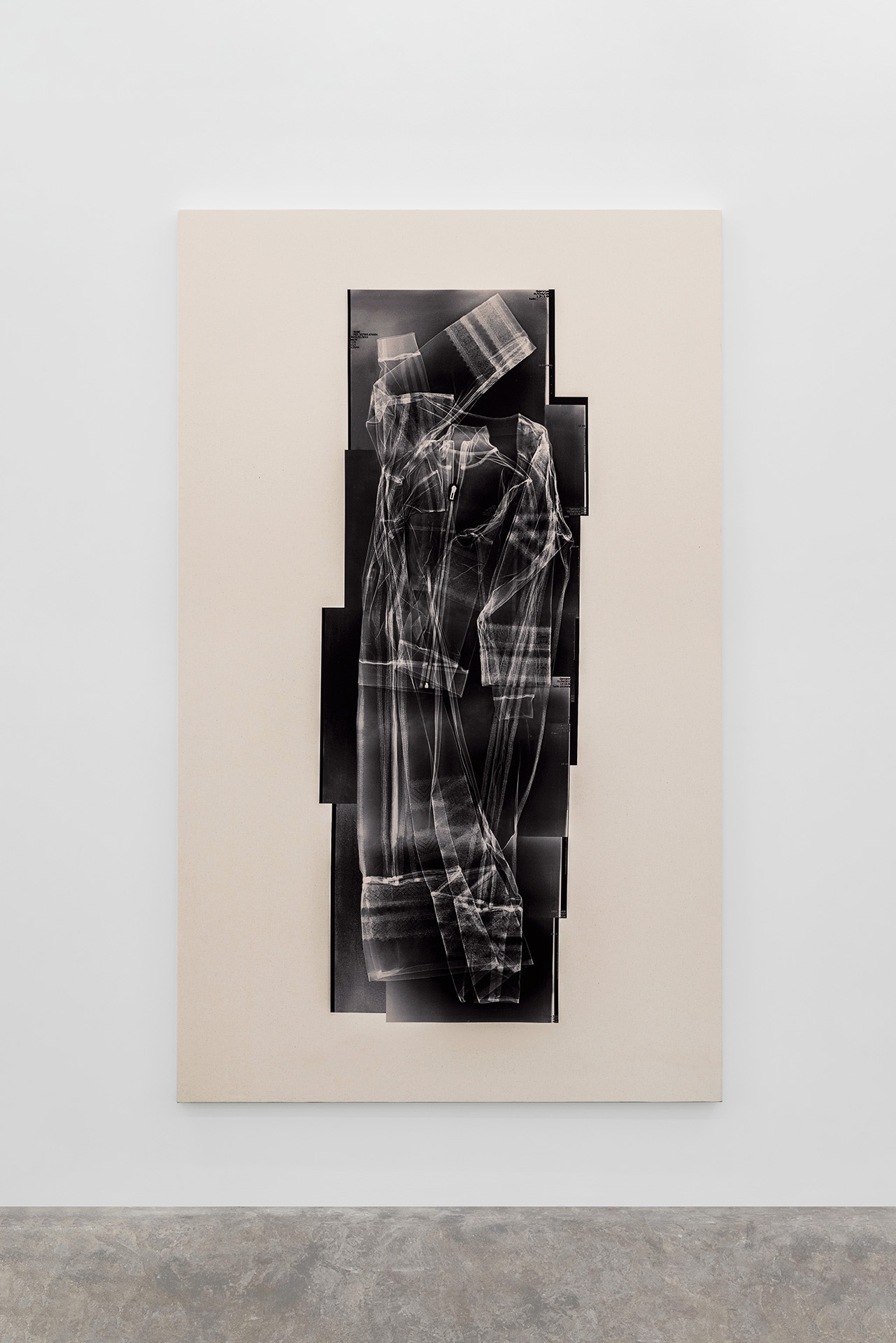 Tarik Kiswanson, Passing, 2022, inkjet on cotton, 245 x 150 cm

Tarik Kiswanson was born in 1986 in Halmstad, Sweden, where his parents exiled from the Middle East in the early 1980s. His work encompasses sculpture, writing, performance, drawing, sound and video works. Notions of rootlessness, regeneration, and renewal are central themes in his oeuvre. His practice reveals an engagement with the poetics of métissage: a means of writing and surviving between multiple conditions and contexts. His various bodies of work can be understood as a cosmology of related conceptual families, each exploring variations on themes like refraction, multiplication, disintegration, levitation, hybridity, and polyphony through their own distinct language.
Tarik Kiswanson received his MFA from École Nationale Supérieure des Beaux Arts de Paris (2014) and BFA from Central Saint Martins - University of the Arts London (2010). He presented his retrospective exhibition Mirrorbody at Carré d'Art – Musée d'Art Contemporain in 2021. Other recent exhibtions include Ural Biennial (2019), Performa Biennial (2019), Centre Pompidou (2018), Lafayette Anticipations (2018), Fondation Ricard (2018), Gwangju Biennial (2018) and MUDAM - Musée d'Art Moderne Grand-Duc Jean (2017). His upcoming solo exhibitions in 2022 and 2023 include Bonniers Konsthall in Stockholm, MHKA - Museum of Contemporary Art in Antwerp, Hallands Konstmuseum in Halmstad and Salzburger Kunstverein in Salzburg. He has several upcoming publications in 2022: a new monograph with a focus on his sculptures Nest published by Hallands Konstmuseum and Mousse Publishing, a new collection of poems entitled The Window published by JBE Books and M HKA, and an exhibiton catalogue published by Bonniers Konsthall.

Selected Solo Exhibitions

2023
Museo Tamayo, Mexico City, Mexico (forthcoming)
Salzburger Kunstverein, Salzburg, Austria (forthcoming)
Bonniers Konsthall, Stockholm, Sweden (forthcoming)
2022
Anamnesis, M HKA Museum of Contemporary Art, Antwerp, Belgium
Nest, Hallands Konstmuseum, Halmstad, Sweden
Nest, Sfeir-Semler Gallery, Beirut, Lebanon
Manifesto of Fragility, 16th Lyon Biennale of Contemporary Art, Lyon, France
2021
Mirrorbody, Carré d'Art - Museum of Contemporary Art, Nîmes, France
The Window, Murin-An Garden, Institut Français, Kyoto, Japan
2020
I, Atelier Calder, Calder Foundation, Saché, France
2019
AS DEEP AS I COULD REMEMBER, AS FAR AS I COULD SEE, PERFORMA Biennial 2019, New York, United States
Dust, Centre Pompidou, Paris, France
2018
Haytham, Porcino, Berlin, Germany
Come Of Age, Fondation d'entreprise Ricard, Paris, France
AS DEEP AS I COULD REMEMBER, AS FAR AS I COULD SEE, Lafayette Anticipations, Fondation Galeries Lafayette, Paris, France
Birth, Petit Palais, Paris, France
2017
ALL THE THINGS MY EYES DON'T SEE, Musée Gallo-romain de Saint-Romain-en-Gal, Biennale de Lyon Résonance, Lyon, France
2016
Ongoing Reflection, Collège des Bernardins, Paris, France


Selected Group Exhibitions

2023
Prix Marcel Duchamp, Centre Pompidou, Paris, France (forthcoming)
2021
Living in This Exquisite Corpse, Ambassade de France, Bern, Switzerland
HI-STORYTELLING, Sfeir-Semler Gallery, Hamburg, Germany
In The Open, The Common Guild, Glasgow, United Kingdom
2020
De leur temps, Collection Yvon Lambert, Avignon, France
2019
Tainted Love, Centre d'art Villa Arson, Nice, France
Foncteur d'Oubli, Le Plateau, FRAC Ile-de-France, Paris, France
Immortality, Ural Biennial of Contemporary Art, Yekaterinburg, Russia
What remains is what the poets found, PS120, Berlin, Germany
2017
Flatlands II, MUDAM - Musée d'art moderne Grand-Duc Jean, Luxembourg City, Lxembourg
Old Dream, Mains d'oeuvres, Paris, France
Modern Sculpture, Galeria Casado Santapau, Madrid, Spain
2016
Flatlands I, MRAC - Musée Régional d'Art Contemporain, Sérignan, France
De Leur Temps, IAC - Institut d'Art Contemporain, Villeurbanne/ Monograph Rhône-Alpes, France
Équilibre Instable, Musée des Beaux-Arts, Libourne, France
Le Cabaret Au Salon, Beffroi Montrouge, Montrouge, France
2015
Les Mains Libres, Espace 251 Nord, Liège, Belgium
Les Voyageurs, Palais des Beaux-Arts, Paris, France
L'Ange de l'Histoire, Archivement, Belvédère, Palais des Beaux-Arts, Paris, France


Monographs and Solo Exhibition Catalogues

2023
I (upcoming)
Bonniers Konsthall
2022
Nest
Hallands Konstmuseum, Mousse Publishing
Texts by Magnus Jensner and Sara Arrhenius
2021
Mirrorbody
Carré d'Art-Musée d'Art Contemporain, DISTANZ
Texts by Jean Marc Prévost, Annie Godfrey Larmon, Xiaoyu Weng, Ingrid Luquet-Gad


Poetry Books

2022
The Window
Collections of Poems by Tarik Kiswanson
MHKA - Museum of Contemporary Art Antwerp, JBE Book, Paris
2018
AS DEEP AS I COULD REMEMBER, AS FAR AS I COULD SEE
Collection of Poems by Tarik Kiswanson
Lafayette Anticipations, JBE Books


Artist Residencies

2020
Atelier Calder, Calder Foundation, Saché, France
2018
Denniston Hill, Monticello, New York, United States
2016
ISCP - International Studio and Curatorial Program, New York, United States
2015
Sèvres - Cité de la céramique, Sèvres, France
La Générale, Paris, France
2014
Triangle, Friche la Belle de mai, Marseille, France