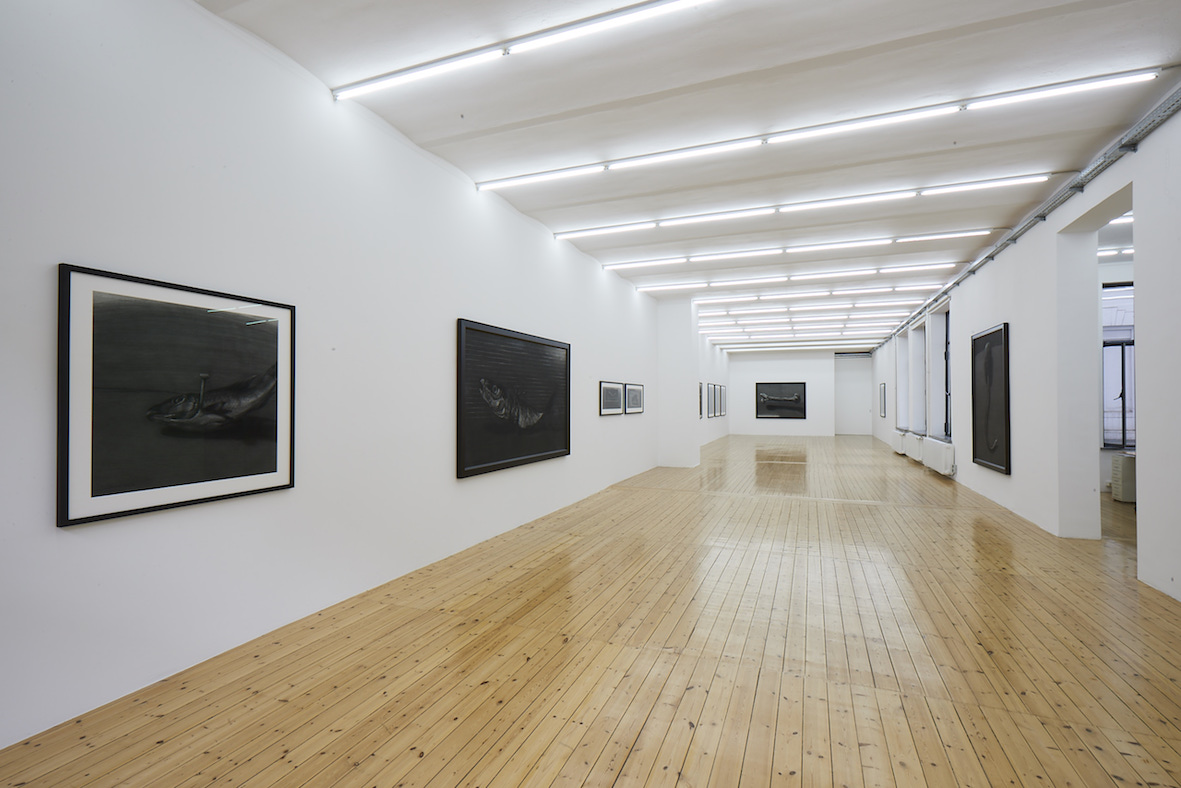 Sfeir-Semler Gallery Hamburg, 2018
Youssef Abdelké (b. 1951, Qamischli, Syria) lives and works in Damascus, Syria. He studied at the Faculty of Fine Arts in Damascus and graduated in 1976 with a project on Black September - portraying the massacres of Palestinians in Jordan in September 1970 - that revealed a militant artist who, ever since, relentlessly fights for freedom and denounces violence.
Known for his sympathies, and for his political activism, Abdelké was arrested for nearly two years in 1978, and then moved to Paris and graduated from the Ecole Nationale Supérieure des Beaux- Arts in 1986 and from the Sorbonne University as a doctoral student in Fine Arts in 1989. Unable to return home, he lived and worked in exile in Paris for twenty-four years. In 2005, he decided to travel back to Damascus, and managed to safely get through border security; but in 2010 his passport was confiscated, and he was arrested again for five weeks in 2013.
Youssef Abdelké's universe is black, and, despite the stillness of his drawings, overflowing with rage at injustice and abuse of power. His personal approach to perspective and his exploration of lines through drawing and etching reveals a multi-layered practice, that highlights the fragility of Men and unexpectedly celebrates human life.
 
Selected Solo Exhibitions

2018
Schawrtz, Sfeir-Semler Gallery, Hamburg, Germany
2014, 16
Galerie Tanit, Munich, Germany
2002, 12, 14
Galerie Claude Lemand, Paris, France
2006
Henki Hall, Helsinki, Finland
2005
Khan Asaad Pasha; organized by Atassi Gallery, Damascus, Syria
2004
Zamalek Art Center - Akhnatoun Gallery, Cairo, Egypt
Galerie Akhenaton, Cairo, Egypt
2003
6th Chamaliéres International Triennial for Etching, France
2001
Al-Riwaq Art Gallery, Manama, Bahrain
2000
Hall of Faculty of Law, Sfax, Tunisia
1999
Green Art Gallery, Dubai, UAE
1995, 98
Atassi Gallery, Damascus, Syria
1987
Ornarina Art Gallery, Damascus, Syria
1974
Al-Shaab Gallery, Damascus, Syria
1973
Al-Houriya Hall, Damascus, Syria


Selected Group Exhibitions

2015
Darat al Funun, Amman, Jordan
2011
Sharjah Biennial 10: Plot for a Biennial, Sharjah, UAE
2009
Paris, Damascus: Crossed Glances, National Museum of Damascus, Damascus, Syria
2008
Paris, Damascus: Crossed Glances, Institute du Monde Arabe, Paris, France
Word into Art: Artists of the Modern Middle East, British Museum, London, UK
2007
Salon d'Automne, Paris, France
2001
Sharjah International Biennial, Sharjah, UAE
8th International Cairo Biennial, Cairo, Egypt
1997
Cracovia International Biennial for Etching, Poland
Chamalières International Triennial for Etching, France
1995
7th International Etching Biennial Taiwan
1976
Inter-graphic Triennial, Berlin, Germany


Public Collections

 
The British Museum, London; Institut de Monde Arabe, Paris; The National Museum of Kuwait, Kuwait City; Amman Museum of Modern Art, Amman; Digne-Les-Bains Museum, Digne-les-Bains
 


Education

1989
PH.D. in Fine Arts, Sorbonne University, Paris, France
1986
Diploma in Etching, Ecole Nationale Supérieure des Beaux Arts Paris, France
1976
Faculty of Fine Arts Damascus, Syria