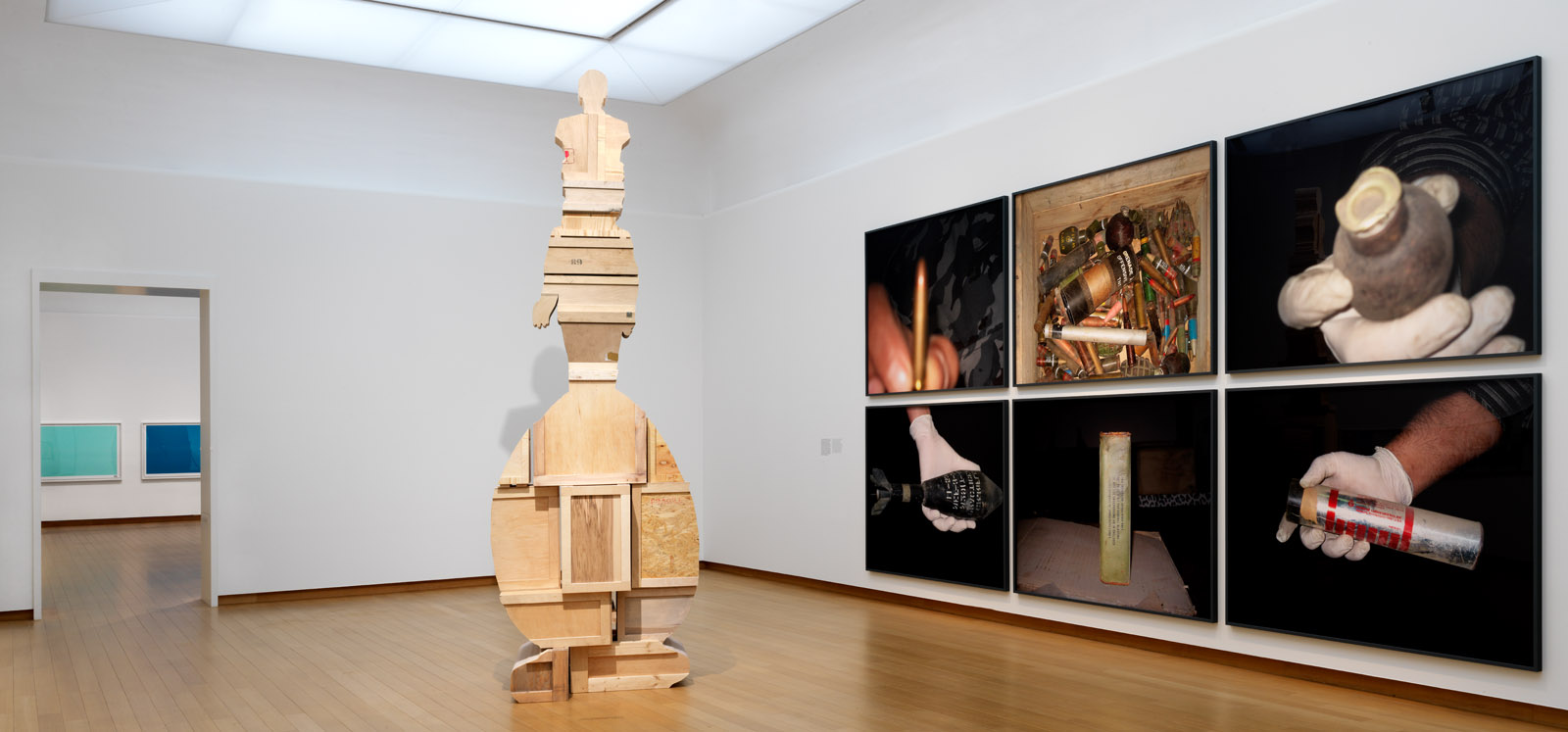 Stedelijk Museum Amsterdam, 2019 

Walid Raad (b. 1967, Lebanon) is an artist and a Professor of Art in (the still-charging-tuition) The Cooper Union (New York, USA).
Raad's works include The Atlas Group, a fifteen-year project between 1989 and 2004 about the contemporary history of Lebanon, and the ongoing projects Scratching on Things I Could Disavow and Sweet Talk: Commissions (Beirut). His books include Walkthrough, The Truth Will Be Known When The Last Witness Is Dead, My Neck Is Thinner Than A Hair, Let's Be Honest The Weather Helped, and Scratching on Things I Could Disavow.

Raad's solo exhibitions include the Louvre (Paris), The Museum of Modern Art (New York, USA), ICA (Boston, USA), Museo Jumex (Mexico City, Mexico), Kunsthalle Zurich (Zurich, Switzerland), The Whitechapel Art Gallery (London, UK), Festival d'Automne (Paris, France), Kunsten Festival des Arts (Brussels, Belgium), The Hamburger Bahnhof (Berlin, Germany). His works have also been shown in Documenta 11 and 13 (Kassel, Germany), The Venice Biennale (Venice, Italy), Whitney Bienniale 2000 and 2002 (New York, USA), Sao Paulo Bienale (Sao Paulo, Brazil), Istanbul Biennal (Istanbul, Turkey), Homeworks I and IV (Beirut, Lebanon) and numerous other museums, biennales and venues in Europe, the Middle East, Asia, and the Americas.
Raad is the recipient of the Aachener Kunstpreis (2018), ICP Infinity Award (2016), the Hasselblad Award (2011), a Guggenheim Fellowship (2009), the Alpert Award in Visual Arts (2007), the Deutsche Börse Photography Prize (2007), the Camera Austria Award (2005), a Rockefeller Fellowship (2003), among other grants, prizes and awards.
Raad is also represented by Sfeir-Semler Gallery (Hamburg / Beirut) and Paula Cooper Gallery (New York). His video works are also distributed by Video Data Bank (Chicago) as well as V-Tape (Toronto).
 
Selected Solo Exhibitions

2023
Cotton Under My Feet: The Hamburg Chapter, Kunsthalle Hamburg, Germany (forthcoming)
2022
We lived so well together, Kunsthalle Mainz, Germany
2021
Walid Raad.Cotton Under My Feet, Thyssen-Bornemisza Museo Nacional, Madrid, Spain
Walid Raad, Carré d'Art-Musée d'art contemporain, Chapelle des Jésuites, Nîmes, France
Walid Raad: We can make rain but no one came to ask, La Maison des Arts Brussels, Belgium
2020
Sweet Talks, Sfeir-Semler Gallery, Hamburg, Germany
Let's be honest, the weather helped, Moderna Museet, Stockholm, Sweden
2019
Let's be honest, the weather helped, Stedelijk Museum Amsterdam, Netherlands
2017
Yet Another Letter to the Reader, Fondazione Volume!, Rome, Italy
Better Be Watching the Clouds, Sfeir-Semler Gallery, Beirut, Lebanon
2016
Walid Raad, The Institute of Contemporary Art / Boston, USA
Walid Raad, Museo Jumex, Mexico City, Mexico
Letter to the Reader, The Paula Cooper Gallery, New York, USA
Those did are near. Those that are far., SITU Studio at Stomein Synagogue, Germany
Walid Raad: Section 39_Index XXXVII: Traboulsi, Asia Art Archive, Hong Kong
2015
Walid Raad, Museum of Modern Art, New York, USA
2014
Walid Raad: Preface, Carré d'Art-Musée d'art contemporain, Nîmes, France; Museo MADRE, Naples, Italy
Walid Raad: Postface, University Museum of Contemporary Art, Amherst, USA
Postface, Sfeir-Semler Gallery, Hamburg, Germany
31st Sao Paulo Biennial: How to Talk About Things That Don't Exist, Sao Paulo, Brazil
2013
Walid Raad. Preface to the First Edition, Louvre, Paris, France
Art Basel Unlimited, Basel, Switzerland
2012
Scratching on Things I Could Disavow, Sfeir-Semler Gallery, Beirut, Lebanon
2011
Walid Raad – 2011 Hasselblad Award Winner, Hasselblad Foundation, Hasselblad Center at the Gothenburg Museum of Art, Sweden
Scratching on Things I Could Disavow. A History of Art in the Arab World, Thyssen-Bornemisza Art Contemporary, Vienna, Austria
Walid Raad: Miraculous Beginnings, Bildmuseet, Umea, Sweden
Walid Raad: Miraculous Beginnings, Kunsthalle Zürich, Switzerland
2010
Miraculous Beginnings, Whitechapel Gallery, London, UK; Bildmuseet, Umea University, Sweden; Kunsthalle Zürich, Switzerland
SweetTalk: Comissions (Beirut), Camera, Austria
2009
Scratching on Things I Could Disavow: A History of Art in the Arab World, Sfeir-Semler Gallery, Hamburg, Germany
Scratching on Things I Could Disavow: A History of Art in the Arab World _ Part I _ Volume 1 _ Chapter 1: Beirut (1992-2005), Paula Cooper Gallery, New York, USA
The Atlas Group (1989-2004), Museo Nacional Centro de Arte Reina Sofia, Madrid, Spain
Scratching on Things I Could Disavow: A History of Art in the Arab World, Part 1_Volume 1_Chapter 1, (Beirut: 1992–2005),REDCAT, Los Angeles, USA
2008
A History of Modern and Contemporary Arab Art: Part I_Chapter 1: Beirut (1992-2005), Sfeir-Semler Gallery, Beirut, Lebanon
I might die before I get a rifle, Kunstverein Heidelberg, Germany
We Can Make Rain But No One Came To Ask, David Winton Bell Gallery, Brown University, Rhode Island, USA
2007
We Decided to Let Them Say "We are Convinced" Twice (It was More Convincing this Way), Paula Cooper Gallery, New York, USA
The Atlas Group (1989-2004): A Project by Walid Raad, Museo Tamayo Arte Contemporaneo, Mexico-City, Mexico
The Atlas Group (1989-2004: A Project by Walid Raad), Culturgest, Lisboa, Portugal
2006
Walid Raad, Sfeir-Semler Gallery, Hamburg, Germany
The Atlas Group (1989-2004): A Project by Walid Raad, Hamburger Bahnhof, Berlin, Germany
The Dead Weight of a Quarrel Hangs: Documents from The Atlas Group Archive, The Kitchen, New York, USA
We Can Make It Rain But No One Came To Ask: Documents from The Atlas Group Archive, Leonard & Bina Ellen Art Gallery, Concordia University, Montreal, Canada
We Decided to Let Them Say "We are Convinced" Twice (It was More Convincing this Way), Henry Art Gallery, University of Washington, Seattle, USA
2005
I Was Overcome With a Momentary Panic, Agnes Etherington Art Centre, Kingston, Ontario, Canada
Funny, How Thin The Line Is: Documents from The Atlas Group Archive, FACT, Liverpool, UK
2004
My Neck is Thinner Than a Hair: Engines, Sfeir-Semler Gallery, Hamburg, Germany
I was Overcome with a Momentary Panic, AGYU, York University, Toronto
The Truth Will Be Known, Prefix Institute, Toronto
The Truth Will Be Known, Krannert Art Museum, Illinois, USA
2003
The Truth Will Be Known, La Galerie, Noisy-le-Sec, France
The Truth Will Be Known, World Wide Video Festival, Amsterdam, Netherlands


Selected Group Exhibitions

2023
So it appears, Institute for Contemporary Art, Virginia Commonwealth University, Richmond, USA
TOP SECRET: Cine y Espionage, CAIXA Forum, Madrid, Spain
Moving Images in the Arab World, Art Explora Festival Photo Pavillon, Various stops across the Mediterranean region, Marseille, France (forthcoming)
2022
Think We Must – düsseldorf photo + Biennale for Visual and Sonic Media, Akademie-Galerie – Die Neue Sammlung, Düsseldorf, Germany
Based on a True Story. . ., Museum of Contemporary Art Chicago, United States
Give and Take. Bilder über Bilder. 8. Triennale der Photographie 2022 – Currency, Hamburger Kunsthalle, Germany
Homosphäre, Kunsthalle Mainz, Germany
Temporary Atlas: Mapping the Self in the Art of Today, MOSTYN, Wales, United Kingdom
Flowers Forever. Flowers in Art and Culture, Kunsthalle München, Munich, Germany
2021
Enjoy - die mumok Sammlung im Wandel, mumok, Wien, Austria
ARTIST'S LIBRARY: 1989-2021, MACRO Museum of Contemporary Art of Rome, Italy
2020
A sun yellow with anger, Sfeir-Semler Gallery, Hamburg, Germany
Faces: a Look at the Other, Carré d'Art, Nîmes, France
A Bottomless Silence, Wallach Art Gallery at Columbia University, New York, USA
2019
Home Is a Foreign Place, The Met Breuer, New York, USA
Time, Forward!, V-A-C Zattere, Dorsoduro, Venice, Italy
Konkrete Gegenwart, Haus Konstruktiv, Zurich, Switzerland
2018
Possibilites for a Non-Alienated Life, Kochi-Muziris Biennale, India
Camera Austria International. Laboratory for Photography and Theory, Camera Austria, Mönchsberg, Austria
Revolution Generations, Mathaf: Arab Museum of Modern Art, Doha, Qatar
SHINE ON ME. We and the sun, Deutsches Hygiene-Museum, Dresden, Germany
Truth is black, write over it with a mirage's light, Darat al Funun, Amman, Jordan
Acts of Translation, Mohammad and Mahera Abu Ghazaleh Foundation, Amman, Jordan
The Dictionary of Evil, Gangwon International Biennale, South Korea
Ausstellen des Ausstellens, Staatliche Kunsthalle Baden-Baden, Germany
Statues Also Die, Fondazione Museo delle Antichità Egizie di Torino, Italy
Mobile Worlds On the Migration of Things in Transcultural Societies Museum für Kunst und Gewerbe Hamburg, Germany
General Rehearsal: A Show in three acts from the collections of V-A-C, MMOMA and KADIST, Moscow Museum of Modern Art, Moscow, Russia
2017
Mario Merz Award Shortlist (with Suha Traboulsi), Fondazione Merz, Turin, Italy
What We Know that We Don't Know, Kadist, San Fransisco, USA
The Principe of Uncertainty, National Museum of Modern and Contemporary Art, Korea
Ways of Seeing, ARTER, Istanbul, Turkey
Home Beirut. Sounding the Neighbors, MAXXI Rome, Italy
Many Tongues: Art, Language, and Revolution in the Middle East and South Asia, Museum of Contemporary Art, Chicago, USA
The Truth of Uncertainty: Moving Image Works from the Hall Collection, Schloss Derneburg Museum, Derneburg, Germany
A Thousand Roaring Beasts: Display Devices for a Critical Modernity, Centro Andaluz de Arte Contemporaneo, Seville, Spain
Field Guide, Remai Modern Museum, Saskatoon, Canada
Hämatli & Patrice, MUSEION of Modern and Contemporary Art Bolzano, Bolzano, Italy
Manipulate the World, Moderna Museet, Stockholm, Sweden
2016
Nothing but blue skies, Les Rencontres de la Photographie, Arles, France
The Eighth Climate (What does art do?), 11th Gwangju Biennale, South Korea
Question the Wall Itself, Walker Arts Center, Minnesota, USA
Transcultural Flux, TrAP, Oslo, Norway
WITNESS, Kent Fine Art, New York, USA
The Sun Placed in the Abyss, Columbus Museum of Art, Columbus, Ohio, USA
Centennial Exhibition: The Arts Club of Chicago at 100, Arts Club of Chicago, Illinois, USA
Nothing but blue skies, Les Rencontres de la Photographie, Arles, France
Those that are near. Those that are far, with Situ Studio, Stommeln Synagogue, Pulheim, Germany
2015
An Imagined Museum Works from the Centre Pompidou, the Tate and the MMK, Tate Liverpool, Liverpool, UK; MMK Museum für Moderne Kunst Frankfurt am Main, Frankfurt, Germany; Centre Pompidou-Metz, Paris, France
Gallery 3010, Sfeir-Semler Gallery, Beirut, Lebanon
A Republic of Art – French Regional Collections of Contemporary Art, Van Abbemuseum, Endhoven, Netherlands
SALTWATER: A Theory of Thought Forms, 14th Istanbul Biennial, Turkey
Too Early, too late. Middle East and Modernity, Pinacoteca Nazionale, Bologna, Italy
How to (...) things that don't exist, Serralves Museu De Arte Contemporãnea, Porto, Portugal
Future Light: Escaping Transparency, MAK, Vienna, Austria
The Biography of Things, Australian Center for Contemporary Art, Melbourne, Australia
Conflict, Time, Photography, Staatliche Kunstsammlungen, Dresden, Germany
America is Hard to See, Whitney Museum of American Art, New York, USA
Dissolving Margins, Paula Cooper Gallery, New York, USA
Lest The Two Seas Meet, Museum of Modern Art in Warsaw, Warsaw, Poland
On Remote Control 1, Lothringer 13 Halle, Munich, Germany
2014
How to (...) things that don't exist, 31st São Paulo Biennial, Brazil
Where Are We Now?, Biennial 5, Morocco
Global Positioning Systems (GPS), Pérez Art Museum Miami, Florida, USA
Histories: Works from the Serralves Collection, Serralves Museum of Contemporary Art, Porto, Portugal
A Guest Without a Host is a Ghost, The Kadist Collection in Residency, Cairo, Egypt
La Disparition des Lucioles, Prison Sainte-Anne, Avignon, France
Blue TimesKunsthalle Vienna, Austria
2013
Art Basel: Art Unlimited, Basel, Switzerland
In progress - Works from the MUMOK Collection, MUMOK, Vienna, Austria
Home Works 6, Ashkal Alwan, Beirut, Lebanon
Awakening – Where Are We Standing? – Earth, Memory And Resurrection, Aichi Triennial 2013, Japan
A Different Kind of Order, The ICP Triennial, International Center of Photography, New York, USA
Reality Fiction, Villa Schöningen, Potsdam, Germany
2012
dOCUMENTA 13, Kassel, Germany
The Shaping of New Visions: Photography, Film, Photobook, Museum of Modern Art, New York, USA
Ray: Making History, MMK Frankfurt, Germany
Paula Cooper Gallery, New York, USA
springerin – Hefte für Gegenwartskunst, KUB Arena, Kunsthaus Bregenz, Austria
Abstract Possible: The Stockholm Synergies, Tensta Konsthall, Spanga, Sweden
2011
ATLAS. How to carry the world on one's back?, Museo Nacional Centro de Arte Reina Sofía in collaboration with Sammlung Falckenberg, Spain
The Uncanny Familiar. Images of Terror, C/O Berlin, Germany
WUNDER (miracles), Deichtorhallen Hamburg, Germany; Art Festival Krems, Austria
Wild Sky, Edith Russ House for Media Art, Oldenburg, Germany
10th Sharjah Biennial, UAE
The Luminous Interval: The D.Daskalopoulos, Guggenheim Bilbao, Spain Collection
Art Festival of the Arts / Hall of the Schaerbeck, Brussels, Belgium
2010
Festival d'Automne, Paris, France
Told | Untold | Retold, Mathaf: Arab Museum of Modern Art, Doha, Qatar
2009
Dream and Reality. Contemporary Art from the Near East, Zentrum Paul Klee, Bern, Switzerland
Taswir – Pictorial Mappings of Islam and Modernity, Berliner Festspiele, Germany
Darkside II: Photographic Power and Violence, Disease and Death Photographed, Fotomuseum Winterthur, Zurich, Switzerland


Selected Performances

2020
Kicking the Dead and/or Les Louvres, Moderna Museet, Stockholm, Sweden
2019
Les Louvres and/or Kicking the Dead, Stedelijk Museum Amsterdam, Netherlands
Les Louvres and/or Kicking the Dead, International Festival of Contemporary Theatre "Homo Novus", Riga, Latvia
Les Louvres and/or Kicking the Dead, HAU Hebbel am Ufer, Berlin, Germany
2018
Les Louvres and/or Kicking the Dead, Festival d'Automne à Paris, France
Les Louvres and/or Kicking the Dead, Theater Spektakel, Zurich, Switzerland
Les Louvres and/or Kicking the Dead, Fast Forward Festival 5, Onassis Cultural Center, Athens, Greece


Public Collections

 
Bristol Museum and Art Gallery, Bristol; Carré d'Art - Museum of Contemporary Art Nîmes, Nîmes; Centre National d´Art et de Culture Georges Pompidou, Paris; FNAC, Centre National des Arts Plastiques, Paris, France; FRAC Languedoc Roussillon, Montpellier, France; Glasgow Gallery of Modern Art, Glasgow; Guggenheim Museum, New York; Hamburger Bahnhof, Berlin; Hamburger Kunsthalle, Hamburg; Hirschhorn Museum, Washington DC; IFEMA, Madrid, Spain; Kunsthaus Zürich, Zurich; Kunstmuseum Stuttgart, Germany; Mathaf: Arab Museum of Modern Art, Doha; MUMOK, Museum Moderner Kunst, Vienna; Museion, Bolzano; Museo Reina Sofia, Madrid; Museum für Moderne Kunst, Frankfurt/Main; Museum of Contemporary Art, Athena, Greece; MOMA, Museum Of Modern Art, New York; San Francisco Museum of Modern Art, San Francisco, California; Serralves, Porto; Stedelijk Museum, Amsterdam; TATE Modern, London; The British Museum, London; The Metropolitan Museum of Art, New York; Walker Art Center, Minneapolis; Whitney Museum of American Art, New York

Awards

2018
Aachener Kunstpreis 2018
2016
Infinity Award: Art
2011
Hasselblad Award
2007
The Alpert Award in the Arts (First Prize)
Deutsche Börse Photography Prize (First Prize)
2004
Vera List Center Fellow, The New School
2002
Onion City Experimental Film and Video Festival (First Prize)
Vidarte 2002 Festival, Mexico City, Mexico (First Prize)
Oneiras Film and Video Festival, Lisboa, Portugal (First Prize)
Media Arts Awards, ZKM, Karlsrhue, Germany (Special Prize)
Black Maria Festival (Juror Citation Award)
2001
Video Ex, Zurich, Switzerland (First Prize)
Oberhausen Film and VideoFest, Germany (Rhineland Award)