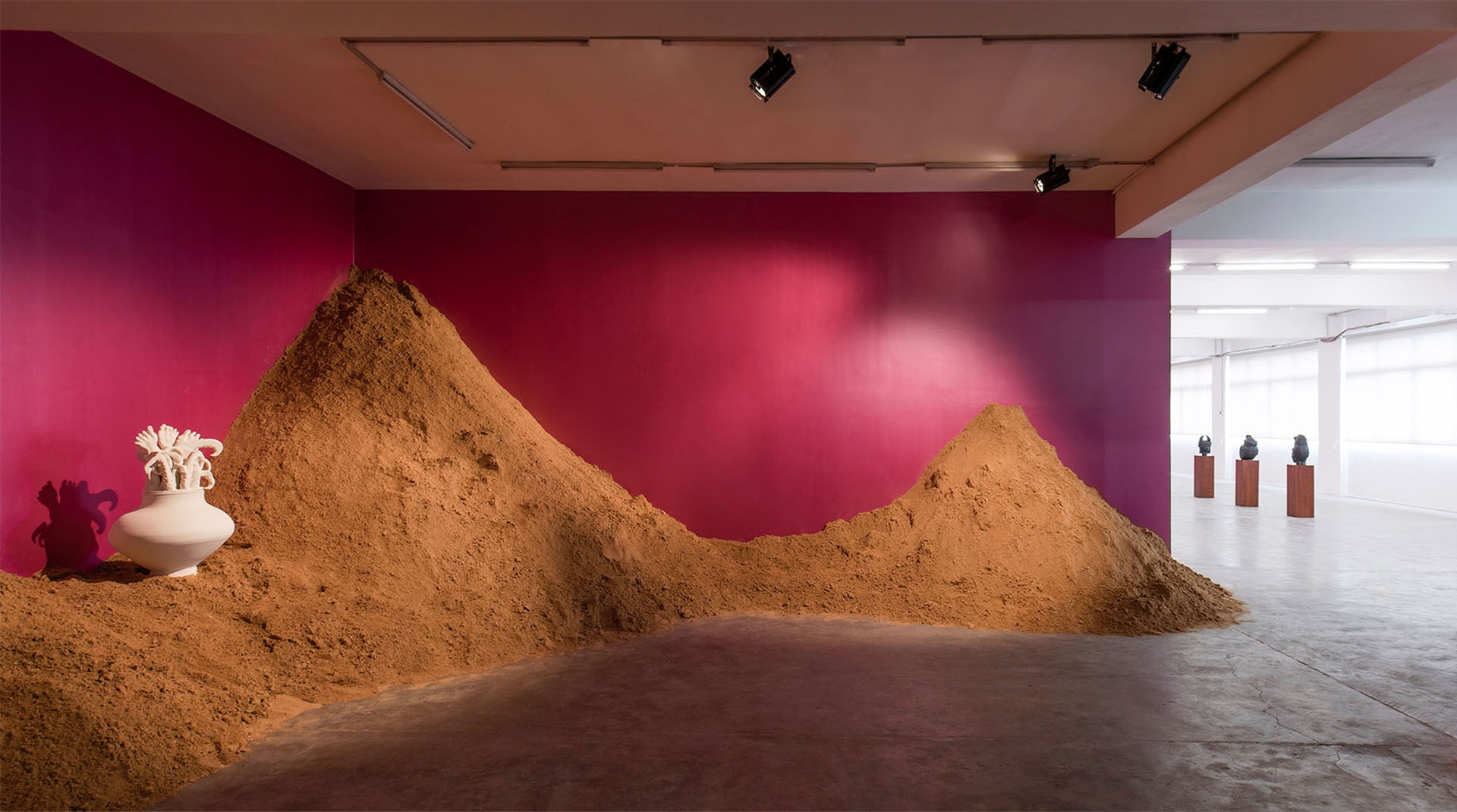 Sfeir-Semler Gallery Beirut, 2023
 
Wael Shawky (b. 1971 in Alexandria) lives and works in Alexandria, Egypt and Philadelphia, USA. In 2010, he founded MASS Alexandria, an independent nonprofit school for contemporary art, that offers spaces for art practices, interdisciplinary research, and critical thinking education. His work has been showcased at major international exhibitions such as  M Leuven Museum, Brussels, Belgium (2022); The Modern Art Museum of Fort Worth, Fort Worth, USA (2021); The Louvre Abu Dhabi, Abu Dhabi, UAE (2020); The Polygon, Vancouver, Canada (2020); ARoS, Aarhus Kunstmuseum, Aarhus, Denmark (2018); Sfeir-Semler Hamburg (2018); Museum of Contemporary Art (MOCA), Yinchaun, China (2017); Castello di Rivoli, Turin, Italy (2016); Fondazione Merz, Turin, Italy (2016); Kunsthaus Bregenz, Austria (2016); Fondazione Merz, Zurich, Switzerland (2016); MATHAF, Doha, Qatar (2015); MoMA P.S.1, New York, USA (2015); 15th Istanbul Biennale, Istanbul, Turkey (2015); Sfeir-Semler Beirut (2015); SALT, Istanbul (2014); K20 Düsseldorf, Germany (2014-15); Here & Elsewhere, The New Museum, New York, USA (2014); Serpentine Galleries, London, UK (2013-14); Re:emerge, Sharjah Biennial, Sharjah, UAE (2013); Documenta 13, Kassel, Germany (2012); KW Contemporary Art Institute, Berlin, Germany (2012); 9th Gwangju Biennial, South Korea (2012); Nottingham Contemporary, UK (2011); Walker Art Center, Minneapolis, USA (2011); and Sfeir-Semler Beirut (2010).
Shawky has received many awards for his work, including the Honorary Citizenship of the City of Palermo (2017); the Sharjah Biennial Award (2013); Award for the Filmic Oeuvre, created by Louis Vuitton; Kino der Kunst, Munich (2013); Abraaj Capital Art Prize, Dubai, joint winner (2012); Schering Stiftung Art Award, Berlin (2011); Grand Prize, 25th Alexandria Biennale (2009). In 2011, he was an Artist in Residence at The Center for Possible Studies, Serpentine Gallery, London.
 
Selected Solo Exhibitions

2023
I am Hymns of the New Temples, Sfeir-Semler Gallery Karantina, Beirut, Lebanon
I Am Hymns of the New Temples, Pompeii Archaeological Park, Pompeii, Italy
2022
Dry Culture Wet Culture, Museum Leuven, Belgium
2021
FOCUS: Wael Shawky, Modern Art Museum of Fort Worth, Texas, USA
2019
Al Araba Al Madfuna, The Polygon Gallery, Vancouver, Canada
2018
The Crusades and Current Stories, ARoS, Aarhus Kunstmuseum, Aarhus, Denmark
Wael Shawky, Lia Rumma Gallery, Naples, Italy
Al Araba Al Madfuna III, Galerie Sfeir-Semler, Hamburg, Germany
The Song of Roland: The Arabic Version, Sharjah Art Foundation, Sharjah, United Arab Emirates
The Song of Roland: The Arabic Version, The Theater an der Wien, The Opera House, Vienna, Austria
Al Araba Al Madfuna III, St. Elmo Exam Center, Valletta, Malta
2017
Al Araba Al Madfuna, Museum of Contemporary Art (MOCA), Yinchaun, China
The Song of Roland: The Arabic Version, Theatre de Welt, Kampnagel, Hamburg, Germany
The Song of Roland: The Arabic Version, Stadsschouwburg Amsterdam, Holland Festival, Amsterdam, Holland
The Song of Roland: The Arabic Version, Onasis cultural center, Athens, Greece
Focus on Wael Shawky, Onasis Cultural Center, Athens, Greece
Focus on Wael Shawky, National Museum of Contemporary Art, Athens, Greece
Cabaret Crusades: The Path to Cairo, Palazzo Branciforte, Palermo, Sicily
Al Araba Al Madfuna III, Saints Euno and Giuliano Church, Palermo, Sicily
Cabaret Crusades trilogy screening, Gene Siskel Film Center, Chicago, USA
2016
Cabaret Crusades, Castello di Rivoli, Turin, Italy
Al Araba Al Madfuna, Fondazione Merz, Turin, Italy
Wael Shawky, Kunsthaus Bregenz, Bregenz, Austria
Wael Shawky, Al Araba Al Madfuna III, Fondazione Merz, Zurich, Switzerland
Wael Shawky. Drawing, Lisson Gallery, Milan, Italy
2015
Cabaret Crusades, MoMA PS1, New York, USA
Crusades and Other Stories, MATHAF: Arab Museum of Modern Art, Doha, Qatar
Cabaret Crusades trilogy screenings, Palais Royal – Musée du Louvre, Paris, France
2014
Cabaret Crusades, K20 Museum: Kunstsammlung Nordrhein-Westfalen, Dusseldorf, Germany
Al Araba Al Madfuna II, Festwochen-Zentrum im Künstlerhaus, Vienna, Austria
Horsemen Adore Perfumes and Other Stories, Sharjah Art Foundation, Sharjah, United Arab Emirates
Dictums, Lisson Gallery, London, United Kingdom
2013
al-Qurban/The Offering, Serpentine Gallery, London, United Kingdom
Cabaret Crusades, Ludwig Forum, Aachen, Germany
Cabaret Crusades: The Horror Show File, The Hammer Museum, Los Angeles, CA, USA
Wael Shawky, Art Gallery of York University, Toronto, Canada
Cabaret Crusades: The Path to Cairo, Pinault Collection, Teatrino Palazzo Grassi, Venice, Italy
2012
Al Araba Al Madfuna, KW: Kunst-Werke Institute, Berlin, Germany
2011
Wael Shawky, Nottingham Contemporary, Nottingham, United Kingdom
Drawings and Flags from Cabaret Crusades, Walker Art Gallery, National Museums, Liverpool, UK
Larvae Channel, Delfina Foundation, London, UK
2010
Contemporary Myths, Cittadellarte – Fondazione Pistoletto, Biella, Italy
Contemporary Myths, Sfeir-Semler Gallery, Beirut, Lebanon
2009
Larvae Channel 2, Project Gentili, Berlin, Germany
Clean History, Townhouse Gallery, Cairo, Egypt
Wael Shawky, Darat al Funun, Amman, Jordan
2007
Then you will return to me and I will judge between you in the matters in which you used to dispute, Kunsthalle Winterthur, Winterthur, Switzerland
Digital Church, Collective Gallery, Edinburgh, United Kingdom
The Forty Days Road, Wet Culture – Dry Culture, Galeria Sztuki Wspolczesnej, Bunkier Sztukim, Krakow, Poland
Al Aqsa Park, YAMA, digital screen on top of Marmara Hotel, Istanbul, Turkey
Telematch Sadat/Telematch Market/Al Aqsa Park, Koninklijke Vlaamse Schouwburg, Brussels, Belgium
Telematch Sadat/Al Aqsa Park, Hebbel am Ufer 3, Berlin, Germany
Telematch Sadat, San Matteo Curch, Lucca, Italy
2006
Drawings 1998–2006, Townhouse Gallery, Cairo, Egypt
2005
The Green Land Circus, Factory Space, Townhouse Gallery, Cairo, Egypt
Wael Shawky, Ludwigsburg Kunstverein, Ludwigsburg, Germany
2003
Asphalt Quarter, Townhouse Gallery, Cairo, Egypt
2002
When he decided to visit the Christmas village, Townhouse Gallery, Cairo, Egypt
2001
Transitions, Ashkal Alwan, Beirut, Lebanon
Sidi El Asphalt's Moulid, Townhouse Gallery, Cairo, Egypt


Selected Group Exhibitions

2023
In the Heart of Another Country: The Diasporic Imagination Rises, Sharjah Art Foundation, Sharjah, UAE
Alexandria: Past Futures, MUCEM, Marseille, France
MACBA Collection. Prelude. Poetic Intention, MACBA, Barcelona, Spain
In The Heart of Another Country, Deichtorhallen Hamburg, Germany
2022
Cabaret Crusades: The Horror Show File, Tate Modern, London, United Kingdom
Alexandria: Past Futures, Bozar Centre for Fine Arts, Brussels, Belgium
2020
Fragmenter le monde / Our world is burning, Palais de Tokyo, Paris, France
Desert X AlUla, AlUla, Saudi Arabia
between the sun and the moon, Lahore Biennale 02, Pakistan
2019
Gohyang: Home, SeMA, Seoul Museum of Art, Seoul, South Korea
Look for Me All Around You, Sharjah Biennial 14, Sharjah Art Foundation, UAE
Heart of Darkness. Can Art Prevent Mistakes?, Officine Grandi Riparazioni of Turin in collaboration with Castello di Rivoli Museo d'Arte Contemporanea, Torino, Italy
2018
Crude, Jameel Arts Center, Dubai, UAE
Beyond Borders, Boghossian Foundation, Brussels, Belgium
The Dictionary of Evil, Gangwon International Biennale, South Korea
March Meeting, Sharjah Art Foundation, Sharjah, United Arab Emirates
General Rehearsal, MMOMA: Moscow Museum of Modern Art, Moscow, Russia
Wiener Festwochen, The Theater an der Wien, The Opera House, Vienna, Austria
Valletta 2018, St. Elmo Exam Center, Valletta, Malta
2017
Islands, Constellations, and Galapagos, Yokohama Triennial, Yokohama, Japan
Everything at Once, Vinyl Factory & Lisson Gallery, The Store, London, United Kingdom
Punte Brillanti Di Lance Festival, Fondazione Merz, Turin, Italy
MOMENTUM 9 - The Nordic Biennial of Contemporary Art, Moss, Norway
Theater der Welt Festival, Hamburg, Germany
Imaginary Asia, Nam June Paik Art Center, Yongin-si, South Korea
Holland Festival, Amsterdam, Holland
Theaterspektakel Zürich, Zurich, Switzerland
Dream City Tunis Biennial – 6th Edition, Tunis, Tunisia
BAM – Archipelago Mediterranean Biennial Palermo, Sicily, Italy
2016
OUTSIDE THE SENTENCE - THERE WHAT IS A CITY, SALT, Istanbul, Turkey
Reconstruction of Story II, National Museum of Modern and Contemporary Art, Seoul, Korea
Kunstenfestivaldesarts, Bruxelles, Belgium
The Migrant (Moving) Image, Tale of a Tub, Vanity Projects, New York & Miami, USA
Performer/Audience/Mirror, Lisson Gallery, London, United Kingdom
PLATO video 07 – War: Marine Hugonniere, Wael Shawky, Clemens von Wedemeyer,PLATO, Ostrava, Czech Republic
The Time is Out of Joint, Sharjah Art Foundation, Sharjah, United Arab Emirates
2015
Une Brève Histoire de L' A venir, Musée du Louvre, Paris, France
Cinema of Art 2015, Munich, Germany
Saltwater, 14th Istanbul Biennial, Istanbul, Turkey
Mario Merz Prize, Fondazione Merz, Turin, Italy
Too early, too late: Middle East and Modernity, Pinacoteca Nazionale di Bologna, Bologna, Italy
Cross Section of a Revolution, Lisson Gallery, London, United Kingdom
2014
Manifesta 10, The State Hermitage Museum, Saint Petersburg, Russia
You Imagine What You Desire, 19th Biennale of Sydney, Sydney, Australia
Fotofest 2014, Houston, TX, USA
Now Babylon, Louisiana Museum of Modern Art, Humlebæk, Denmark
11th Dak'Art Biennale, Dakar, Senegal
The Anthropology Effect, MAP Centre for Contemporary Art, Glasgow, United Kingdom
Here and Elsewhere, New Museum, New York, USA
Neighbors: Contemporary Narratives from Turkey and Beyond, Istanbul Modern Museum, Istanbul, Turkey
2013
A History of Inspiration, Palais de Tokyo, Paris, France
In the Heart of the Country, Museum of Modern Art, Warsaw, Poland
Dreams of Reason: Highlights of the Sandretto Re Rebaudengo Collection, Centre of Contemporary Art in Torun, Torun, Poland
Re:emerge, 11th Sharjah Biennial, Sharjah, United Arab Emirates
Moment – Frontlines, Moderna Museet Stockholm, Stockholm, Sweden
Les choses du cote du monde, Musée des civilisations de l'Europe et de la Méditerranée, Marseille, France
The Translation, Cabaret Voltaire, Zurich, Switzerland
Equator #2, Jogja Biennale XII, Yogyakarta, Indonesia
Cinema of Art 2013, Munich, Germany
2013
A History of Inspiration, Palais de Tokyo, Paris, France
In the Heart of the Country, Museum of Modern Art, Warsaw, Poland
Dreams of Reason: Highlights of the Sandretto Re Rebaudengo Collection,Centre of Contemporary Art in Torun, Torun, Poland
Re:emerge, 11th Sharjah Biennial, Sharjah, United Arab Emirates
Moment – Frontlines, Moderna Museet Stockholm, Stockholm, Sweden
Les choses du cote du monde, Musée des civilisations de l'Europe et de la Méditerranée, Marseille, France
The Translation, Cabaret Voltaire, Zurich, Switzerland
Equator #2, Jogja Biennale XII, Yogyakarta, Indonesia
Cinema of Art 2013, Munich, Germany
2012
dOCUMENTA (13), Kassel, Germany
dOCUMENTA (13), Kabul, Afghanistan
Mirages d'Orient: Grenades et Figures de Barbaries, Collection Lambert, Avignon, France
Kunstenfestivaldesarts, Bruxelles, Belgium
Asia Pacific Triennial of Contemporary Art 7th, Queensland Art Gallery, Brisbane, Australia
Home Works 6, Ashkal Alwan, Beirut, Lebanon
5th Bucharest Biennial, Bucharest, Romania
On the Edgware Road, Serpentine Gallery, London, United Kingdom
9th Gwangju Biennale, Gwangju, South Korea
2011
12th Istanbul Biennial, Istanbul, Turkey
Serious Games: Krieg, Medien Kunst, Mathildenhöhe Darmstadt Museum, Darmstadt, Germany
The Accord, Museum as Hub, New Museum, New York, USA
Kunstenfestivaldesarts, Bruxelles, Belgium
EVENTO 2011. Bordeaux's urban and artistic rendezvous, Bordeaux, France
Miragens, Institute Tomie Ohtake/Centro Cultural Banco do Brasil, São Paulo, Brazil
2010
Lo Spazio del Sacro, Galleria Civica di Modena, Modena, Italy
Home Works 5, Ashkal Alwan, Beirut, Lebanon
The Image in Question. War – Media – Art, Carpenter Center for Visual Arts, Cambridge, USA
Breaking News: Contemporary Photography from the Middle East and Africa,Ex Ospedale Sant'Agostino, Modena, Italy
Localities: My World Images Festival, Museet for Samtigskunst, Roskilde, Sweden
Beyond Credit: Contemporary Art and Mutual Trust, Sanat Limani Istanbul, Istanbul, Turkey
What's Happening Now?, Casa Arabe Madrid, Madrid, Spain
2009
The Columns Held Us Up, Artists Space, New York, NY, USA
A Proposal For Articulating Works and Places, 3rd Marrakech Biennale, Marrakech, Morocco
25th Alexandria Biennale, Alexandria, Egypt
Tarjama, Queens Museum of Art, New York, NY, USA
Socially Disorganised, Lion Arts Centre, Adelaide, Australia
2008
SITE, Santa Fe 7th International Biennial, Santa Fe, NM, USA
Medium Religion, Zentrum für Kunst und Medientechnologie Karsruhe, Karlsruhe, Germany
Scènes du Sud, Carré d'Art, Musée d'art contemporain de Nîmes, Nîmes, France
2007
Gestures of Infinity, Minotoren Kultur, Graz, Austria
Gegenwart aus Jahrtaüsenden: Zeitgenössische Kunst aus Ägypten, Kunstmuseum Bonn, Bonn, Germany
Out of Place, Sfeir-Semler Gallery, Beirut, Lebanon
Contemporary Art Platform, London, United Kingdom
Talks and video screenings, Tate Modern, London, United Kingdom
Petriolina, Moscow Museum of Modern Art, collateral event of the 2nd Moscow Biennale, Moscow, Russia
2006
Fremd bin ich eingezogen, Kunsthalle Fridericianum, Kassel, Germany
AYOR: No Man's Land, Hellenic American Union, Athens, Greece
Choosing My Religion, Kunstmuseum Thun, Thun, Switzerland
47th October Art Salon, Belgrade Cultural Center, Belgrade, Serbia
Coding: Decoding, Kunsthallen Nikolaj, Copenhagen, Denmark
6th Visual Arts Festival, Kodra Field, Thessaloniki, Greece
Outside the Living Room, Gb Agency, Paris, France
2005
9th Istanbul Biennial, Istanbul, Turkey
Adam, Smart Project Space, Amsterdam, Netherlands
Urbane Realitäten: Focus Istanbul, Martin-Gropius-Bau, Berlin, Germany
Normalization, Platform Granti Contemporary Art Center, Istanbul, Turkey
PhotoCairo 3, Townhouse Gallery, Cairo, Egypt
2004
Mediterraneans, MACRO Museo d'Arte Contemporanea di Roma, Rome, Italy
Meeting Points, Makan House, Amman, Jordan
4th Journées de la Photographie, Centre Culturel Francais de Damas, Damascus, Syria
2003
50th Venice Biennale, Venice, Italy
Les Laboratoires d'Aubervilliers, Aubervilliers, France
24/7: Wilno – Nueva York (visa para), CAC: Contemporary Art Centre, Vilnius, Lithuania
Video Invitational, FA Projects, London, United Kingdom
International Experimental Film Festival, Goethe Institute, Alexandria/Cairo, Egypt
Body and the Archive, Artists Space, New York, NY, USA
2002
Close-Up: An Artistic Collaborative Workshop and Exhibition, Townhouse Gallery, Cairo, Egypt
2001
Rita Longa International Art Symposium, Codema, Bayamo, Cuba
Al Nitaq 2nd Festival of Visual Arts, Townhouse Gallery of Contemporary Art, Cairo
2000
Meyrson Hall Gallery, Philadelphia, USA
Al Nitaq 1st Festival of Visual Arts, Tala't Harb Square, Cairo, Egypt
1997
Contemporary Egyptian Art, Kunsthistorisches Museum, Vienna, Austria
1996
6th Cairo Biennale, Museum of Modern Art, Cairo, Egypt
1995
Al-Hanagar Gallery, Opera House Complex, Cairo, Egypt
1994
6th Salon of Youth Akhenaten Centre of Arts, Cairo, Egypt


Awards & Grants

2017
The Honorary Citizenship of the City of Palermo, Italy
2015
Mario Merz Prize, Turino, Italy
2013
Louis Vuitton and Kino der Kunst Award for Filmic Oeuvre, Munich, Germany
Prize of Sharjah Biennale 11th, for dictums 10:120, Performance , Sharjah, UAE
2012
Abraaj Capital Art Prize, Dubai, UAE
2011
Kunstpreis der Schering Stiftung, Kunst-Werke Institute, Berlin, Germany
Artist-in-Residence, Center for Possible Studies, Serpentine Gallery, London, United Kingdom
2009
Grand Prize, 25th Alexandria Biennale, Alexandria, Cairo
2007
Ford Foundation Grant, Cairo, Egypt
2005
International Commissioning Grant, Lower Manhattan Cultural Council, New York, USA
2004
International Award of the Islamic World Arts Initiative, Arts International, New York, USA
American Center Foundation Grant, Philadelphia, USA
2001
Honorary Award, Rita Longa International, Codema, Bayamo, Cuba
2000
Piero Dorazio Award, University of Pennsylvania, Philadelphia, USA
1996
Grand Nile Prize, International Cairo Biennial 6th, Cairo, Egypt
1994
Grand Akhenaten Prize, Salon of Youth 6th, Akhenaten Centre of Arts, Cairo, Egypt


Works in Public Collections:

 
Museum of Modern Art, New York, USA; Tate Modern, London, United Kingdom; Mathaf: Arab Museum of Modern Art, Doha, Qatar; K20 Kunstsammlung Nordrhein-Westfalen, Düsseldorf, Germany; MACBA: Museu d'Art Contemporani de Barcelona, Barcelona, Spain; National Gallery of Canada, Ottawa, Canada; Guggenheim Abu Dhabi, Abu Dhabi, UAE; APT Dubai, Dubai, UAE; Sharjah Art Foundation, Sharjah, UAE; Serpentine Gallery, London, United Kingdom; Darat Al Funun, Amman, Jordan; MACRO: Museo d'Arte Contemporanea Rome, Italy; Mart Museum Collection, Trento, Italy; Muzeum Sztuki Nowoczesnej w Warssawie: Museum of Modern Art, Warsaw, Poland; MUDAM: Musée d'Art Moderne Grand-Duc Jean, Luxembourg; Margulies Collection, Miami, USA; Inhotim, Belo Horizonte, Brazil; François Pinault Foundation, Venice, Italy; Fondazione Sandretto Re Rebaudengo, Torino, Italy

Education

2017
Honorary Doctorate (Doctor of Humane Letters, honoris causa), The Graduate Center, City University of New York, USA
2001
MFA, Graduate School of Fine Arts, University of Pennsylvania, Philadelphia, USA
1994
BFA, Faculty of Fine Arts, University of Alexandria, Alexandria, Egypt