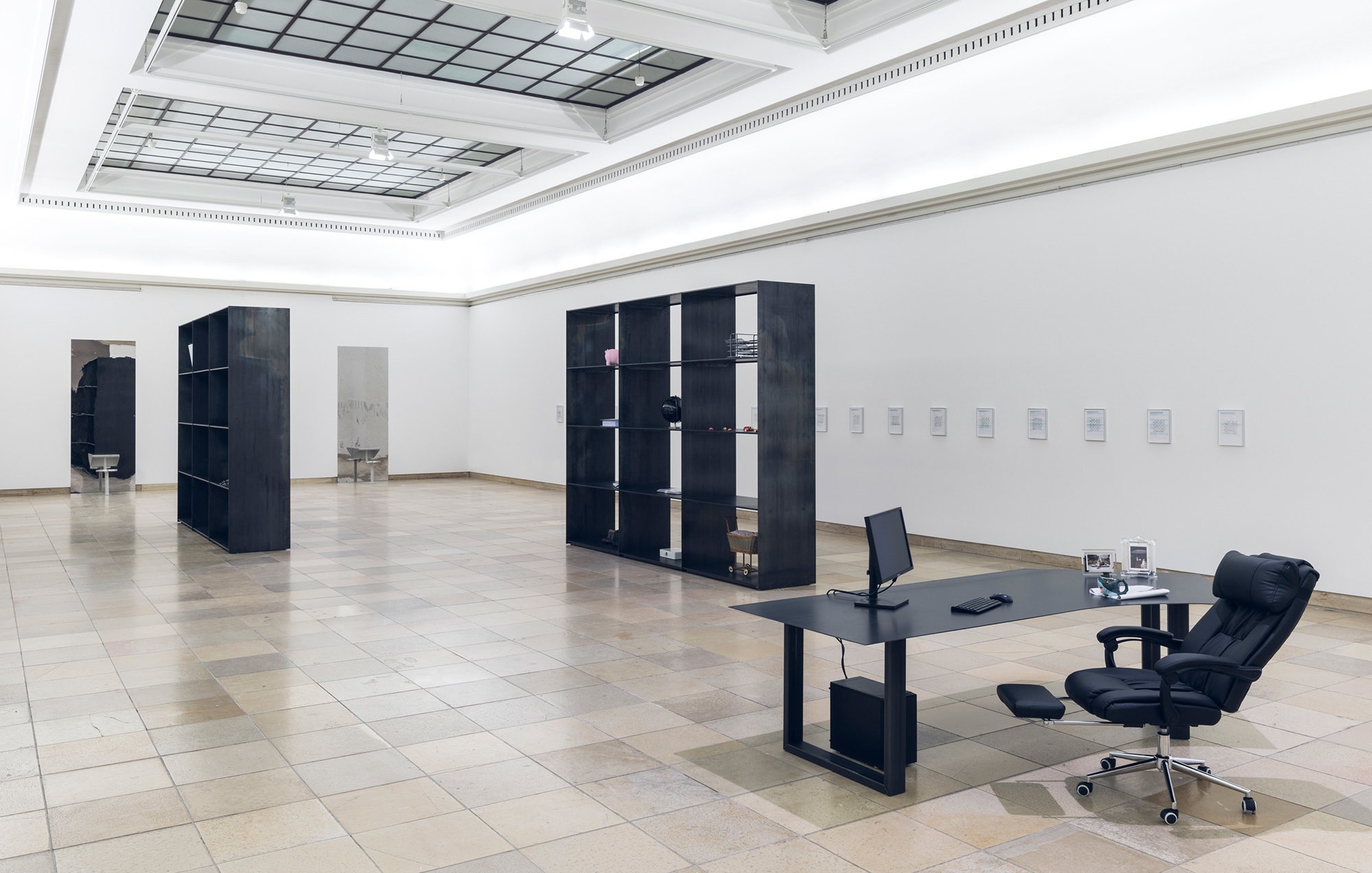 Installation view, Zugzwang, Haus der Kunst, Munich, 2020
Sung Tieu's work contends with historiography and analyses the transnational movements of both people and objects. Her practice explores the vast and evolving protection and control industries, still rooted in the logic of the Cold War, used to restrict and mould subjects in subsequently globalized capitalism. Informed by her own experience of cultural collision and displacement, her work critically investigates the art-historical legacies of late Modernism.
Using diverse artistic mediums ranging from installation, sound, video, text, sculpture, photography, performance to public interventions, her practice navigates the diasporic experiences of temporal slippage and spatial uncertainty. Within her exhibitions, a sense of dislocation is evoked through a combination of sonic, visual, and textual elements; at the same time, her extensive research on sonic weaponry and sound as medium accentuates the work, demystifying and highlighting their material mechanics. Although based in research, her exhibitions deliberately resist any singular discursive rendering, and instead give rise to layered narrative readings.
Since 2016, Tieu has been engaged in a critical examination of psychological and bureaucratic warfare — their histories and effects—to uncover the socio-political and ideological mechanisms undergirding geo-political agendas. This interest resulted in video and sound installations such as In Cold Print (2020), Song for Unattended Items (2018) and Remote Viewing (2017). In these works, Tieu proposes that the legacy of a Cold War threat continues to propagate—that there is a persistent state of mitigated catastrophe dispersed within and contaminating our everyday realities, the alleviation of which is premised on differentiating signal from noise and the benign from the malignant. In installations such as Zugzwang (2020) and What is your |x|? (2020), and her series Newspapers 1969 - ongoing (2017 - ongoing), Tieu examines the culture of information and its institutionalised dynamics of transmission in our societies—whether through newspaper columns or astrological interpretations.
Apart from her solo practice, Tieu is part of several art collectives, engaging in collaborative, non-autonomous production; among them are TROI OI, East London Cable and Asia Art Activism.

Selected Solo Exhibitions

2023
One Thousand Times, Kunst Museum Winterthur, Switzerland
Infra-Specter, Amant, New York, USA
Civic Floor, MIT List Visual Arts Center, Cambridge, USA
No Jobs, No Country, n.b.k. Berlin, Berlin, Germany
2022
Civic floor, MUDAM, Luxembourg City, Luxembourg
Everything or Nothing, Sfeir-Semler Gallery, Hamburg, Germany
2021
AUSGEZEICHNET #5 Sung Tieu – Fall, Kunstmuseum Bonn, Bonn, Germany
Multiboy, Stiftung Galerie für Zeitgenössische Kunst Leipzig, Leipzig, Germany
TBC, Stedelijk Commission Amsterdam, Netherlands
2020
What is your |x|?, Emalin, London, United Kingdom
In Cold Print, Nottingham Contemporary, Nottingham, United Kingdom
Zugzwang, Haus der Kunst, Munich, Germany
2019
Park Piece, Fragile, Berlin, Germany
Formative Years on Dearth, Parrhesiades, The Yard & Flat Time House, London, United Kingdom
Loveless, Piper Keys, London, United Kingdom
2018
Song for Unattended Items, Royal Academy of Arts, London, United Kingdom
2017
Remote Viewing, Nha San Collective, Hanoi, Vietnam
Coral Sea as Rolling Thunder, Art Basel Statements, Basel, Switzerland
Memory Dispute, Sfeir-Semler Gallery, Hamburg, Germany
2015
Emotion Refuge, Micky Schubert, Berlin, Germany
Alien Refuge, FIAC Art Fair, Paris, France
Subnational Enterprise, Dong Xuan Center & Kinderhook & Caracas, Berlin, Germany
2014
TROI OI, in various Vietnamese flower shops in Berlin's subway stations, Berlin, Germany


Selected Group Exhibitions

2023
Guest Relations, Jameel Arts Center, Dubai, UAE
The Assault of the Present on the Rest of Time, Schinkel Pavillon, Berlin, Germany
Assembly. Interventions in Public Space, Portikus, Frankfurt, Germany
Systemic Love, Capc - Musée d'art contemporain de Bordeaux, France
Cry Me A River, Simian, Copenhagen, Denmark
2021
Preis der Nationalgalerie, Hamburger Bahnhof - Museum für Gegenwart, Berlin, Germany
Endless Garment 2, X Museum, Beijing, Peoples Republic of China
TBC, Taipei Fine Arts Museum, Taipei, Taiwan
TBC, Kunstverein Hannover, Hannover, Germany
Though It's Dark, I Still Sing, curated by Jacopo Crivelli Visconti, 34th Bienal de São Paulo, São Paulo, Brazil
INFORMATION (Today), Kunsthalle Basel, Basel, Switzerland
HI-STORYTELLING, Sfeir-Semler Gallery, Hamburg, Germany
TBC, Antenna Space, Shanghai, Peoples Republic of China
For Refusal, Transmediale, Berlin, Germany
Politics of the Signifier, Deborah Schamoni, Munich, Germany
2020
Listening: Resonant Worlds, Arts Maebashi, Japan
Storytelling, Sfeir-Semler Gallery, Hamburg, Germany
Ars Viva 2021, Museum Angewandte Kunst, Frankfurt, Germany
In the Forest, Even the Air Breathes, GAMeC Museum, Bergamo, Italy
Paranoia TV, steirischer herbst '20, Kleine Zeitung, Graz and Klagenfurt, Austria
Magical Soup, Hamburger Bahnhof, Museum for Gegenwart, Berlin, Germany
Touch, Peles Empire, Berlin, Germany
Recession Grimace, Klosterruine, Berlin, Germany
Come closer, curated by Tereza Stejskalová & Vít Havránek 1st Matter of Art Biennale, Prague, Czech Republic
Nameless. echoes, spectres, hisses, A.I. Gallery, London, United Kingdom
REALITY, Tropez, Berlin, Germany
Real Time, Seventeen, London, United Kingdom
Platform: London, David Zwirner Online, London, United Kingdom
2019
We shall survive in the memory of others, Barbara Weiss Gallery, Berlin, Germany
The Season of Cartesian Weeping, with East London Cable, David Roberts Foundation, London, United Kingdom
back there, Kunstverein Tiergarten, Berlin, Germany
The Ghost War, WTF Gallery, Bangkok, Thailand
Mercury, Tallinn Art Hall, Tallinn, Estonia
While I Kiss The Sky, curated by Goschka Gawlik and Arkadiusz Półtorak, Senn Galerie, Vienna, Austria
Empty Vase, Vacancy Gallery, Shanghai, Peoples Republic of China
Open Studios, Villa Romana, Florence, Italy
HybrID, Kunsthaus Hamburg, Hamburg, Germany
Deep Sounding - History as multiple narratives, DAAD Galerie, Berlin, Germany
S/F Photography, or a Monolith after 200 years, Kayoko Yuki Gallery, Tokyo, Japan
Artists Use Photography, Praz Delavallade Gallery, Los Angeles, CA, USA
Lifehacks, BQ Gallery, Berlin, Germany
A Fear of Monsters, Asia Film Archive, Singapore, Singapore
2018
SKY PAINTING, with Cameron Irving, Unit 21, Penarth Centre, London, United Kingdom
The Culture Collider, Manggha Museum of Japanese Art and Technology, Krakow, Poland
Diaspora, Ma Homey, Space _31, Berlin, DE UnAuthorised Medium, Framer Framed, Amsterdam, Netherlands
No War, No Vietnam, Galerie Nord, Kunstverein Tiergarten, Berlin, Germany
If you need guidance please ask you colleague, Mathias Güntner Gallery, Hamburg, Germany
Objects in the mirror are closer than they appear, Royal Academy of Arts, London, United Kingdom
First I have to put my face on, Like A Little Disaster, Polignano a Mare, Italy
DECREATION, 51zero Film Festival, Whitstable Biennial, Kent, United Kingdom
Domestic Detail, Play-Co, Studio Ed Fornieles, London, United Kingdom
Die Stelle des Schnitts, film programme, Kunstverein Nürnberg, Germany
2017
DECREATION, 51zero Film Festival, Rochester, United Kingdom
DISPLA(Y)CED, Kunstverein Alte Feuerwache Loschwitz and in public spaces, Dresden, Germany
Original Fake, Maisterravalbuena, Madrid, Spain
The Stillness Of A Departure, Polansky Gallery, Prague, Czech Republic
Plazoleto, Skyline Plaza, Frankfurt am Main, Germany
Gender, Identity and Material, Royal Academy of Arts, London, United Kingdom
Premiums, Royal Academy of Arts, London, United Kingdom
Neue Kunst In Hamburg, curated by Rhea Dall, Multiple Box, Hamburg, Germany
2016
Park View, Frankfurt am Main, Germany
Berlin Project Space Festival, Berlin, Germany
This Is Your Replacement, Sies + Höke, Düsseldorf, Germany
2015
W A R II, curated by Adam Carr, Mostyn, Wales, United Kingdom
By Boat (Farewell), Gallery José Garcia, Mexico City, Mexico
DEEP SKIN, Sudbury Neutrino Observatory (SNOlab), Ontario, USA
Micky Schubert, Berlin, Germany

Education
2015-2018
Postgraduate Programme, Royal Academy of Arts, London, United Kingdom
2012-2013
BFA, Goldsmiths College, University of London, United Kingdom
2009-2013
BFA, Hochschule für Bildende Künste Hamburg, Germany