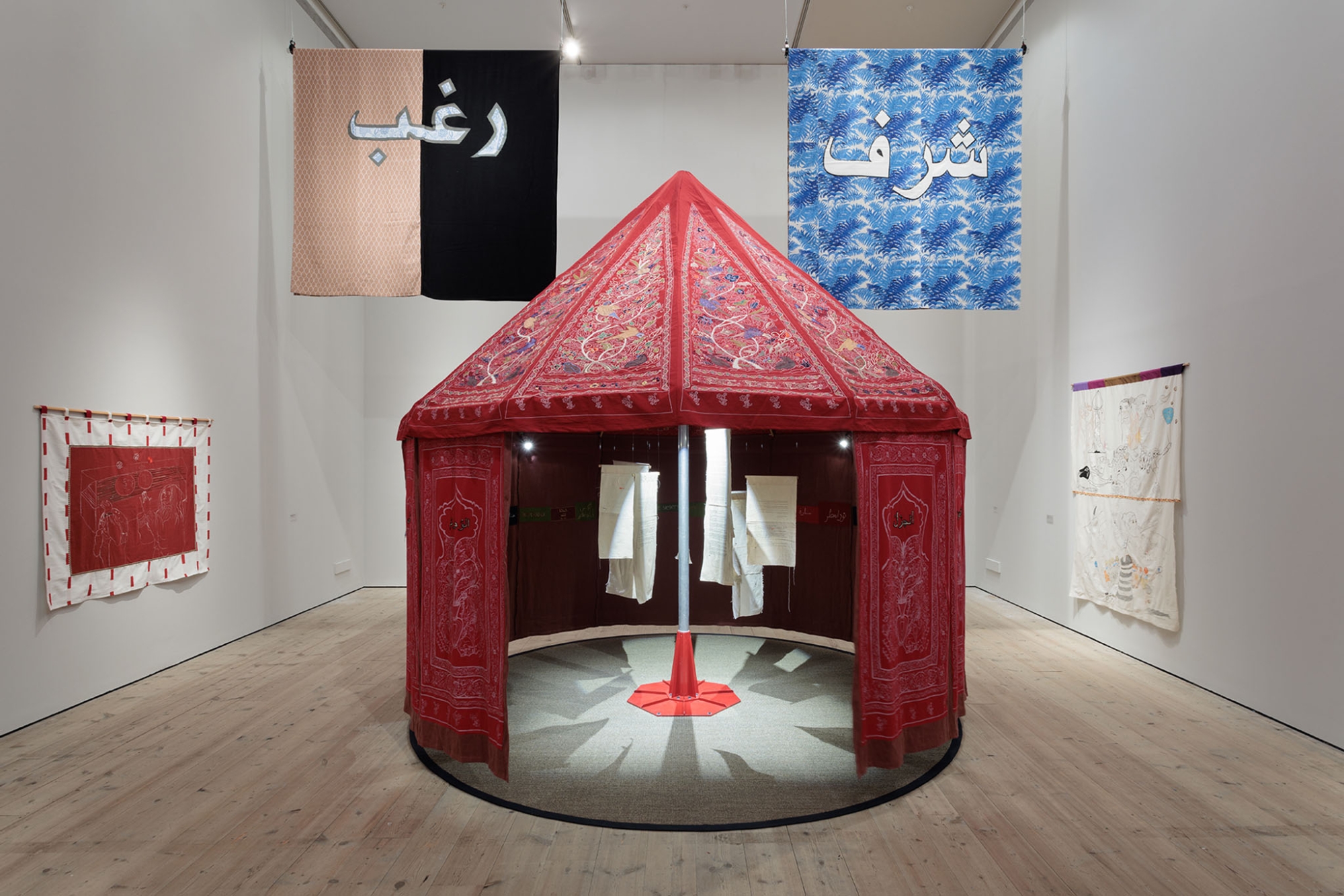 BALTIC Centre for Contemporary Art, 2022. Photo: Rob Harris ©2022 BALTIC
 Mounira Al Solh (b. 1978, Lebanon, lives and works between Beirut and Amsterdam) is a visual artist embracing inter alia video and video installations, painting and drawing, text, embroidery, and performative gestures. Irony and self-reflectivity are central strategies for her work, which explores feminist issues, tracks patterns of micro-history, bears witness to the impact of conflict and displacement, is socially engaged, and can be political and poetically escapist all at once. Her practice utilizes oral documentation, multidisciplinary collaboration and wordplay to explore themes of memory and loss. Motivated by acts of sharing and storytelling, change and resistance, Al Solh strives to craft a sensory language that defies nationality and creed. 
In 2008, Al Solh started NOA Magazine (Not Only Arabic), a collaborative initiative co-edited with collaborators such as Fadi El Tofeili, Mona Abu Rayyan and Jacques Aswad. She co-founded NOA Language School in Amsterdam (2013), which functioned as a temporary research platform for investigations into the relationships between language and immigration. 
Al Solh has had exhibitions at Museumsquartier Osnabrück, Germany (2022); BALTIC Centre for Contemporary Art, Gateshead, UK (2022); Mori Art Museum, Tokyo (2020); Jameel Arts Centre, Dubai (2018); Mathaf: Arab Museum of Modern Art, Doha (2018); and The Art Institute Chicago (2018). 
She has also participated in group exhibitions including the Sharjah Biennial (2023); Museum Het Valkhof, Nijmengen, the Netherlands (2022); Busan Biennale (2022); ROZENSTRAAT, Amsterdam (2022); Musée National de Pablo Picasso–La Guerre et la Paix, Vallauris, France (2020); Palais De Tokyo, Paris (2020); Van Abbemuseum, Eindhoven (2020); C'arré d'Art Musée d'art contemporain de Nîmes (2018), Documenta 14, Kassel and Athens (2017); Venice Biennale (2015); New Museum Triennial, New York (2012); Sharjah Biennial 9 (2009); and 11th International Istanbul Biennial (2009), among others.
She is the winner of the ABN AMRO Art Award (2023), is one of seven shortlisted artists for the Artes Mundi 10 prize (2023); received the Uriôt Prize from the Rijksakademie, Amsterdam (2007) and the Black Magic Woman Award, Amsterdam (2007). She was also shortlisted for the Abraaj Group Art Prize, Dubai (2015) and nominated for the Volkskrant Award, Amsterdam (2009). Her video Rawane's Song won the jury prize at Videobrasil (2007). 
She learned the double bass at the national conservatory of music in Lebanon, then studied painting at the Lebanese University in Beirut (1997–01) and Fine Arts at the Gerrit Rietveld Academy in Amsterdam (2003–06). She was also a research resident at Rijksakademie, Amsterdam (2007–08). 

Selected Solo Exhibitions

2023
Pocket Rhythms, Sfeir-Semler Gallery, Hamburg
2022
13 April, 13 April, 13 April, Museumsquartier Osnabrück, Germany
A day is as long as a year, BALTIC Centre for Contemporary Art, Gateshead, United Kingdom
2020
MAM Screen 013: Mounira Al Solh, Mori Art Museum, Tokyo, Japan
2019
The Mother of David and Goliath, Sfeir-Semler Gallery, Beirut, Lebanon
2018
Artist's Rooms, Jameel Arts Center, Dubai, UAE
I strongly believe in our right to be frivolous, Mathaf: Arab Museum of Modern Art, Doha, Qatar
I strongly believe in our right to be frivolous, The Art Institute Chicago
2016
I Want to Be a Party, Sfeir-Semler Gallery Hamburg, Germany
I Strongly Believe in Our Right to Be Frivolous, Alt Art Space, Istanbul, Turkey
2014
All Mother Tongues are Difficult, Sfeir-Semler Gallery, Beirut, Lebanon
Now Eat My Script, KW Institute for Contemporary Art, Berlin, Germany
2012
The Sea Is A Stereo, Grunt Gallery, Vancouver, Canada
Dinosaurs, Art in General, New York, USA
2011
Mounira Al Solh, René Daniëls and Bassam Ramlawi, Stedelijk Museum Bureau, Amsterdam, Netherlands
2010
The Sea Is A Stereo, Kunsthalle Lissabon, Lisboa, Portugal
Exhibition No. 17, Sfeir-Semler Gallery, Beirut, Lebanon
2008
Rijksakademie, Open Ateliers, Amsterdam, Netherlands
2005
Squatted Vitrine, Squat Deluxe, Rotterdam, Netherlands
2003
150 Watts, Fennel Gallery, Beirut, Lebanon


Selected Group Exhibitions

2024
Unravel: The Power and Politics of Textiles in Art, Barbican Art Gallery, London, United Kingdom (forthcoming)
Unravel: The Power and Politics of Textiles in Art, Stedelijk Museum, Amsterdam, Netherlands (forthcoming)
2023

Artes Mundi 10, National Museum Cardiff, Cardiff, United Kingdom (forthcoming)
Choreographies of the Impossible, 35th Bienal De São Paulo, São Paulo, Brazil (forthcoming)
My past is a foreign country, DEO Projects, Temenos Hamidiye & Ottoman Baths, Chios, Greece
Material Power: Palestinian Embroidery, The Whitworth, University of Manchester, Manchester, United Kingdom
Threads: 'Breathing stories into materials', Arnolfini, Bristol, United Kingdom
Material Power: Palestinian Embroidery, Kettle's Yard, Cambridge, United Kingdom
Traces of Displacement, The Whitworth, University of Manchester, Manchester, United Kingdom
Indiscipline, WIELS, Brussels and Grand Casino, Knokke-Heist, Belgium
Thinking Historically in the Present, Sharjah Biennial 15, Sharjah, UAE

2022
Moving Stories, Museum Het Valkhof, Nijmengen, Netherlands
We, on the rising wave, Busan Biennale, Busan, South Korea
2021
Interwoven Histories by Touch/Trace, ROZENSTRAAT, Amsterdam, Netherlands
 2020
Risquons-Tout, WIELS, Brussels, Belgium
Mounira Al Solh, Musée national Pablo Picasso, La Guerre et la Paix, Place de la Libération, Vallauris, France
Faces: a Look at the Other, Carré d'Art, Nîmes, France
Fragmenter le monde / Our world is burning, Palais de Tokyo, Paris, France
QALQALAH قلقلة : plus d'une langue, Centre régional d'art contemporain, CRAC OCCITANIE / Pyrénées-Méditerranée, Sète, France
 2019
Positions #5, Van Abbe Museum, Eindhoven, Netherlands
Gohyang: Home, Seoul Museum of Art, South Korea
Social Movement, If I Can't Dance I Don't Want to be Part of Your Revolution, Amsterdam, Netherlands
 2018
Close: Drawn Portraits, The Drawing Room, London, United Kingdom
Vanishing Point, Carré d'Art - Museum of Contemporary Art Nîmes, France
Strange Days: Memories of the Future, The Store X, London
The Line Up: The Power of Drawing Central Museum, Utrecht, Netherlands
Acts of Translation, Mohammad and Mahera Abu Ghazaleh Foundation, Amman, Jordan
Beirut, Beyrut, Beyrouth, Beyrout, Oslo Kunstforening, Oslo, Norway; Ystad Konstmuseum, Ystad, Sweden; Listasafn Islands, Iceland
Whose land have I lit on now? - contemplation on the notions of hospitality, SAVVY Contemporary, Berlin, Germany
2017
Contemporary and Future Mediterranean Memories, Fondazione Sambucca, Palermo, Italy
Home Beirut. Sounding the Neighbours, MAXXI, Rome, Italy
From Ear to Ear, Nottingham Contemporary, United Kingdom
2017 Asian Art Biennial: Negotiating the Future for Changing the Society and Fashioning the Future, National Taiwan Museum of Fine Arts, Taiwan
Action!, Kunsthaus Zürich, Switzerland
Suspended Territories - Artists from the Middle East and North Africa, Marta Herford, Germany
dOCUMENTA 14, Benaki Museum of Islamic Art, Athens, Greece
dOCUMENTA 14, Hansa Häuser, Kassel, Germany
The Restless Earth, La Triennale di Milano, Fondazione Nicola Trussardi, Milan, Italy
My future is in my past and my past is my present, Arti et Amicitiae, Amsterdam, Netherlands
Graphic Witness, Drawing Room, London, United Kingdom
Art and Alphabet, Hamburger Kunsthalle, Hamburg, Germany
A World Not Ours, La Kunsthalle - Center d'Art Contemporain Mullhouse, France
2016
The Measure of our Traveling Feet, Marres Maastricht, Netherlands
Everything in Nature has a Lyrical Essence, a tragic fate, a comic existence, Art Exnergasse, Vienna, Austria
Land Without Land, Heidelberger Kunstverein, Germany
We Refugees - Of the Right to Have Rights, Badischer Kunstverein, Karlsruhe, Germany
2015
Gallery Gallery 3010, Sfeir-Semler Gallery, Beirut, Lebanon
All the World's Futures, 56th Venice Biennial, Venice, Italy
In Search Of Matisse, Henie Onstad Art Enter (HOK), Høvikodden, Norway
A 1000 Times No, E-Werk, Freiburg, Germany
The Abraaj Group Art Prize, Art Dubai, Dubai, UAE
2014
Here and Elsewhere, New Museum, New York, USA
Drowning and swallowing this text, LACE, Los Angeles, USA
I scarcely have the right to use this ghostly verb, Parsons, The New School New York, USA
Neighbors, Istanbul Modern, Istanbul, Turkey
5th Biennial Marrakech, Marrakech, Morocco
2013
Dear Art, Calvert 22 Foundation, London, United Kingdom
Homeworks 6, Ashkal Alwan, Beirut, Lebanon
2012
Arab Express: The Latest Art form the Arab World, Mori Art Museum, Tokyo, Japan
Our Work Is Never Over, Matadero Madrid, Contemporary Art Center, Madrid, Spain
Tactics For Now And Now, Bucharest Biennial 5, Pavilion Unicredit, Bucharest, Romania
The Ungovernables, New Museum Triennial, New Museum, New York, USA
Dinosaurs, Art in General, New York, USA
Dear Art, Museum of Contemporary Art Metelkova and Moderna Galerija Ljubljana, Slovenia
-o-l-o-g-y, Amstel 41, Amsterdam, Netherlands
De Menocchio, Nous savons beaucoup de choses, Bétonsalon, Paris, France
2011
I Decided Not to Save the World, Tate Modern, London, UK in collaboration with SALT Istanbul, Turkey
A Rock and a Hard Place, 3rd Thessaloniki Biennial of Contemporary Art, Thessaloniki, Greece
The Sea Is A Stereo, Viborg Kunsthal, Denmark
Beirut, project space, Kunsthalle Wien, Austria
2010
Manifesta 8, The European Biennial of Contemporary Art, Region of Murcia, Spain in Dialogue with Northern Africa
The Future of Tradition, Haus der Kunst, Munich, Germany
Accident, KunstBunker, forum for contemporary art, Nuremberg, Germany
Heat Wave, Lombard-Freid Projects, New York, USA
Witty Lo-Fi Works with Knotty Thoughts, Montevideo (NIMK), Amsterdam, Netherlands
I'm Not Here. An Exhibition Without Francis Alÿs, De Appel, Amsterdam, Netherlands
Volkskrant Prize, Stedelijk Museum Scheidam, Netherlands
Categorical Imperatives, The Guild Art Gallery, New York, USA and Mumbai, India


Public Collections

 
Art Institute of Chicago, Illinois; Centre Georges Pompidou, Paris; Museo Nacional Centro de Arte Reina Sofia, Madrid; Stedelijk Museum, Amsterdam; Pinakotheek, Munich; Saradar Art Collection, Beirut; Kamel Lazaar Foundation, Tunis; Tate Modern, London; 


Education

 
2001
Lebanese University, BFA in Painting, Beirut, Lebanon
2006
Gerrit Rietveld Academie, Fine Arts, Amsterdam, Netherlands
2007–08
Rijksakademie van beeldende kunsten, Research Resident, Amsterdam, Netherlands

Awards and Grants
2023
ABN AMRO Art Award
2022
Artes Mundi Prize (shortlisted)
2015
Kamel Lazaar Project Fund
2014
The Abraaj Art Prize (shortlisted)
2010
Volkskrant Beeldende Kunst Prize (nominated)
2007
Uriot Prize, Rijksakademie NL 2007 Grant
16th International Electronic Art Festival – Videobrasil