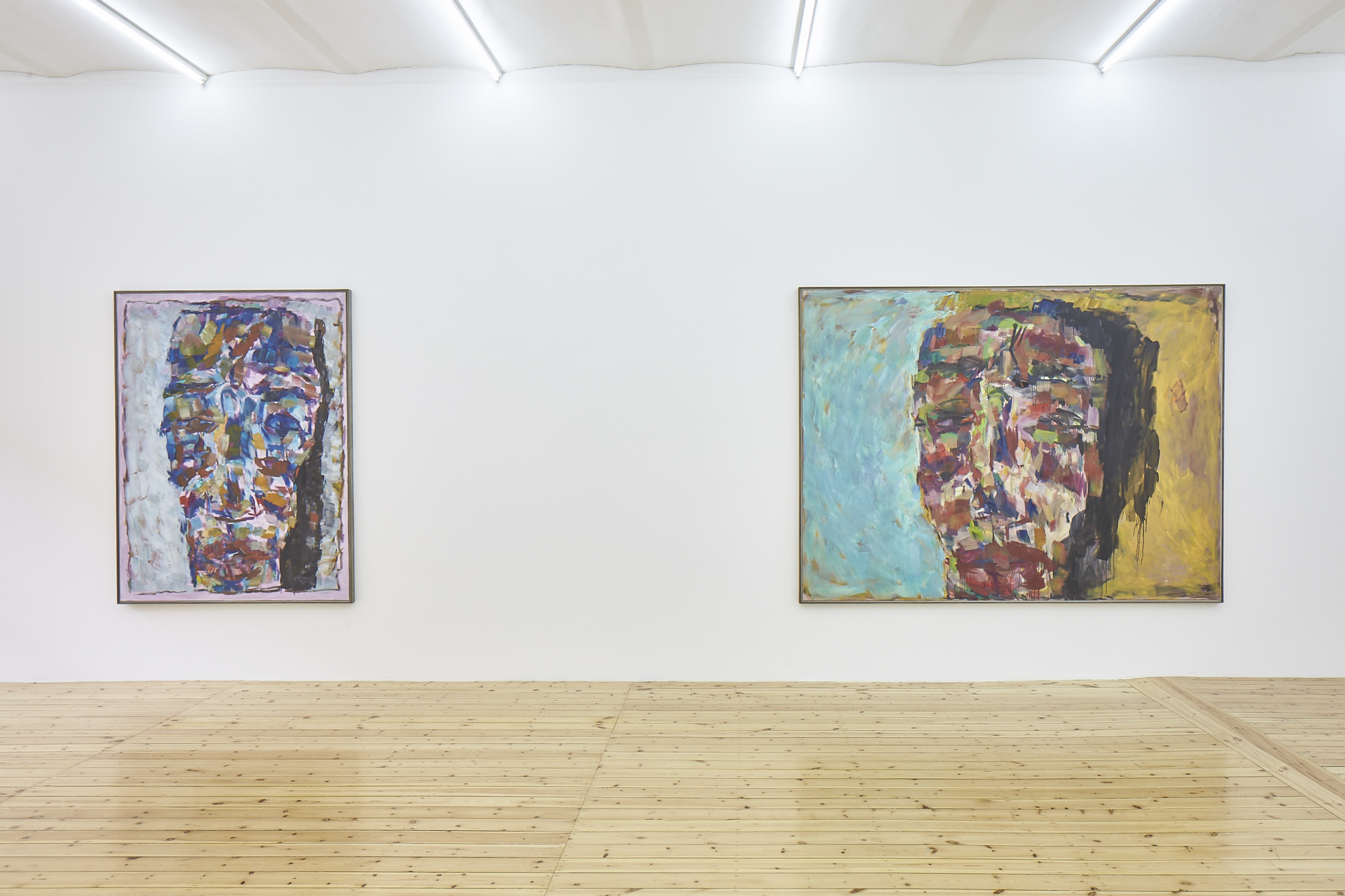 Sfeir-Semler Gallery Hamburg, 2016


Marwan Kassab Bachi (1934-2016) is an internationally renowned artist, regarded as one of the pillars of modern painting in the Middle East. Living in Berlin since 1957, Marwan's work embodies the influences of German Expressionism and Sufi mysticism from his native culture. His early works were figurative yet surreal representations of people. Since the early 70s, he increasingly focused on the face, until it became his main subject matter. Each painting is a product of several layers of faces repeatedly painted on top of each other in a flurry of color and brush strokes, in his attempt to discover the inner self, ultimately creating spiritual intensity and depth to his work.

Recent exhibition participations include: Making New Time, Sharjah Biennial 14, (2019); ARTE VIVA ARTE, Venice, Biennale (2017); Here and Elsewhere, New Museum, New York; Serralves Foundation, Porto; Barjeel Art Center, Sharjah (2014); Kunst in Berlin. 1945 bis heute, Berlinische Galerie, Berlin; Beirut Exhibition Center, Beirut (2013); Istanbul Biennial, Istanbul (2009); Museum für islamische Kunst, Berlin (2008); Darat al Funun, Amman (2004); Institute du Monde Arabe, Paris (1993); Haus der Kunst, Munich (1991). His works can be found in international collections such as Museum of Contemporary Art Chicago; Sharjah Art Foundation, Sharjah; Guggenheim, Abu Dhabi; Tate Modern, London; British Museum, London; Centre Georges Pompidou, Paris; Bibliothèque National de France, Paris; Institut du Monde Arabe, Paris; Carnegie Museum of Art, Pittsburgh; Abdul Hameed Shoman Foundation, Darat al Funun, Amman; Staatliche Museen Preußischer Kulturbesitz, Berlin; Kunsthalle Bremen; National Museum, Damascus; Hamburger Kunsthalle, Hamburg and many more international private collections.
Marwan passed away in Berlin, Germany in 2016. His soul lives on in his paintings.

Selected Solo Exhibitions

2018
Works on Paper: 1968-2014, Sfeir-Semler Gallery Hamburg, Germany
2016
Painting, Sfeir-Semler Gallery, Hamburg, Germany
2015
Not Towards Home, But The Horizon, Mosaic Rooms, London, United Kingdom
2014
MARWAN: Early Works (1962-1972), Serralves Foundation, Porto, Portugal
Topographies of the Soul, Barjeel Art Foundation, Maraya Art Center, Sharjah, UAE
2013
MARWAN: Early Works 1962 - 1972, Beirut Exhibition Center, Beirut, Lebanon
2012
MARWAN, Galeri Artist, Istanbul, Turkey
2009
Seventy Five, Sfeir-Semler Gallery, Beirut, Lebanon
Painting, Sfeir-Semler Gallery, Hamburg, Germany
Open Until the End - Marwan A Retrospective in Eleven Acts, Haus am Waldsee, Berlin, Germany
2008
The 99 Attributes, The Museum of Islamic Art, Berlin, Germany
2005
Damascus - Berlin - Damascus, Damascus, Syria
Marwan: Khaddousch or the unknown early work. Watercolors and drawings 1962-1971, Lindenau Museum in Altenburg, Altenburg, Germany
2004
Khaled Shoman Foundation, Amman, Jordan
2002
Kunsthalle Emden, Emden, Germany
2001
Khalil Sakakini Cultural Center, Ramallah, West Bank
Richard Haizmann Museum, Niebüll, Germany
2000
Brechhaus Weissensee, Berlin, Germany
1998
Abdul Hameed Shoman Foundation, Darat al Funun, Amman, Jordan
1996
Al Hanager Hall, Cairo, Egypt
1995
Abdul Hameed Shoman Foundation, Darat al Funun, Amman, Jordan
1993
Bibliothèque National de Paris, France
Institut du Monde Arabe, Paris, France
1991
Kunststation St. Peter, Cologne, Germany
Haus der Kunst, Munich, Germany
1987
Sfeir-Semler Gallery, Kiel, Germany
1985
Gallery Wolfgang Ketterer, Munich, Germany
1984
Kunsthalle Darmstadt, Germany
1983
Overbeck-Society, Lübeck, Germany
1981
Bellevue Palace, Documenta Archive, Kassel, Germany
1980
Museum of Modern Art, Baghdad, Iraq
1976
Gruenenbaum Gallery, New York, USA
Orangerie Charlottenburg Palace, Berlin, Germany
1972
Gallery Lietzow, Berlin, Germany
1970
Arab Cultural Center, Damascus, Syria
1967
Gallery Springer, Berlin, Germany


Selected Group Exhibitions

2023
In the Heart of Another Country: The Diasporic Imagination Rises, Sharjah Art Foundation, Sharjah, UAE (forthcoming)
Nationalgalerie: A Collection for the 21st Century, Hamburger Bahnhof, Berlin, Germany
2022
In The Heart of Another Country, Deichtorhallen Hamburg, Germany
2021
Icons, Boghossian Foundation, Villa Empain, Brussels, Belgium
2019
Making New Time, Sharjah Biennial 14, Sharjah Art Foundation, UAE
2017
Viva Arte Viva, 57th International Art Exhibition, La Biennale di Venezia, Venice, Italy
2014
Here and Elsewhere, New Museum, New York, USA
2013
Art in Berlin. 1945 Until Now, Berlinische Galerie, Berlin, Germany
2011
760 914 cm² print, Städtische Galerie Wolfsburg, Wolfsburg, Germany
2009
11th Istanbul Biennial, Istanbul, Turkey


Awards

2005
Order of Merit of the Federal Republic of Germany
2002
Fred-Thieler Prize


Public Collections

 
Guggenheim, Abu Dhabi; Abdul Hameed Shoman Foundation, Darat al Funun, Amman; Solidere, Beirut; State Museums of Prussian Cultural Heritage, Berlin; Berlinische Galerie, Museum of Modern Art, Photography and Architecture, Berlin; Foundation Archive of the Academy of Arts, Berlin; Berliner Bank - BerlinHyp, Berlin; Art Collections of the Federal Republic of Germany, Bonn; Kunsthalle Bremen, Germany; Graphic CollectionVeste Coburg, Germany National Museum Damascus; Galerie Neue Meister, Dresden, Germany Städel Museum, Fankfurt / Main; Städtisches Museum Göttingen, Germany; Hamburger Kunsthalle, Hamburg; Sprengel Museum, Hannover; Municipal Museum Jena, Romantikerhaus, Jena, Germany; Tate Modern, London; British Museum, London; Museum of Art and Cultural History of the Hanseatic City of Lübeck, Germany; Städtische Kunsthalle Mannheim, Germany; Bavarian State Painting Collection, State Gallery of Modern Art Staatliche Graphische Sammlung, Munich; Ludwig Gallery Castle Oberhausen, Germany; Landesmuseum Oldenburg, Germany; Bibliothèque National de France, Paris; Institut du Monde Arabe, Paris ; Musée-Galerie de la Saita, Paris; Carnegie Museum of Art, Pittsburgh; Collection East German Landesbausparkasse LBS, Potsdam, Germany; Khalil Sakakini Cultural Center, Ramallah, Palestine; Municipal Gallery Wolfsburg, Germany; Center Georges Pompidou, Paris


Education

1980
Professor for Painting, Hochschule der Künste, Berlin, Germany
1963
Painting, Hochshule der Künste (HdK), Berlin, Germany
1957
University of Damascus, Arab Literature, Damascus, Syria