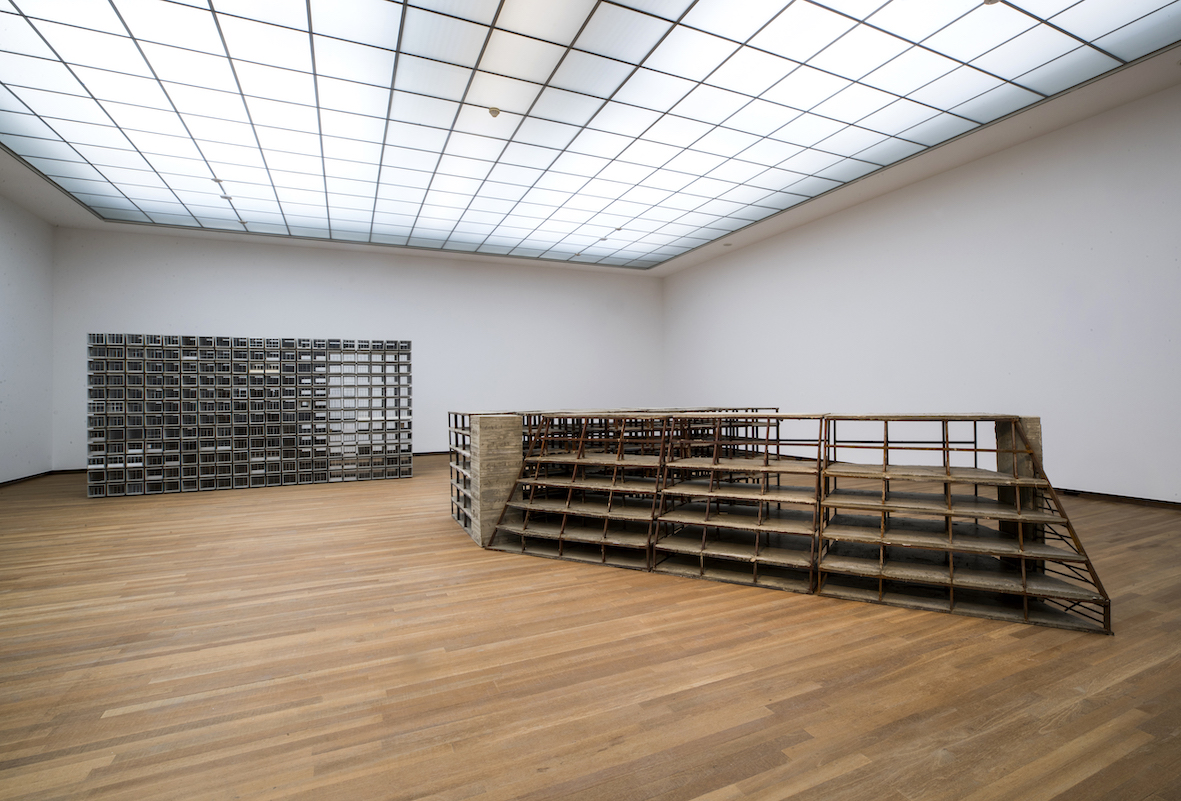 Bonnefantenmuseum, Maastricht, Netherlands, 2019


Created from industrial materials such as concrete, metal, rubber, tar, textile, and glass, Marwan Rechmaoui's work reflects his methodical study of cartography, demographics and urbanisation. Focusing on sociogeographics, architecture and cultural histories of cities and mirroring the sociopolitical structure and complex multi-cultural history of the Arab world; he has produced a variety of works, some of which incorporate maps of city streets, objects with references to urban domestic life and landmarks and histories of Beirut.
Rechmaoui's work has been presented in a number of solo and group exhibitions, including Slanted Squares, Bonnefantenmuseum, Maastricht, the Netherlands (2019); Truth is black, write over it with a mirage's light, Darat al Funun, Amman (2018); Sharjah Biennial 13 (2017); Home Works 7, Ashkal Alwan, Beirut (2015); Istanbul Biennial 13 (2015); Here & Elsewhere, New Museum, New York (2014); Cadavre Exquis, Suite Méditerranéenne, Musée Granet, Aix-en-Provence, France (2013); Sharjah Biennial 11 (2013); On the Edgware Road, Serpentine Gallery, London (2012) and Sharjah Biennial 7 (2005). His work can be found in the collections of the Tate Modern, London; Centre Pompidou, Paris; Guggenheim, Abu Dhabi; Sharjah Art Foundation, Sharjah and Museo Reina Sofía, Madrid.
Rechmaoui was the recipient of the Bonnefantenmuseum Award for Contemporary Art, Maastricht, the Netherlands (2019).
He was born in 1964 in Beirut, where he continues to live and work.
 
Selected Solo Exhibitions

2021
But the trees kept voting for the axe, Sfeir-Semler Gallery, Beirut, Lebanon
2020
Sfeir-Semler Gallery, Beirut, Lebanon
2019
Slanted Squares, Sharjah Art Foundation, UAE
CityScapes, Sfeir-Semler Gallery, Hamburg, Germany
Slanted Squares, Bonnefantenmuseum, Maastricht, Netherlands
2016
Fortress in a Corner, Bishop Takes Over, Sfeir-Semler Gallery, Beirut, Lebanon
2012
Landscapes, Sfeir-Semler Gallery, Beirut, Lebanon


Selected Group Exhibition

2023
Guest Relations, Jameel Arts Center, Dubai, UAE
In the Heart of Another Country: The Diasporic Imagination Rises, Sharjah Art Foundation, Sharjah, UAE
Permanent Collection on display, Centre Pompidou, Paris, France
2022
We, on the rising wave, Busan Biennale, Busan, South Korea
In The Heart of Another Country, Deichtorhallen Hamburg, Germany
2021
COMMUNICATING VESSELS. Collection 1881-2021, Museo Reina Sofia, Madrid, Spain
Écrire, c'est dessiner, Centre Pompidou Metz, France
2020
Mappa mundi, Fondation Boghossian, Villa Empain, Brussels, Belgium
2019
Niemeyer in Lebanon - concept, and development of the Tripoli International Fair, Embassy of Brazil & the Brazil-Lebanon Cultural Center, Beirut, Lebanon
A National Monument, with Visualizing Palestine, Dar El-Nimer for Arts and Culture, Beirut, Lebanon
2018
Living in the Mediterranean, Institut Valencià d'art Modern, Valencia, Spain
Revolution Generations, Mathaf: Arab Museum of Modern Art, Doha, Qatar
Cycles of Collapsing Progress, Rashid Karami International Fair, Tripoli, Lebanon
12th Gwangju Biennale: Imagined Borders, Asia Culture Center, Gwangju, South Korea
Let's Talk About the Weather: Art and Ecology in A Time of Crisis, Guangdong Times Museum, Guangzhou, China
Truth is black, write over it with a mirage's light, 30th Anniversary Inaugural Exhibition, Darat al Funun, Amman, Jordan
We Began By Measuring Distance, MAMCO, Geneva, Switzerland
2017
Tamawuj, 13th Sharjah Biennial, Sharjah, UAE
Home Beirut. Sounding the Neighbours, MAXXI, Rome, Italy
The Restless Earth, La Triennale di Milano, Fondazione Nicola Trussardi, Milano, Italy
Art Unlimited, Art Basel, Basel
2016
The Silent Echo, Baalbek Temple, Baalbek, Lebanon
Let's Talk About the Weather: Art and Ecology in a Time of Crisis, Sursock Museum, Beirut, Lebanon
2015
Istanbul Biennial, Istanbul, Turkey
Gallery 3010, Sfeir-Semler Gallery, Beirut, Lebanon
Home Works, Ashkal Alwan, Beirut, Lebanon
2013
11th Sharjah Biennial, Sharjah, UAE
2012
On the Edgeware Road, Serpentine Gallery, London, UK
2010
La Route de la Soie, Tri Postal, The Saatchi Gallery Collection, Lille, France
Home Works 5, Ashkal Alwan, Beirut, Lebanon
2009
Unveiled: New Art from the Middle East, Saatchi Gallery, London, UK
Disorientation II, Abu Dhabi Art, Abu Dhabi, UAE
Dream and reality. Contemporary art from the Middle East, Zentrum Paul Klee, Bern, Switzerland
2008
Instalações, Museu de Arte Contemporânea da Universidade de São Paulo, Brazil
Art Now in Lebanon, Darat Al Funun, Amman, Jordan
Scènes du Sud II: Méditerrané Orientale, Carré d'Art, Nîmes, France
Never-Part. Histories of Palestine. Palais des Beaux-Arts, Brussels, Belgium
Home Works 4, Sfeir-Semler Gallery, Beirut, Lebanon
2007
Borderline Behaviour, TENT, Rotterdam, Netherlands
2005
Belonging, 7th Sharjah Biennial, Sharjah, UAE
2004
Laughter, LIFT, the Barge House, London, UK
2003
A Forum on Cultural Practices, Home Works 2, Ahskal Alwan, Beirut, Lebanon
Possible Narratives - Artistic Practices in Lebanon, VIDEOBRASIL, São Paolo, Brazil
Contemporary Arab Representations, Beirut/Lebanon, BildMuseet, Umeå, Sweden
2002
Contemporary Arab Representations, Beirut/Lebanon, Witte de With Contemporary Art, Rotterdam, Netherlands; Fundació Antoni Tàpies, Barcelona, Spain
A Forum on Cultural Practices in the Region, Home Works, Ahkal Alwan, Beirut, Lebanon
2001
Missing Links, Art Practices From Lebanon, Townhouse Gallery of Contemporary Art, Cairo, Egypt
2000
Mediterranean Metaphors II, Contemporary Art from Lebanon, Borusan Art Gallery, Istanbul, Turkey
1998
Centre Culturel Français, Beirut, Lebanon
UNESCO Prize, International Biennial, Cairo, Egypt
1996
Château de Servières, Marseille, France


Publications

2017
Metropolis, published by Kaph Books


Awards

2018
Bonnefanten Award for Contemporary Art


Education

1993
New York University, New York, USA
1993
Art Student League, New York, USA
1991
Massachusetts College of Art & Design, Scupture/Painting, Boston, Massachusetts