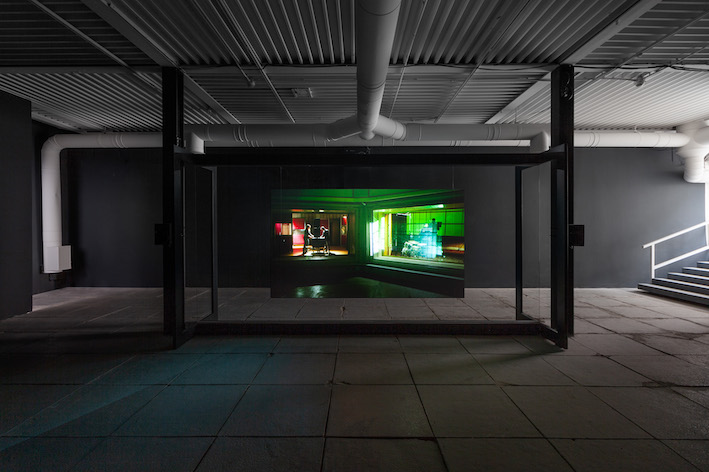 58th Venice Biennale, 2019


Lawrence Abu Hamdan (b.1985) is a Lebanese-British independent investigator or Private Ear. His investigations focus on sound and have been used as evidence at the UK Asylum and Immigration Tribunal, as advocacy for organizations such as Amnesty International and Defence for Children International and presentations at the UN security council.

Abu Hamdan received his PhD in 2017 from Goldsmiths College University of London and in 2021 completed a professorship at the Johannes Gutenberg University Mainz where he developed his research airpressure.info. Past fellowships have been held at the University of Chicago, in 2017/18 he was a guest of the DAAD artist in Berlin program and from 2015/17 a fellow at the Vera List Centre for Art and Politics at the New School in New York.

Abu Hamdan was exhibited at the 12th Berlin Biennale, the 22nd Biennale of Sydney, the 58th Venice Biennale, the 11th Gwanju Biennale, the 13th and 14th Sharjah Biennial, Witte De With, Rotterdam, Tate Modern Tanks, Chisenhale Gallery, Hammer Museum L.A and the Portikus Frankfurt. His works are in the collections of MoMA, New York, Guggenheim, New York, Van Abbemuseum, Eindhoven, Centre Pompidou, Paris, Hamburger Bahnhof, Berlin, Kunsthaus Zurich, and Tate Modern, London. Abu Hamdan's work has been awarded the 2019 Edvard Munch Art Award, the 2016 Nam June Paik Award for new media and in 2017 his film Rubber Coated Steel won the Tiger short film award at the Rotterdam International Film festival. For the 2019 Turner Prize Abu Hamdan, together with nominated artists Helen Cammock, Oscar Murillo and Tai Shani, formed a temporary collective in order to be jointly granted the award. 
 

Selected Solo Exhibitions

2023
Cross-Border Crimes, MUAC – UNAM Museo Universitario Arte Contemporáneo, Mexico City, Mexico
Walled Unwalled and Other Monologues, Museum of Modern Art, New York, USA
45th Parallel, Talbot Rice Gallery, Edinburgh, Scotland
2022
cross border crimes & the witness-machine complex, Sfeir-Semler Gallery, Hamburg, Germany
45th Parallel, Spike Island, Bristol, United Kingdom
The Sonic Image, Sharjah Art Foundation, UAE
2021
São Paulo Art Biennial, Brazil
Dirty Evidence, Bonniers Konsthall, Stockholm, Sweden
Green Coconuts and Other Inadmissible Evidence, Vienna Secession, Vienna, Austria
2020
Artist's Rooms: Lawrence Abu Hamdan, Jameel Arts Centre, Dubai, UAE                                    
2019
The Voice Before the Law, Hamburger Bahnhof, Museum für Gegenwart, Berlin, Germany
Earwitness Theatre, Institute of Modern Art, Brisbane, Australia
Natq, Sfeir-Semler Gallery, Beirut, Lebanon Earwitness Theatre, Contemporary Art Museum St. Louis, Missouri, USA
Lawrence Abu Hamdan, Witte de With Center for Contemporary Art, Rotterdam, Netherlands
2018
Walled Unwalled, daadgalerie, Berlin, Germany
Walled Unwalled, conceived for the Tanks, Tate Modern, Bankside, London, United Kingdom
Earwitness Theatre, Chisenhale Gallery, London, United Kingdom
Lawrence Abu Hamndan, Chisenhale Gallery, London, United Kingdom
Hammer Projects: Lawrence Abu Hamdan, Hammer Museum, Los Angeles
2016
Contra-Diction: Speech Against Itself, Le Centre Pompidou, Paris, France
Earshot, Portikus, Frankfurt, Germany
2015
Taqiyya, Kunsthalle St. Gallen, Switzerland
The All-Hearing, Laveronica, Arte Contemporanea, Sicily, Italy
2014
Tape Echo, part of positions, Van Abbemuseum, Eindhoven, Netherlands
2013
Tape Echo, Beirut in Cairo, Cairo, Egypt
2012
Aural Contract: The Whole Truth, Casco Utrecht, Netherlands
Aural Contract: The Freedom of Speech Itself, the Showroom, London, United Kingdom


Selected Group Exhibitions

2023
The Assault of the Present on the Rest of Time, Schinkel Pavillon, Berlin, Germany
In the Heart of Another Country: The Diasporic Imagination Rises, Sharjah Art Foundation, Sharjah, UAE (forthcoming)
So it appears, Institute for Contemporary Art, Virginia Commonwealth University, Richmond, USA
2022
Toronto Biennial of Art, City of Toronto, Canada
12th Berlin Biennale, Berlin, Germany
Manifesta 14, Prishtina, Kosovo
45th Parallel, Spike Island, Bristol, United Kingdom
In The Heart of Another Country, Deichtorhallen Hamburg, Germany
2021
INFORMATION (Today), Kunsthalle Basel, Switzerland
2020
Readings From Below, Times Art Center Berlin, Germany
Agency of Undertones, Trafó Gallery, Budapest, Hungary
Art in the Age of Anxiety, Sharjah Art Foundation, Sharjah, UAE
We Never Sleep, The Schirn Kunsthalle, Frankfurt, Germany
Enter the Void, Kunsthalle Mainz, Mainz, Germany
NIRIN, The 22nd Biennale of Sydney (2020), Sydney, Australia
QALQALAH قلقلة : plus d'une langue, Centre régional d'art contemporain, CRAC OCCITANIE / Pyrénées-Méditerranée, Sète, France
The Future of Silence: When your tongue vanishes, Nam June Paik Art Center, Korea
2019
Tell me about yesterday tomorrow, NS-Dokumentationszentrum München, Munich, Germany
Turner Prize Exhibition, Turner Contemporary, Margate, United Kingdom
May You Live In Interesting Times, 58th Venice Biennale 2019, Italy
Making New Time, Sharjah Biennale 14, Sharjah Art Foundation, UAE
Crack Up - Crack Down, Ljubljana Biennial of Graphic Arts, Ljubljana, Slovenia
2018
Public Art Munich 2018, Munich, Germany
Of Other Spaces, 2018 Abraaj Group Art Prize Exhibition, Art Dubai, Dubai, UAE
74 million million million tons, SculptureCenter, New York, USABiennale de l'Image en Mouvement 2018: The Sound of Screens Imploding, Centre d'Art Contemporain Genève, Geneva, Switzerland
BLIND SPOT, LE CAP, Centre d'arts plastiques de Saint-Fons, Daint-Fons, France
He cannot speak for himself [Can´t Speak for Itself], La Casa Encendida, Madrid, Spain
2017
From Ear to Ear to Eye: Sounds and Stories from Across the Arab World, Nottingham Contemporary, Nottingham, United Kingdom
Accentisms, Taxispalais, Kunsthalle Tirol, Innsbruck Austria
Parades for FIAC, Paris, France
The Image of War, Bonniers Konsthall, Stockholm, Sweden
Negotiating the Future: 2017 Asian Art Biennial, National Taiwan Museum of Fine Arts, Taiwan
Where do I end and you begin – On Secularity, Göteborg International Biennial for Contemporary Art 2017, Gothenburg, Sweden
Stealing from the West, Academy of the Arts of the World, Cologne, Germany
Manipulate the World, Moderna Museet, Stockholm, Sweden
Forensic Architecture – towards an investigative aesthetic, MACBA, Barcelona, Spain
Heart of the Tin Man, M Woods, Beijing, China
Blind Date, Sfeir-Semler Gallery, Beirut, Lebanon
Tamawuj, Sharjah Biennial 13, Sharjah, UAE
Contour Biennale 8 Polyphonic Worlds: Justice as Medium, Kunstcentrum NONA, Mechelen, Belgium
Strange Attractor, Ballroom Marfa, Texas, USA
We Are Everywhere, Museum of Contemporary Art Chicago, Chicago, USA
2016
Nam June Paik award exhibition, Museum Folkwang Essen, Germany
If All Relationships Were to Reach Equilibrium, Then This Building Would Dissolve, Middlesbrough Institute of Modern Art, United Kingdom
The Eighth Climate (What Does Art Do?), Gwangju Biennial, Korea
9th Liverpool Biennial, United Kingdom
Imperfect Chronology, Whitechapel Gallery, London, United Kingdom
2015
British Art Show 8, Hayward Gallery, United Kingdom
Political Populism, Kunsthalle Wien, Austria
Surround Audience, New Museum Triennial, New York, USA
Accented, Maraya Art Centre, Sharjah, UAE
2014
Contaro, Al Hondiga, Bilbao, Spain
Social Factory, 10th Shanghai Biennale, Shanghai, China
Forms of Distancing: Representative Politics and the Politics of Representations, Sterchicher, Herbst Festival, Austria
Don't You Know Who I Am? Art After Identify Politics, M HKA, Antwerp, Belgium
Transfigurations: Curatorial and Artistic Research in an Age of Migrations, MACBA, Barcelona, Spain
Forensis, Hause Kulturen, Berlin, Germany
Ten Thousand Wiles and Tricks, Meeting Point 7, Beirut Art Centre, Beirut, Lebanon
Don't Embarrass the Bureau, Lunds Konsthall, Lund, Sweden
Word. Sound. Power, KHOJ International Artists' Association, New Delhi, India
2013
Tensta Museum, Tensta Konsthall, Stockholm, Sweden
Schizophonia, Cac la Synagogue de Delme, France
4 days April 2013, Arnolfini, Bristol, United Kingdom
Things Behinds the Sun, Non, Istanbul, Turkey
Lexicon VHDG, Leeuwarden, Netherlands
Word. Sound. Power, Tate Modern, London, United Kingdom
The String and the Mirror Lisa Cooley Gallery, New York, USA
2012
Desire Lines, Espai Cultural de Caja Madrid, Barcelona, Spain
Taipei Biennial, Taipei, Taiwan
How Much Fascism? Extra City Kunsthal, Antwerp, Belgium
Soundworks, Institute of Contemporary Art, London, United Kingdom
Alternative 2012: Materiality, Wyspa Institute of Art, Gdansk, Poland
2011
Survival Kit, Latvian Centre for Contemporary Art, Latvia
2010
Homeworks 5: A Forum on Cultural Practices, Aural Contract Artist Talk, Beirut, Lebanon
2009
A Time to Make Ten Shoes, Santarcangelo 39, Italy
2007
Lawrence Abu Hamdan & Will Saunders Transmission Gallery, Glasgow, United Kingdom


Performances and Screenings

2022
Daght Jawi: a live-audiovisual essay, L'Art Rue, Planetarium Cité des Sciences, Tunis, Tunisia
2019
Walled Unwalled, Museum Of Contemporary Art Chicago, USA
Walled Unwalled, International Film Festival Rotterdam, Funkhaus studios, Rotterdam, Netherlands
After SFX, International Film Festival Rotterdam, WORM, Rotterdam, Netherlands
2018
Walled Unwalled, 36th Torino Film Festival, Torino, Italy
Bird Watching, Durub al Tawata by Tarek Abou Al Fatouh, The Auditorium, Manarat Al Saadiyat, Abu Dhabi, UAE
After SFX, The Tanks, Tate Modern, Bankside, London, United Kingdom
Walled Unwalled, Toronto International Film Festival, Toronto, Canada
2017
Rubber Coated Steel, Salonul de proiecte, Bucharest, Romania
Rubber Coated Steel, Whitechapel Gallery, London, United Kingdom
ICA, London, United Kingdom
Rubber Coated Steel, Asia Focus: Performing Arts at MMCA (National Museum of Modern and Contemporary Art), Seoul, South Korea
Sound Bleed, Portikus XXX summer screening program, Portikus, Frankfurt, Germany
Rubber Coated Steel, International Film Festival Rotterdam, Rotterdam, Netherlands
Listening Space: Bird watching, documenta 14, Athens Conservatoire, Athens
Rubber Coated Steel, New York Film Festival, New York, USA
2016
Rubber Coated Steel, Union Docs, New York, USA
2015
Double Take, 45th International film festival Rotterdam, Rotterdam, Netherlands
Isambard Kingston Brunel, Hammer Museum, Los Angeles, USA
Contra-diction: Speech Against Itself, The New Museum, New York, USA
Double Take at the Past 100 Years, part 1: WDW Review Offline, Kunstinstituut Melly (formerly known as Witte de With), Rotterdam, Netherlands
2014
Contra-diction: Speech Against Itself, Cornerhouse, Manchester, United Kingdom
The All-Hearing, 44th International film festival Rotterdam, Rotterdam, Netherlands
Received Pronunciations, Radio Web MACBA, Barcelona, Spain
Contra-diction: Speech Against Itself, Whitechapel Gallery, London, United Kingdom
Contra-diction: Speech Against Itself Whitechapel Gallery, London, United Kingdom
2013
Aural Contract Audio Archive, Tate Modern, London, United Kingdom
Public Sound 3, The Speaking Subject, de Player, Rotterdam, Netherlands
Aural Contract, Meeting Point 7, M HKA, Antwerp, Belgium
Isambard Kingston Brunel, Iaspis, Stockholm, Sweden
Mountain Language, Arnolfini, Bristol, United Kingdom
Record, Reframe, Resist, V&A, London, United Kingdom
2012
Aural Contract, The Voice Symposium, The Science Museum's Dana Centre, London, United Kingdom
Artists' film club: sound and vision, ICA, London, United Kingdom
The Pessoptimist Marathon with Marwa Arsanios, The Jerusalem Show, Jerusalem, Ramallah, Palestine & Beirut, Lebanon
2011
Audio Infrastructures, Wyspa Institute of Art, Gdansk, Poland
Model Court: An Ecology of the Courtroom, Chisenhale Gallery, London, United Kingdom
2010
Forensic Listening, 98 Weeks Project Space, Beirut, Lebanon
2007
Light Night: Leeds Urban Performance, Leeds, United Kingdom


Awards

2023
Bill Douglas Award for International Short Film
2022
Audience Prize of the Toronto Biennial
2019
Co-winner of the Turner Prize 2019
Edvard Munch Art Award
2018
The Abraaj Group Art Prize
20th Baloise Art Prize
2017
Shortlisted for the 2017 Jarman Award
Dialog Award 2017
Frieze Tate Fund Acquisitions
Tiger Award for Short Films
2016
International Nam June Paik Award


Public Collections

 
Tate, London; Guggenheim, New York; MOMA, New York, Centre Pompidou, Paris; Van Abbemuseum, Eindhoven; Arts Council England Collection, London; Barjeel Art Foundation, Sharjah


Education

2016
Goldsmiths College, University of London, PhD, The Centre for Research Architecture, United Kingdom
2010
Goldsmiths College, University of London, MA, The Centre for Research Architecture, United Kingdom
2007
Middlesex University, BA, Sonic Arts, London, United Kingdom