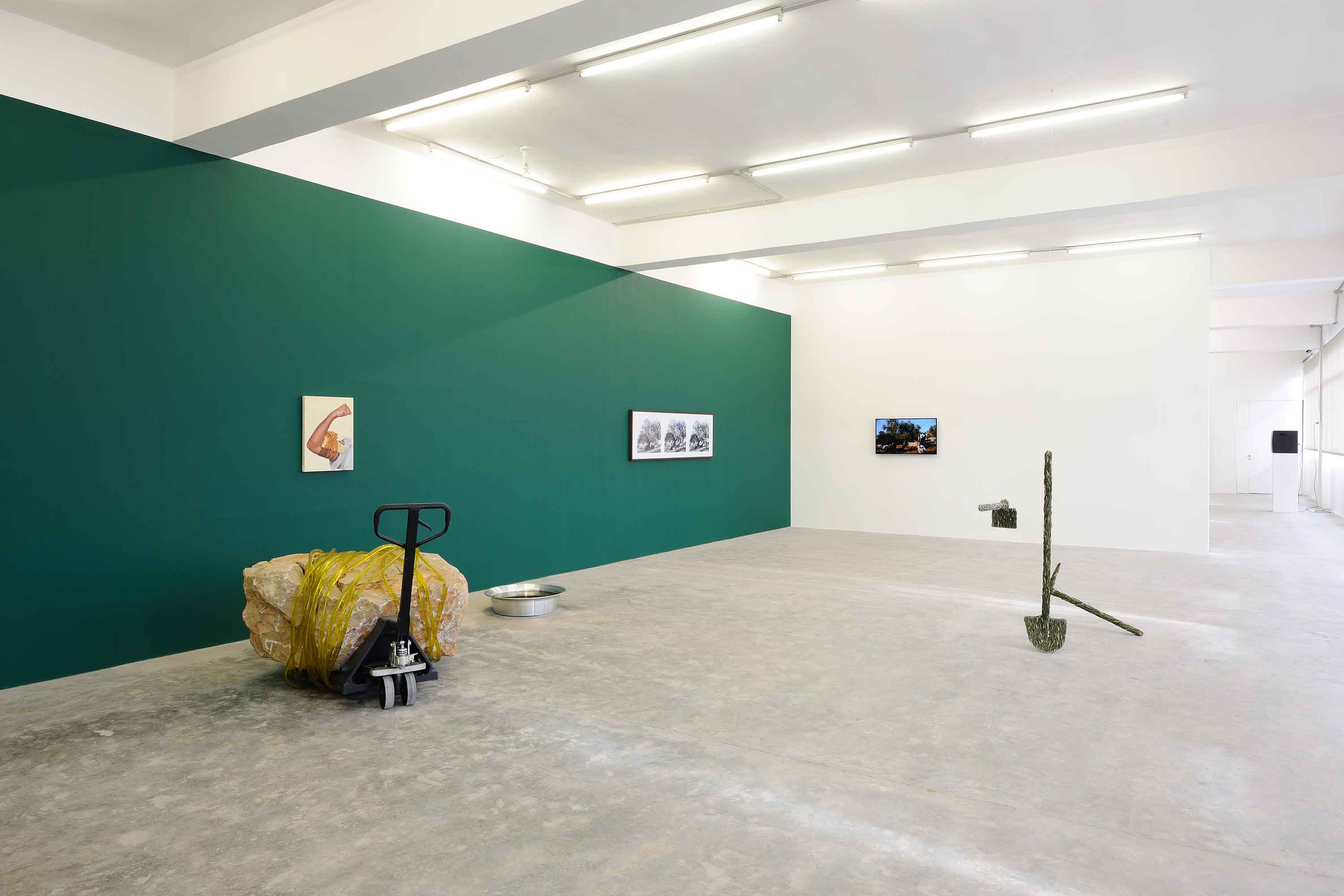 Sfeir-Semler Gallery Beirut, 2018

Khalil Rabah (b.1961, Palestine) studied fine arts and architecture at the University of Texas. His most recent solo exhibitions include Casa Árabe, Madrid (2016); Kunsthaus Hamburg (2015); e-flux, New York, (2013); and Beirut Art Center (2012). In addition to major group shows, including Manifesta 12 Palermo (2018); the Sharjah Biennial (2017); the Marrakech Biennale (2016); the Kochi-Muziris Biennale (2014); the Thessaloniki Biennial (2013); Mori Art Museum, Tokyo (2012); Mathaf, Doha (2010); and the Venice Biennale (2009).
Over the years, his work has been acquired by major institutions including MACRO, Rome; The British Museum, London; The Guggenheim, Abu Dhabi; Mathaf, Doha; Kunsthaus Zurich and The Sharjah Art Foundation.
Rabah is the initiator and artistic director of the Riwaq Biennale and a co-founder of Al Ma'mal Foundation for Contemporary Art in Jerusalem. He served on the curricular committee of Ashkal Alwan's Home Workspace Program in Beirut, Lebanon from 2011 to 2015.
 
Selected Solo Exhibitions

2023
Through the Palestinian Museum of Natural History and Humankind, Fondazione Merz, Turin, Italy
Relocation, Among Other Things, Sfeir-Semler Gallery, Hamburg, Germany
2022
Relocation, Among Other Things, Salzburger Kunstverein, Salzburg, Austria
What is not, Sharjah Art Foundation, UAE
2018
New Sites for the Museum Departments or four places to visit Heaven, Sfeir-Semler Gallery Beirut, Lebanon
2016
Khalil Rabah. Proyectos a escala, Casa Árabe, Madrid, Spain
2015
Scale Models, Kunsthaus Hamburg, Germany
2013
Khalil Rabah: Pages 7, 8, 9, e-flux, New York, USA 
2012
Review, Beirut Art Center, Beirut, Lebanon
Art Exhibition, Ready Made Representations, Sfeir-Semler Gallery Hamburg, Germany
2007
United States of Palestine Airlines, The London Office, Artist Studio, London, UK
50.320 Names, Brunei Gallery, London, UK  
2004
The Third Annual Wall Zone Sale, Khalil Sakakini Cultural Center, Ramallah, West Bank  
2002
Copy Right, Samaha House, Beirut, Lebanon  
2001
Feeling a Part, Townhouse Gallery, Cairo, Egypt 
2000
With Out Architecture, Le Repubbliche Dell'Arte, Siena, Italy
Gallery Bangnai, Siena, Italy
1999
Nine Works, Khalil Sakakini Cultural Centre, Ramallah, West Bank  


Selected Group Exhibitions

2023
Vera List Center Forum 2023: Correction*, Vera List Center for Art and Politics, The New School, New York, USA
Dream City Festival, Tunis, Tunisia
In the Heart of Another Country: The Diasporic Imagination Rises, Sharjah Art Foundation, Sharjah, UAE
Material Power: Palestinian Embroidery, The Whitworth, University of Manchester, Manchester, United Kingdom
Material Power: Palestinian Embroidery, Kettle's Yard, Cambridge, United Kingdom
ANGST / FEAR – Crisis Indicator or Survival Instinct?, Künstlerverein Walkmühle, Wiesbaden, Germany
2022
In The Heart of Another Country, Deichtorhallen Hamburg, Germany
Sarab, Desert X AlUla, Al-'Ula region, Saudi Arabia
A Casa é Sua: Migração e hos(ti)pitalidade fora do lugar, Paço Imperial, Rio de Janeiro
2021
Carnivalesca: What painting might be, Kunstverein Hamburg, Hamburg, Germany
Répare Reprise, Cité Internationale des arts, Paris, France
2020
Global(e) Resistance, Centre Pompidou, Paris, France
between the sun and the moon, Lahore Biennale 02, Pakistan
2019
Phantom Limb, Jameel Arts Centre, Dubai, UAE
2018
Vanishing Points, Carré d'Art - Museum of Contemporary Art Nîmes, France
Truth is black, write over it with a mirage's light, Darat al Funun, Amman, Jordan
Debt, Qalandiya International IV, Ramallah, Palestine
The Lasting Effect, Qalandiya International IV, Ramallah, Palestine
Manifesta 12, Palermo, Italy
Höhenrausch/Thrill of Heights, OÖ Kulturquartier, Linz, Austria
2017
Tamawuj, Sharjah Biennial 13, Sharjah
After the Fact. Propaganda in the 21st Century, Städtische Galerie im Lenbachhaus, Munich
2016
Marrakech Biennale 6, Marrakech, Morocco
The Time is Out of Joint, Sharjah Art Foundation, UAE
2015
Gallery 3010, Sfeir-Semler Gallery, Beirut, Lebanon
2014
Cartagena Biennial, Colombia
Critical Machines, AUB Beirut, Lebanon
2013
4th Thessaloniki Biennial of Contemporary Artists, State Museum of Contemporary Art, Thessaloniki, Greece 
2012
Arab Express: The Latest Art from the Arab World, Mori Art Museum, Tokyo, Japan 
2011
A Plot for a Biennial, Sharjah Biennial 10, Sharjah, UAE
Essays on Geopolitics, 8th Mercosur Biennial 2011, Porto Alegre, Basilia 
2010
Localties, Museum of Contemporary Art, Roskilde, Denmark
Told – Untold –Retold, Mathaf, Doha, Qatar
Biproduct, Mathaf, Doha, Qatar
2009
53. Venice Biennial, Venice, Italy
Palestine - La creation dans tous ses états, Institut du Monde Arabe, Paris, France 
2008
Liverpool Biennial, Liverpool, UK 
2007
In Focus, Tate Modern, London, UK
Memorial to the Iraq War, ICA, London, UK
Home works Beirut, Beirut, Lebanon
2006
Word into Art, British Museum, London, UK
Mercury in Retrograde, De Apple, Amsterdam, The Netherlands
Interrupted Histories, Museum of Modern Art, Ljubljana, Slovenia  
2005
9th Istanbul Biennale, Istanbul, Turkey
Nuove Acquisizioni, MACRO al Mattatoio, Museo d'Arte Contemporanea, Rome, Italy
Ten Artists Ten Years, Guest Atelier, Aarau, Switzerland
...O luna tu...ARCOS, Museo d'Arte Contemporanea Sannio, Benevento, Italy  
2004
Mediterraneans Arte Contemporanea, MACRO al Mattatoio, Museo d'Arte Contemporanea, Rome, Italy
Plug In, Centre for Contemporary Art Futura, Prague, Czech Republic
Unscene, Greenwich University, London, UK
Lust Lies Art and Fashion, Podewill, Berlin, Germany  
2003
Disorientation, Haus Der Kulturen Der Welt, Berlin, Germany  
2000
Narcisse blesse, autoportraits contemporains 1970-2000, Passage de Retz, Paris, France  
1999
The Change of the Century 1899-1999, Passage de Retz, Paris, France
1998
I never promised you a rose garden, Beelden Buiten, Tielt, Belgium
Roteiros, Roteiros, Roteiros, XXIV Biennale de São Paolo, Brazil
Every Day, Sydney Biennial, Australia  
1997
Contemporary Palestinian Artists, Institut du Monde Arabe, Paris, France 
1995
Beyond the Borders, Gwangju Biennale, Kwangju, South Korea


Education

1989
University of Texas, Fine Arts, Austin, Texas