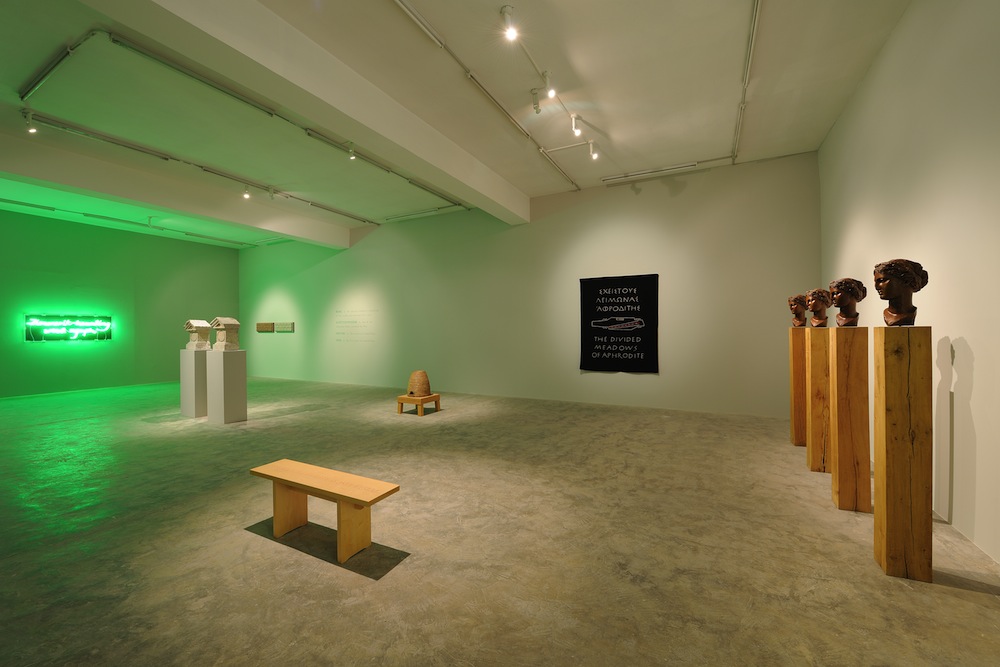 Sfeir-Semler Gallery Beirut, 2014
Ian Hamilton Finlay (b. 1925, Nassau, Bahamas; d. 2006, Edinburgh, Scotland) studied at the Glasgow School of Art and was a poet, a gardener and an artist. Oftentimes he combined his passions, for example when composing a poem to be inscribed into stone and put as a sculpture into a natural environment. Themes of Finlay's oeuvre, regardless of the medium, are classical literature from the ancient world, the French Revolution or the "Third Reich". Also the motives of fishing, sailboats and guillotines are recurring. The execution of Finlays work was often left to "collaborators" (other artists, craftsmen or illustrators) whom he would always mention notably. By Finlay's skilled use of syntax and story telling, sophisticated by his lyrical philosophy, he breaks down complex issues into coherent notions and phrases, that drip of his wit and dry humor.      
Many of Finlays works are accessible to the public in public spaces, mostly in Europe. Finlay has partaken in many national and international exhibitions in museums and galleries since the 1970s. He had solo exhibitions at the Kunsthalle Bremen (2008), Tate Britain (2004), the Scottish National Gallery of Art in Edinburgh (2001) or the Joan Miro Foundation Barcelona (1999). He participated at the documenta 8 (1987) and the 1. Biennale de Montréal Canada (1998). Finlay was nominated for the Turner Prize in 1985.

Selected Solo Exhibitions

2014
Terra Mare, Sfeir-Semler Gallery, Beirut, Lebanon
2008
Ian Hamilton Finlay - Druckgrafik, Kunsthalle Bremen, Germany
2007
Letters & numbers, Sfeir-Semler Gallery, Hamburg, Germany
Victoria Miro Gallery, London, United Kingdom
2006
Kewenig Galerie, Cologne, Germany
Stampa, Basel, Switzerland
2005
David Nolan Gallery, New York, USA
Ingleby Gallery, Edinburgh, United Kingdom
2004
souvenirs, Sfeir-Semler Gallery, Hamburg, Germany
Art of the Garden, Tate Britain, London, United Kingdom
Ian Hamilton Finlay Prints, 1963-2004, Pine Weber Gallery, New York, USA
2003
Idylls and Interventions, Victoria Miro Gallery, London, United Kingdom
Maritime Works, Nolan/Eckman Gallery, New York, USA 
2002
Maritime Works, Tate St. Ives, United Kingdom
Blast to Freeze, Kunstmuseum Wolfsburg, Germany  
2001
Souvenirs – Postcards by Ian Hamilton Finlay, The Scottish National Gallery of Art, Edinburgh, Scotland
2000
Garden Works, Nolan/ Eckman Gallery, New York, USA
Ian Hamilton Finlay/ Richard Tuttle, Stampa, Basel, Switzerland Nature over again after Poussin, McMaster Museum of Art, Hamilton, Ontario, Canada
1999
Variation on Several Themes, Joan Miro Foundation, Barcelona, Spain  
1998
Modern Antiquities, Landesmuseum, Mainz, Germany  
1997
Wild Hawthorn Press, Academie Beeldende Kunsten, Maastricht, Netherlands
Prints 1963 - 1997, Museum am Ostwall, Dortmund, Germany
1995
Inscriptions, Sfeir-Semler Gallery, Kiel, Germany
Works: Pure and Political, Deichtorhallen, Hamburg, Germany  
1993
Wildwachsende Blumen, Lenbachhaus, Munich, Germany  
1991
Malerisamling Lillehammer, Norway
Ideologische Äusserungen, Frankfurter Kunstverein, Frankfurt, Germany
Definitions, Sfeir-Semler Gallery, Kiel, Germany
Philadelphia Museum of Art, Philadelphia, USA
Tate Gallery, Liverpool, United Kingdom
1990
Kunsthalle Basel, Switzerland
Christine Burgin, New York, USA
Holzwege, Neuer Aachener Kunstverein, Aachen, Germany 
1989
1789 – 1794, Hamburger Kunsthalle, Hamburg, Germany  
1988
Musee d'Art Contemporain, Dunkerque, France  
1987
Inter Artes et Naturam, Musee d'Art Moderne de la Ville de Paris, France
Midway, Bibliotheque Nationale, Paris, France  
1986
Marat Assasine and other works, Victoria Miro Gallery, London, United Kingdom
1980
Rijksmuseum Kroller-Mueller, Otterlo, Netherlands  
1977
Serpentine Gallery, London, United Kingdom
1974
National Maritime Museum, London, United Kingdom
Scottish National Gallery of Modern Art, Edinburgh, Scotland


Selected Group Exhibitions

2015
Gallery 3010, Sfeir-Semler Gallery, Beirut, Lebanon
Bert de Beul, Elger Esser, Ian Hamilton Finlay, Sfeir-Semler Gallery, Hamburg, Germany
2008
Ian Hamilton Finlay, Tate Modern, London, United Kingdom
Barbican London, United Kingdom
2007
Camden Arts Centre, London, United Kingdom
Kunstmuseum Magdeburg, Germany
Stroom, Den Haag, Netherlands
Kunsthaus Hamburg, Germany
Neues Museum Weserburg, Bremen, Germany
Augarten Contemporary, Vienna, Austria
2006
Ecstatic Alphabets/Heaps of Language, Museum of Modern Art, New York, USA
Tate Triennial, London, United Kingdom
2005
Andrea Rosen Gallery, New York, USA
Scottish National Portrait Gallery, Edinburgh, Scotland
Centre Georges Pompidou, Paris, France
2004
Deichtorhallen Hamburg, Germany
Royal Scottish Academy, Edinburgh, Scotland
Tate Britain, London, United Kingdom
2003
Mamco – muse d'art moderne et contemporain, Genf, Switzerland
2002
Dean Gallery, Edinburgh, Scotland
2000
Tomorow for ever, Sfeir-Semler Gallery, Hamburg, Germany
Encounters, National Gallery London, United Kingdom  
1999
Heads will Roll, Victoria Miro Gallery, London, United Kingdom  
1998
Les Capteurs de rêves, 1re Biennale de Montréal, Canada  
1997
Material Culture, Hayward Gallery, London, United Kingdom  
1996
Schwere-Los - Skulpturen, Landesmuseum Linz, Austria  
1995
LapisLazuli & Gold, Sfeir-Semler Gallery, Kiel, Germany  
1994
Das Jahrhundert des Multiple, Deichtorhallen, Hamburg, Germany  
1993
Words, Sfeir-Semler Gallery, Kiel & Hamburg, Germany
Konfrontation, Museum Moderner Kunst, Groningen, Netherlands
Die Sprache der Kunst, Kunsthalle Wien, Vienna, Austria 
1991
Rhetorical Image, The New Museum of Contemporary Art, New York, USA
1990
Allegorie, Sfeir- Semler Gallery, Kiel, Germany
British Art Now: A Subjective View, Stagaya Art Museum, Fukuoka Art Museum, Japan
1989
Prospect ´89, Frankfurter Kunstverein/Schirn Kunsthalle, Frankfurt, Germany
Buhnen Stucke, Kunstverein Munich, Germany
Freiheit- Gleichheit – Brüderlichkeit, Germanisches Nationalmuseuem, Nürnberg, Germany  
1988
Starlit Waters, British Sculpture 1968-88, Tate Gallery Liverpool, United Kingdom
1987
Documenta 8, Kassel, Germany 
1983
Hayward Gallery, London, United Kingdom