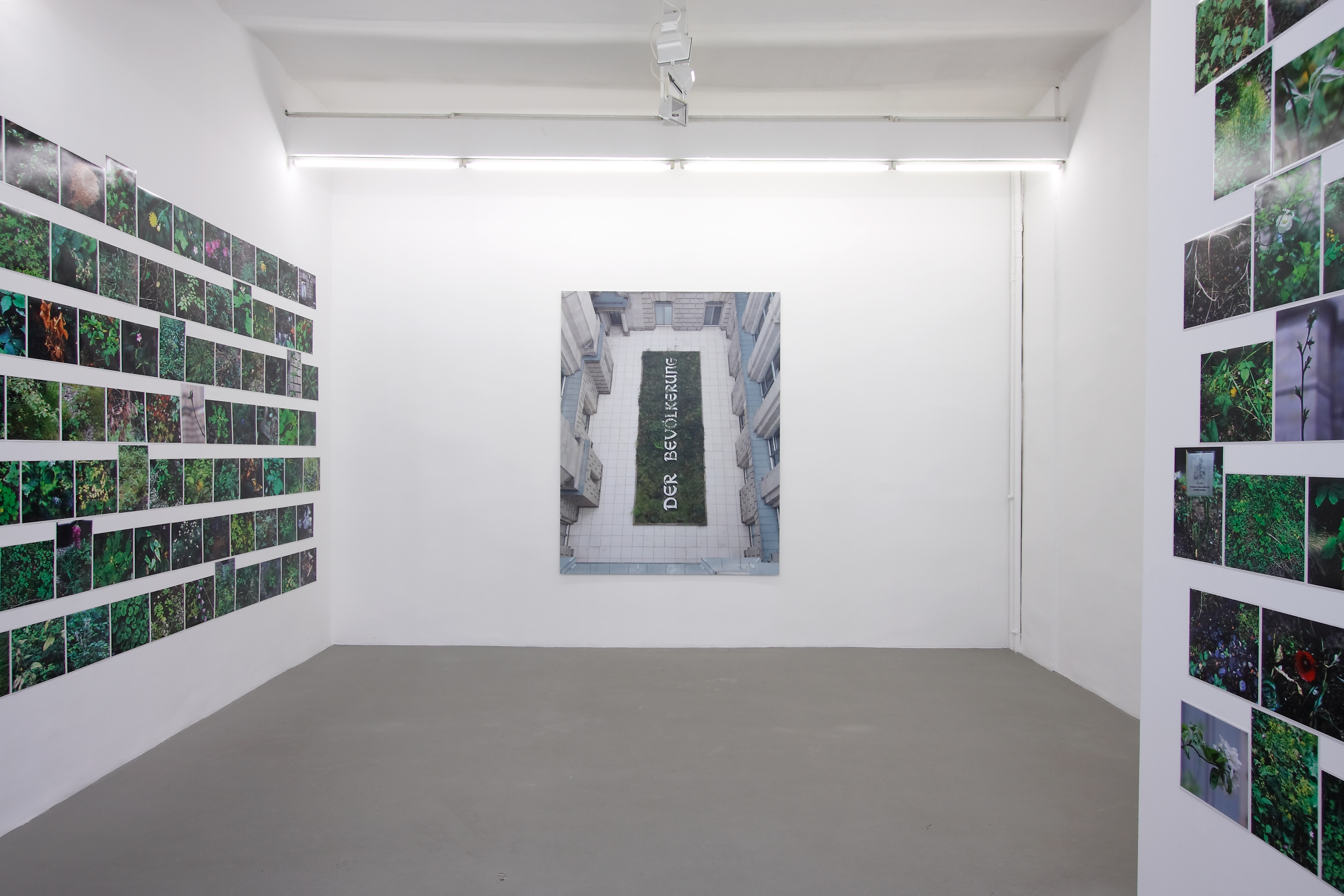 Sfeir-Semler Gallery Hamburg, 2008
Hans Haacke (b. 1936, Cologne) lives and works in New York since 1965. He studied at the State Art Academy in Kassel and at the Tyler School of Fine Arts in Philadelphia supported by a Fulbright Fellowship. From 1963 until 1965, Haacke taught amongst others at the College of Education in Kettwig (Germany), but returned to the U.S. subsequently where he taught at the University of Washington, the Rutgers University, the Philadelphia College of Art and eventually at Cooper Union. Haacke held lectures and was a visiting professor at several international universities. In 1998 the Bauhaus University of Weimar awarded Haacke with an honorary doctorate.
Haackes early works as a conceptual artist focussed on social, physical and environmental systems and processes. Some of his works even draw near Land Art. But his focal topic remained researching and unfolding sociopolitical structures and such inherent to the art world. Haacke not only disclosed speculations with real estate in his work Shapolsky et al. Manhattan Real Estate Holdings, A Real Time Social System, as of May 1, 1971, but also expresses his critical stance towards the art world with regard to its relations with corporations and corporate leaders. For example Haacke did so, when he revealed the provenance of Édouard Manets Bunch of Asparagus (1974) or laid open via his painting Cowboy with Cigarette that the Cubism exhibition at the MOMA New York in 1989/90 was sponsored by Phillip Morris, a tobacco company. Since the late 1980s Haackes increasingly uses painting and large installations to express his political thoughts and institutional critique. 
Haacke had many solo exhibitions, e.g. at the New Museum of Contemporary Art New York, the Stedelijk Van Abbemuseum Eindhoven, at the Centre Georges Pompidou in Paris, Deichtorhallen Hamburg or the Museo Reina Sofia in Madrid. He has also partaken at the documenta in Kassel several times (1972, 1982, 1987, 1997, 2017). His works are represented in many international public collections for example the MOMA New York, the SMAK Gent, the Tate London, or the Fotomuseum Winterthur. Haacke won several art prizes as the Golden Lion (shared with Nam June Paik) at 43. Biennale di Venezia (1993), Prize of Helmut-Kraft-Stiftung Stuttgart (1998), the Peter-Weiss-Preis Bochum (2004), the Arnold-Bode-Preis (2019) and the Goslarer Kaiserring (2020).

Selected Solo Exhibitions

2020
Hans Haacke: 20 Years of "To the Population", Neuer Berliner Kunstverein (n.b.k..), Berlin, Germany
2019

Hans Haacke, The New Museum, New York, USA

Hans Haacke, Zentralinstitut für Kunstgeschichte, Munich, Germany

2018

Hans Haacke: Gift Horse, Art Institute of Chicago, Chicago, USA

Hans Haacke: Wir (alle) sind das Volk – We (all) are the people, (2018—2019) Kunstsammlungen Chemnitz, Germany; Hochschule für Grafik und Buchkunst/Academy of Fine Arts Leipzig, Germany; Academy of Fine Arts Dresden, Germany; Burg Giebichenstein Halle, Halle, Germany; Bauhaus University, Weimer, Germany; Kunsthal Charlottenborg, Copenhagen, Denmark.

SI ONSITE: Hans Haacke, Swiss Institute Poll, Swiss Institute / Contemporary Art New York, New York, USA

Hans Haacke, The Artist's Institute, New York,USA

2016
Dreams That Money Can Buy (Update) Maier Museum of Art at Randolph College, VA, USA
2012
Castles in the air, Reina Sofia, Madrid, Spain
2011
Hans Haacke 1968, MIT List Visual Arts Center, Cambridge/Mass, USA
2010
Hans Haacke: Show and tell, Fondatione Antonio Ratti, Como, Italy
2008
Hans Haacke, Paula Cooper Gallery, New York, USA  
2006
Hans Haacke wirklich, curated by Matthias Flügge, Akademie der Künste, Berlin, Germany
Hans Haacke - wirklich Werke 1959-2006, curated by Robert Fleck, Deichtorhallen Hamburg, Hamburg, Germany


Selected Group Exhibitions

2015
Gallery 3010, Sfeir-Semler Gallery, Beirut, Lebanon
2012
This Will Have Been: Art, Love, & Politics in the 1980s, Museum of Contemporary Art, Chicago, USA 
2011
After the Gold Rush. Contemporary Photographs from the Collection, Metropolitan Museum, New York, USA
Paradigm Shift Serralves Collection 60's 70's, MUSAC, León, Spain
Beziehungsarbeit - Kunst und Institution, Künstlerhaus Wien, Austria
Freedom of Speech, Kunstverein Hamburg; Neuer Berliner Kunstverein, Germany 
2010
The Last Newspaper, New Museum, New York, USA
Taking Place, Stedelijik Museum, Amsterdam, Netherlands
2009
1968. Die große Unschuld, Kunsthalle Bielefeld, Germany
MOCA's First Thirty Years, Museum of Contemporary Art, Los Angeles, USA
Kunst und Kalter Krieg - Deutsche Positionen 1945-2098, Deutsches Historisches Museum Berlin; Germanisches National Museum, Nürnberg, Germany
Time as Matter. MACBA Collection, New Acquisitions, MACBA, Barcelona, Spain 
2008
The Return of Religion and Other Myths, Central Museum Utrecht; BAK, Utrecht, Netherlands
The Art of Participation: 1950 to Now, San Francisco Auseum of Modern Art, USA
What Was Then ... This Is Now, MoMA PS.1, New York, USA
Gwangju Biennial, Gwangju, South Korea
Sfeir-Semler Gallery, Hamburg, Germany 
2007
New York States of Mind, Queens Museum of Art, Queens, USA
Mask, James Cohan Gallery in collaboration with Joseph G. Gerena Fine Art, New York, USA
2006
The Message Is the Medium, curated by Marshall Reese, Jim Kempner Fine Art, New York, NY
Here + Now, Elizabeth Leach Gallery, Portland, USA
Fourteen Artists/Fourteen Years: Mahaffey Fine Art, curated by Annette Dixon, PortlandArt Museum, Portland, USA
Zero: International Avant-garde of the 50s and 60s, Museum Kunst Palast, Düsseldorf, Germany
2005
Open Systems: Rethinking Art c.1970, Tate Modern, London, United Kingdom
Monuments for the USA, California College of Art Gallery, San Francisco, USA
Kritische Gesellschaften: Kunst, Kritik und die Versprechen des Kapitalismus, Badischer Kunstverein, Karlsruhe, Germany
Bewegliche Teile-Formen des Kintetischen, Museum Tinguely, Basel, Switzerland
Occupying Space-Sammlung Generali Foundation, Haus der Kunst, Munich, Germany
Kontexte der Fotografie, Museum für Gegenwartskunst Siegen, Germany
behind the facts. Interfunktionen 1968-1975, Kunsthalle Fridericianum, Kassel, Germany
MIRRORICAL RETURNS: Marcel Duchamp and the 20th Century Art, Yokohama Museum of Art, Kanagawa, Japan 
2004
A Minimal Future? Art as Object 1958-1968, Museum of Contemporary Art (MOCA), Los Angeles, USA
Behind the Facts, Interfunktionen 1988-1975, Fundació Joan Miró, Barcelona, Spain. Traveled to Museu Serralves, Porto, Portugal
Art and Utopia, Action Restricted, Museu d'Art Contemporani de Barcelona, Barcelona, Spain
Beyond Geometry: Experiments in Form 1940s-1970s, Los Angeles County Museum, Los Angeles, USA. Traveled to Miami Art Museum, Miami, USA
Moscow-Berlin, Historical Museum, Moscow, Russia
70/90 Engagierte Kunst, Neues Museum, Nürnberg, Germany
Bewegliche Teile, Formen des Kinetischen, Kunsthaus Graz, Graz, Austria
Mirrorical Return, National Museum of Art, Osaka, Japan 
2003

Air, James Cohan Gallery, New York, USA
The Last Picture Show: Artists Using Photography 1960-1982, Walker Art Center, Minneapolis, USA
Traveled to UCLA Hammer Museum, Los Angeles, USA
Berlin-Moskau, Martin-Gropius-Bau, Berlin, Germany