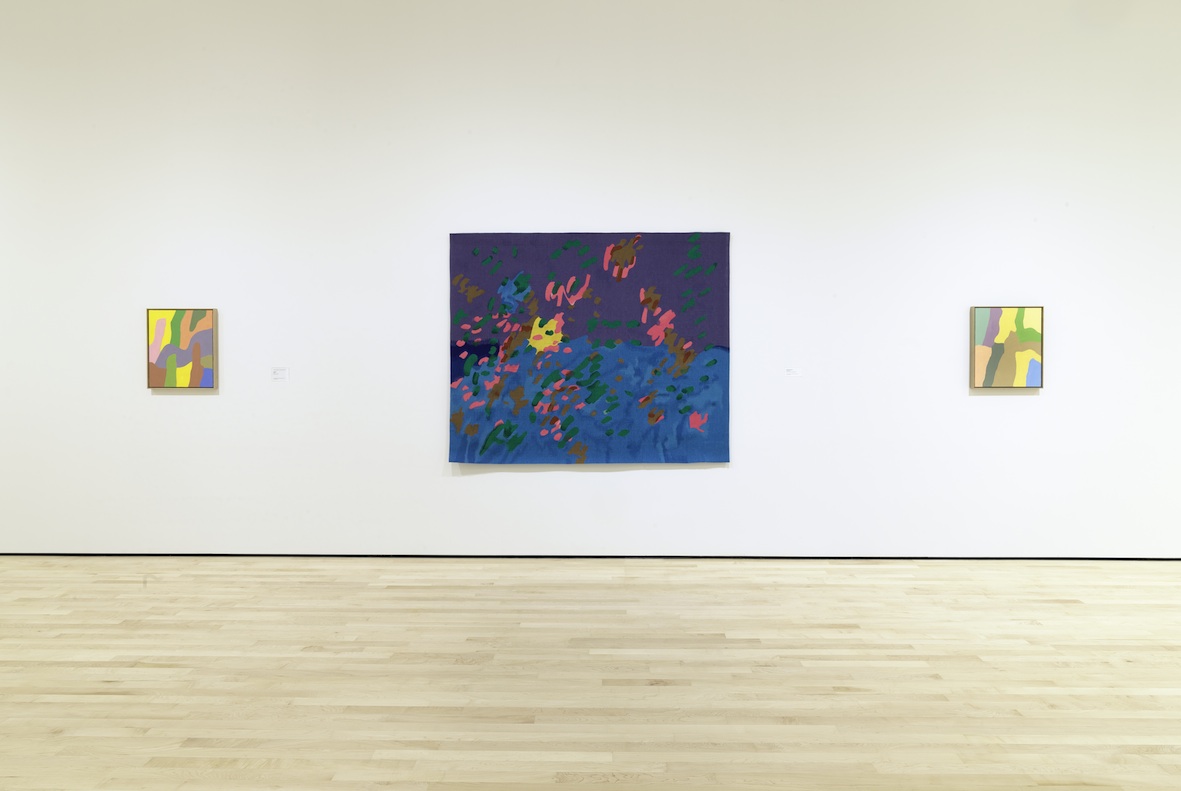 San Francisco Museum of Modern Art, 2018

Etel Adnan (1925-2021) is widely recognized as one of the foremost authors, poets and playwrights of her generation. Widely known for her literary work, she fluidly moves between the disciplines of writing and art.
Her paintings rose to prominence following their exhibition at dOCUMENTA 13 (2012); and she has had solo exhibitions at K20, Düsseldorf (2023), Van Gogh Museum, Amsterdam (2022), Lenbachhaus, Munich (2022), Mudam, Luxemburg (2019), SFMoMA, San Francisco (2018), Zentrum Paul Klee, Switzerland (2018), the Institut du Monde Arabe, Paris (2016), UNAM, Mexico City (2017), Serpentine Sackler Gallery, London (2016), Haus Konstruktiv, Zurich (2015), Museum der Moderne Salzburg, Austria (2014), and Mathaf, Doha (2014). As well as group exhibitions at Castello di Rivoli, Italy (2017), MoMa, New York (2017), Sharjah Biennial 12 (2015), the 14th Istanbul Biennial (2015), the Whitney Museum of Modern Art (2014).
She has works in private collections as well as many public collections around the world such as MoMa, New York, Centre Pompidou, Paris, the San Francisco Museum of Modern Art, Kunstsammlung NRW, the Royal Jordanian Museum, LAM, Lille, Guggenheim, Abu Dhabi, Mathaf, Qatar, the Sursock Museum in Beirut, the Institut du Monde Arabe in Paris, the British Museum in London, Kunsthaus Zurich, the National Museum for Women in the Arts, Washington D.C. Adnan also has tapestries in public spaces and private collections. Slides of her tapestries are in the permanent files of the Contemporary Crafts Museums of New York and Los Angeles.
 
Selected Solo Exhibitions

2023
Etel Adan & Simone Fattal: Voices Without Borders, KINDL – Centre for Contemporary Art, Berlin, Germany
Poesie der Farben, Etel Adnan, Kunsthalle NRW, K20, Düsseldorf, Germany
2022
Etel Adnan, Lenbachhaus, Munich, Germany
Colour as Language, Van Gogh Museum, Amsterdam, Netherlands
2020
The uprising of colors, Sfeir-Semler Gallery, Beirut, Lebanon
2019
Départ, Institute of Modern Art, Nuremberg, Germany
Etel Adnan et le Modernes, MUDAM, Luxemburg
Each Day Is A Whole World, Aspen Art Museum, Colorado, USA
2018
New Work: Etel Adnan, SFMOMA, San Francisco, USA
Etel Adnan, Zentrum Paul Klee, Bern, Switzerland
A Yellow Sun A Green Sun A Yellow Sun A Red Sun A Blue Sun, Massachusetts Museum of Contemporary Art, Massachusetts, USA
Etel Adnan: The dazzling gesture, Fondation Jan Michalski, Montricher, Switzerland
Etel Adnan: Tout ce que je fais est mémoire, Château La Coste, Le Puy-Sainte-Réparade, France
2017
Album à dessins, UNAM Mexico City, Mexico
Sea and Fog, Oakville Galleries in Gairloch Gardens, Ontario, Canada
Museum of European and Mediterranean Civilisations, Marseille, France
2016
Paintings • Drawings • Tapestry • Writing, Sfeir-Semler Gallery Hamburg, Germany
Etel Adnan, Institut du monde arabe, Paris, France
Etel Adnan: The Weight of the World, Serpentine Sackler Gallery, London, United Kingdom
2015
La joie de vivre, Haus Konstruktiv, Zürich, Switzerland
Etel Adnan, Irish Museum of Modern Art, Dublin, Ireland
2014
Writing Mountains, The Museum der Moderne Salzburg, Austria
Etel Adnan in All Her Dimensions, Mathaf, Arab Museum of Modern Art, Doha, Qatar
Etel Adnan: Dessins, cipM – Centre International de Poésie, Marseille, France
2013
Etel Adnan, Sfeir-Semler Gallery, Beirut, Lebanon
Words and Places: Etel Adnan, Wattis Institute for Contemporary Arts, San Francisco, USA
Voyage au Mont Tamalpais, Maison de la Poésie, Paris, France
2012
Etel Adnan, Works 1965 - 2012, Sfeir-Semler Gallery, Hamburg, Germany
2010
Etel Adnan, Paintings and Drawings, Sfeir-Semler Gallery, Beirut, Lebanon
2007
Eileen Curtis Museum, Sausalito, California, USA
2006
Arte Mare, Bastia, Corsica, France
1998
Salazar Gallery, University of California, Sonoma, California, USA
Etel Adnan: Artist's Books, Darat al Funun, Amman, Jordan


Selected Group Exhibitions

2023
The Assault of the Present on the Rest of Time, Schinkel Pavillon, Berlin, Germany
Beirut and the Golden Sixties, Mathaf: Arab Museum of Modern Art, Doha, Qatar
L'Amour, La mer, les Femmes, Villa Noaille, Toulon, France
In the Heart of Another Country: The Diasporic Imagination Rises, Sharjah Art Foundation, Sharjah, UAE
2022
In The Heart of Another Country, Deichtorhallen Hamburg, Germany
Beirut and the Golden Sixties: A Manifesto of Fragility, Gropius Bau, Berlin, Germany
Color As Program, Bundeskunsthalle Bonn, Germany
Etel Adnan & Simone Fattal: Working Together, Fondazione Antonio Dalle Nogare, Bolzano, Italy
"H" 100 seconds to midnight, Thalia Theater, Hamburg, Germany
2021
Another Energy: Power to Continue Challenging, Mori Art Museum, Tokyo, Japan
Women in Abstraction, Centre Pompidou, Paris, France
The Impermanent Display, LUMA Foundation, Arles, France
Shirin Neshat. Living in one Land, Dreaming in another, Pinakothek der Moderne, München, Germany
2020
A sun yellow with anger, Sfeir-Semler Gallery, Hamburg, Germany
Taking Shape: Abstraction from the Arab World, 1950s-1980s, Grey Art Gallery, NYU, USA
Where Do You Want Ghosts to Reside?, Southern Exposure (SoEx), San Francisco, USA
There, where we promenade, Freelands Foundation, London, United Kingdom
HUMAN CAPITAL, Innsbruck International Biennial of the Arts, Innsbruck, Austria
Another Energy: Power to Continue Challenging - 16 Women Artists from around the World, Mori Art Museum, Tokyo, Japan
Transformaciones - Mujeres Artistas Entre Dos Siglos, Fundación CajaCanarias, Santa Cruz de Tenerife, Spain
2019
At the still point of the turning world, there is the dance, Sursock Museum, Beirut, Lebanon
Downtown Painting, Peter Freeman, New York, USA
Luogo e Segni, Palazzo Grassi, Punta della Dogana, Venice, Italy
Sophie Whettnall – Etel Adnan, Centrale, Brussels, Belgium
Le Monde N'est Pas Nécessairement Un Empire, Lille Métropole Musée d'Art Moderne, d'Art Contemporain et d'Art Brut, Lille, France
So wie wir sind 1.0, Weserburg Museum für moderne Kunst, Bremen, Germany
A a Plume, au Pinceau, au Crayon : Dessins du Monde Arabe, Institut du Monde Arabe, Paris, France
Climbing through the tide, Kamel Lazaar Foundation, Tunis, Tunisia
2018
Lydia Cabrera and Édouard Glissant: Trembling Thinking, Americas Society, New York, USA
Acts of Translation, Mohammad and Mahera Abu Ghazaleh Foundation, Amman, Jordan
Hot Sun, Late Sun, Fondation Vincent Van Gogh, Arles, France
Garden of Memory, Musee Yves Saint Laurent, Marrakech, Morocco
Painting the Night, Centre Pompidou Metz, France
Lettres Ouvertes, de la Calligraphie au Street-Art, Institut des Cultures de l'Islam, Paris, France
Focus 2, Mathaf, Doha, Qatar
Melancholia, Boghossian Foundation, Brussels, Belgium
Le Monde Arabe Vu Par Ses Artistes, Institut du Monde Arabe, Paris, France
This is the Gallery and the Gallery is Many Things II, Eastside Projects, Birmingham, United Kingdom
Die Biënnale van de Schilderkunst, Over landschappen, Museum Dhondt-Dhaenens, Belgium
2017
Etel Adnan/Gerhard Richter, Flag Art Foundation, New York, USA
L'emozione dei COLORI nell'arte, Castello di Rivoli, Italy
Making Space: Women Artists and Postwar Abstraction, MoMa, New York, USA
Delirium & Destiny, A Tale of a Tube, Rotterdam, Netherlands
WheredoIendyoubegin - On Secularity, Göteborg International Biennal of Contemporary Art, Sweden
Home Beirut. Sounding the Neighbors, MAXXI, Rome, Italy
From Ear to Ear to Ear, Nottingham Contemporary, United Kingdom
All the words for rock, Nature and Conflict, Visual Arts Center Fondacion Helga de Alvear, Caceres, Spain
Take Me (I'm Yours), Pirelli Hangar Bicocca, Milan, Italy
Three Women: Three Eyes on the World, EAP Centre d'Art Contemporain, Chatellerault, France
100 Masterpieces of Modern and Contemporary Arab Art: The Barjeel Collection, Institut du Monde Arabe, Paris
2016
Towards a Larger World, Moderna Museet, Malmö, Sweden
Looking at the World Around You, Fundación Santander, Madrid, Spain
do it, Darat al Funun, Amman, Jordan
2015
Liberated Subjects: Present Tense, Foundation de 11 Lijnen, Oudenburg, Belgium
SALTWATER: A Theory of Thought Forms, 14th Istanbul Biennial, Turkey
Interdependence, Manchester International Festival, Manchester, United Kingdom
Intimacy in Discourse, Mana Contemporary, New Jersey, USA
Nel Mezzo del Mezzo, Palazzo Riso - Museo d'Arte Contemporanea della Sicilia, Palermo, Italy
Follia Continua!, Le CENTQUATRE, Paris, France
Albert the kid is ghosting, The David Roberts Art Foundation, London, United Kingdom
Too Early, too late. Middle East and Modernity, Pinacoteca Nazionale, Bologna, Italy
Sharjah Biennial 12: the past, the present, the possible, Sharjah International Art Biennial, Sharjah, UAE
Looking Back/The 9th White Columns Annual - Selected by Cleopatra's, White Columns, New York, USA
Take me (I'm yours), Monnaie de Paris, France
2014
77th Whitney Biennial, Whitney Museum of Modern Art, New York, USA
Rose, CEAAC Centre Europeen D'Actions Artistiqes Contemporaines, Strasbourg, France
Extinction Marathon: Visions of the Future, Serpentine Sackler Gallery, London, United Kingdom
Here and Elsewhere, New Museum, New York , USA
this secret world that exists right there in public, Rampa, Istanbul, Turkey
Was wir zeigen wollen, Heidelberger Kunstverein, Heidelberg, Germany
The Sea - Salut D'honneur Jan Hoet, PMMK - Museum voor Moderne Kunst, Oostende, Belgium
What Remains: Part II, Rose Issa Porjects, London, United Kingdom
The Printed Room: read the room/you've got to, SALTS, Birsfelden, Switzerland
A Special Arrow Was Shot In The Neck, David Roberts Art Foundation, London, United Kingdom
2013
Tajreed. A Selection of Arab Abstract Art. Part I 1908 – 1960, Contemporary Art Platform, Kuwait
Here, Elswhere / Ici, ailleurs, Marseille-Provence, France
Hiwar, Conversations in Amman, Darat al Funun, Amman, Jordan
2012
dOCUMENTA 13, Kassel, Germany
Art from Lebanon - Modern and Contemporary artists: 1880 – 1975, Beirut Exhibition Center, Beirut, Lebanon
De Menocchio, nous savons beaucoup de choses, Bétonsalon, Paris, France
On the Edgware Road, Serpentine Gallery, London, United Kingdom
The Art of Friendship, New Britain Museum of American Art, New Britain, Connecticut
2011
The Last Grand Tour, Museum of Cycladic Art, Athens, Greece
2009
Tafsir, Martin Gropius Bau Museum, Berlin, Germany
2007
The Dance of Quill and Ink, Contemporary Art of the Middle East, L'Hermitage Museum, St Petersburg, Russia
The Dance of Quill and Ink, Contemporary Art of the Middle East, The State Museum of Oriental Art, Moscow, Russia
2006
Word into Art: Artists of the Modern Middle East, British Museum, London, United Kingdom
2004
Palazzo Reale, Napoli, Italy
2003
Tawashujat: Between Poet and Artist, Jordan National Gallery, Amman, Jordan
Musée Municipal de Thionville, France
2001
L'art du Livre Arabe, Bibliothèque Nationale de France, Paris, France
1998
London Artists' Book Fair, Barbican Center, London, United Kingdom
1997
Fine Arts Gallery, University of Arkansas, Lafayette, Arkansas, USA
London Artists' Book Fair, Barbican Centre, London, United Kingdom
1996
André Demedthuis, Wielsbeke, Belgium
Book Art VIII, National Museeum for Women in the Arts, Washington D.C., USA
1995
Le Arie del Tempo, Studio Alaya, Genoa, Italy
Chicago Cultural Center, Chicago, USA
1994
4 Women artists, Alif Gallery, Washington, D.C., USA
Forces of Change, National Museum for Women in the Arts, Washington D.C., USA
1993
André Demedthuis, Wielsbeke, Belgium
1991
Unesco, Paris, France
20 ans, 20 artistes, L'Atelier, Rabat, Morocco
Mediatheque, Mureaux, France
Institut du Monde Arabe, Paris, France
1990
Evenements urbains, Grenoble, France
Villa Croce, Genoa, Italy


Public Collections

 
British Museum, London; Centre Pompidou, Paris; Institut du Monde Arabe, Paris; National Museum of Women in the Arts, Washington, D.C.; M+, Hong Kong, China; Museum of Modern Art, New York; Museum of Modern Art, Tunis; Whitney Museum of American Art, New York; San Francisco Museum of Modern Art, San Francisco; Kunstsammlung NRW, Düsseldorf; Royal Jordanian Museum, Amman; LAM, Lille, Villeneuve-d'Ascq; Guggeneheim, Abu Dhabi; Mathaf, Qatar; Sursock Museum, Beirut; Kunsthaus Zurich


Education

 
Sorbonne University, Paris, France
University of California, Berkeley, California
Harvard University, Cambridge, Massachusetts