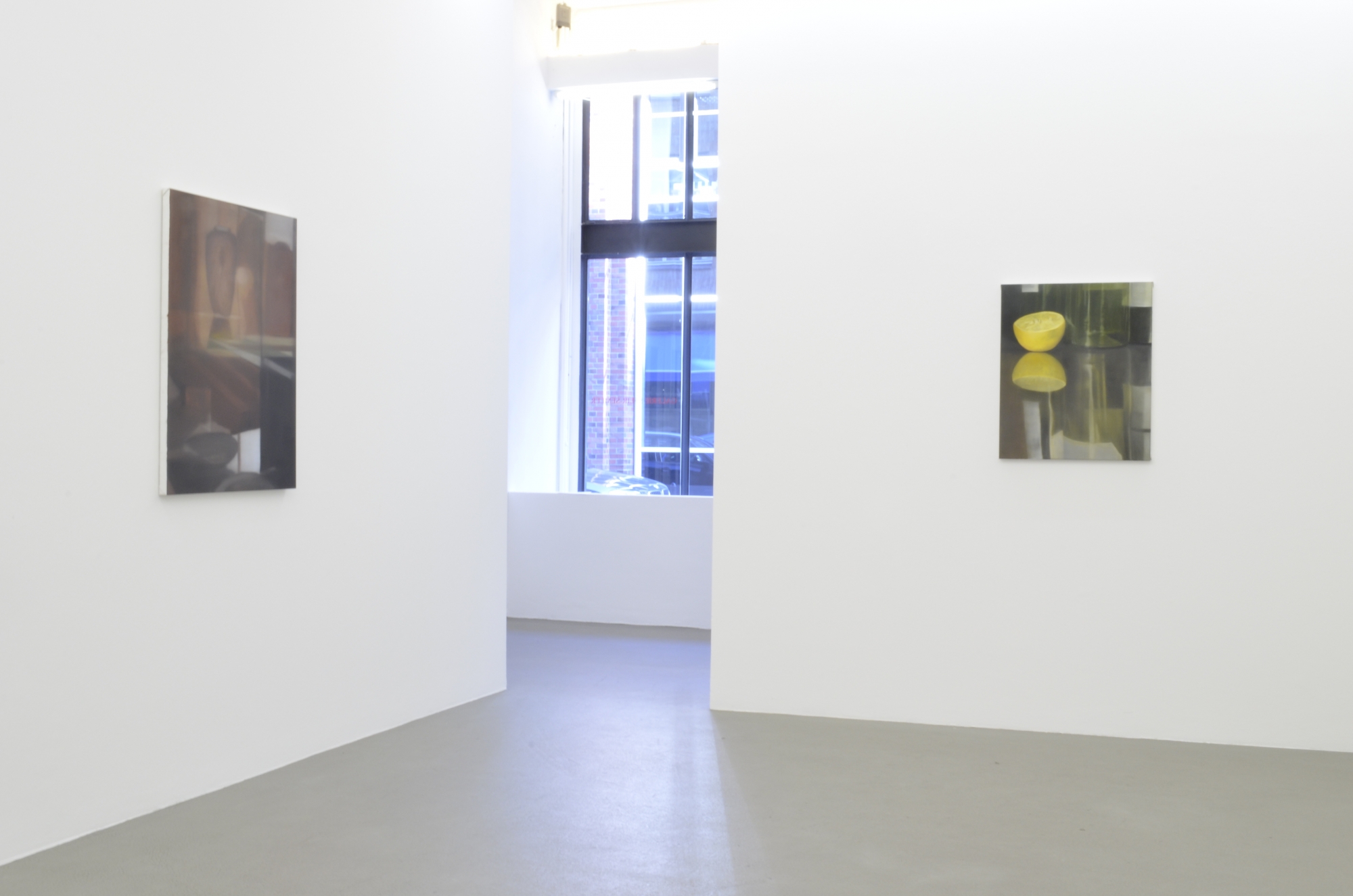 Sfeir-Semler Gallery Hamburg, 2015
Bert de Beul (b. 1961, Gent) lives and works in Antwerp. His paintings and photographies show still-lifes, landscapes, other spaces and people without depicting a palpable situation. By de Beuls choice of detail, perspective and color application, his works rather appear as a blink of an eye frozen into a frame. His landscapes are deserted and the portrayed seem remote. Thus, the reality de Beul presents is rather eerie and blurry and seems neither concrete, nor current to the spectator.
Bert de Beul has partaken in many national and international exhibitions in museums and galleries since the 1990s, among others at the Kunsthalle Rostock, the MUHKA Antwerp or the Museum of Contemporary Art Helsinki. His works are represented in the collections of the Finnish National Gallery Helsinki, the Museum van Elsene Brussels, the MUHKA Museum van Hedendaagse Kunst Antwerp and the P.M.M.K. museums voor Moderne Kunst Oostend.
Selected Solo Exhibitions

2013
Geukens & De Vil, Antwerpen, Belgium
2012
Kewenig Galerie, Cologne, Germany
Geukens & De Vil, Antwerpen, Belgium
2011
Bert de Beul - New Paintings, Geukens & De Vil, Antwerp, Belgium
Bert de Beul. Galeria Kewenig, Palma de Mallorca, Spain
2010
Paintings, Sfeir-Semler Gallery, Hamburg, Germany 
2009
Kewenig Galerie, Keulen (met Ivan Bazak), Germany 
2007
Kewenig Galerie, Keulen, Germany
Galerij S65, Aalst
Indian Caps, Antwerpen, Belgium
Kunsthalle, Rostock, Germany 
2006
New Paintings, Sfeir-Semler Gallery, Hamburg, Germany
The Living Room, Amsterdam, The Netherlands 
2005
Galeria Jule Kewenig, Palma de Mallorca, Spain
S65 Gallery, Cologne, Germany  
2004

The Living Room, Amsterdam, The Netherlands
IKOB Internationales Kunstzentrum Ostbelgien, Eupen, Belgium

2003
Sfeir-Semler Gallery, Hamburg, Germany
S65 Gallery, Aalst, Belgium
2002
MUHKA-Museum van Hedendaagse Kunst, Antwerpen, Belgium
Museum Katharinenhof, Kranenburg, Germany  
2001
Kunstverein, Bremerhaven, Germany
Kabinett für aktuelle Kunst, Bremerhaven, Germany
Galerij S65, Aalst, Belgum  
2000
The Living Room, Amsterdam, The Netherlands
Valeria Belvedere, Milano, Italy
CIAP, Hasselt, Belgium
Andrew Mummery Gallery, London, UK  
1999
Sfeir-Semler Gallery, Hamburg, Germany
S65 Gallery, Art Forum, Berlin, Germany  
1998
Jule Kewenig Gallery, Cologne, Germany 
1997
Galerie Gruppe Grün, Bremen, Germany
Valeria Belvedere, Milano, Italy
1996
S65 Gallery, Aalst, Belgium 
1995
Valeria Belvedere, Milano, Italy
Jule Kewenig Gallery, Cologne, Germany
1994
S65 Gallery, Aalst, Belgium
Albrecht Gallery, Munich, Germany 
1993
P.M.M.K. – Museum voor Moderne Kunst, Oostende, Belgium 
1992
Galerij S65, Aalst, Belgium
Vereniging voor het Museum van Hedendaagse Kunst, Gent, Belgium

Selected Group Exhibitions

2015
Bert de Beul, Elger Esser, Ian Hamilton Finlay, Sfeir-Semler Gallery, Hamburg, Germany
ARTVIEW # 3, Atomium, Brussels, Belgium
2014
Museum to scale 1/7, The Baker Museum, Naples, USA
Museum to scale 1/7, Kunsthal, Rotterdam, The Netherlands
2013
De Modernen. Duo's 2, Koningin Fabiolazaal, Antwerpen, Belgium
Now and Then. The first five countries of ECB's exhibition series, European Central Bank, Frankfurt, Germany
Museum to scale 1/7, Delen Private Bank, Antwerpen, Belgium
2012
Auf Papier, Kewenig Galerie, Cologne, Germany 
2011
Negende Salon, Pianomuseum Maene, Ruiselede, Belgium
Kunstenaarsateliers 2, De Mijlpaal, Heusden-Zolder, Belgium
La part des anges, Villa de Olmen, Wieze, Belgium
The Flemish Sensibility , Flanders House, New York, USA
De Saedeleer revisited / het landschap in de hedendaagse kunst, Gasthuys, Stedelijk Museum, Aalst, Belgium 
2010
Public private painting, Mu.Zee, Oostende.
The Power of drawing, Geukens & De Vil, Antwerpen, Belgium 
2009
Gala.5 Sammler zeigen ihre Favoriten, Museum der bildenden Künste, Leipzig, Germany
Frisch wie am ersten Tag, Peninsula, Eindhoven, The Netherlands
Fading, Museum van Elsene/Musée d' Ixelles, Elsene, Belgium
2008
The ikob collection IKOB, Museum für Zeitgenössische Kunst, Eupen, Belgium MOYA-Museum of Young Art, Vienna, Austria
Accrochage, The Living Room, Amsterdam, The Netherlands
Kunst uit huis IV: Otto L. Schaap. Content Art Consumer, Stedelijk Museum, Schiedam, The Netherlands 
2007
Bert De Beul, Carl Fudge, Julia Jansen,Graeme Todd, Galerij S65, Aalst, Belgium
JUBILEE - Who's got the Big Picture, MuHKA Museum van Hedendaagse Kunst, Antwerpen, Belgium
Bert De Beul. Een keuze uit de verzameling, Modern Chinise Art Foundation, Gent, Belgium
2006
Hadith, Sfeir-Semler Gallery, Beirut, Lebanon
Fünf Jahre Galerie S65-Köln , Galerie S65, Cologne, Germany
Stad[s]gezichten. Wouters tot Fabre , Lamot-erfgoedcentrum, Mechelen, Belgium 
2005
Accrochage, The Living Room, Amsterdam, The Netherlands
MUHKA Museum van Hedendaagse Kunst Antwerpen, The Netherlands
2004
Works on Paper, S65 Gallery, Cologne, Germany
About Painting", The Tang Teaching Museum and Art Gallery at Skidmore College, Saratoga Springs, USA
Landschaften, Galerie S65, Colgne, Germany
Vanitas, Eitelkeit van de ijdelheden, IKOB-Internationales Kunstzentrum Ostbelgien, Eupen, Belgium
2003
The Ambiguity of the Image. Belgian Art Now, Art Athina, Helexpo, Athens, Greece 
Versus 2003, architectuur/kunst, Spinnerij Gevaert, Oudenaarde, Belgium
2002
Guide to Trust No. 2, Yerba Buena Center for the Arts, San Francisco, USA
De Hofvijver in poëzie en beeld, Kunstpassage in Rijksmonument, Den Haag, The Netherlands  
2001
Still/Life, Transformaties van een genre, Museum Rockoxhuis, Antwerpen, Belgium
DIN ART 4 – 560 Künstler und 1 Formular, Museum für Kommunikation, Frankfurt, Germany
Kunstgaleries in Aalst van '68 tot vandaag, Belfort, C.C. De Werf, Stedelijk Museum, Aalst, Belgium Het Versluierd Beeld, Provinciaal Centrum voor Beeldende Kunsten – Begijnhof, Hasselt, Belgium
MUHKA te gast, de keuze van Florent Bex, De Beyerd, Breda, The Netherlands
Hedendaagse kunst in Limburgse Verzamelingen/25 jaar CIAP-Kunstuitgave (1976-2001),C.C. de doos, Hasselt, Belgium
2000
Schafft Land! 14 Positionen zur Landschaft, Stadtmuseum Siegburg, Germany
Contemporary Art from Belgium,European Central Bank, Frankfurt, Germany  
1999
L´hoggidì overo gli´ingegni moderni non inferiori à passati, Fondzione di Studi di Storia dell´Arte Roberto Longhi, Florence, Italy  Zich ophouden bij, Hallezalen van het belfort, Bruges, Belgium
Dialogen met het waarneembare, De vierkante zaal, Academie voor Schone Kunsten, Sint-Niklaas, Belgium
Les Adieux, Galerie Jule Kewenig, Frechen-Bachem, Cologne, Germany
1998
Gegenstand, Sfeir-Semler Gallery, Kiel, Germany
1997
Nature morte??, Museum Vander Kelen-Mertens, Leuven, Belgium  
1996
Stepping Out, Andrew Mummery/ 33 Great Sutton Street, London, UK
Above/Below the Surface, MUHKA-Museum van Hedendaagse Kunst, Antwerpen, Belgium
Nykytaiteenmuseo-Museum of Contemporary Art, Helsinki
1995
Confrontaties, Musée d'Art moderne et d'Art contemporain, Liège
1993
Denkbild und Wirklichkeit, BASF-Feierabendhaus, Ludwigshafen, Germany
Documenta-Halle, Kassel, Germany
MUHKA-Museum van Hedendaagse Kunst, Antwerpen, Belgium