Barbara Camilla Tucholski
Barbara Camilla Tucholski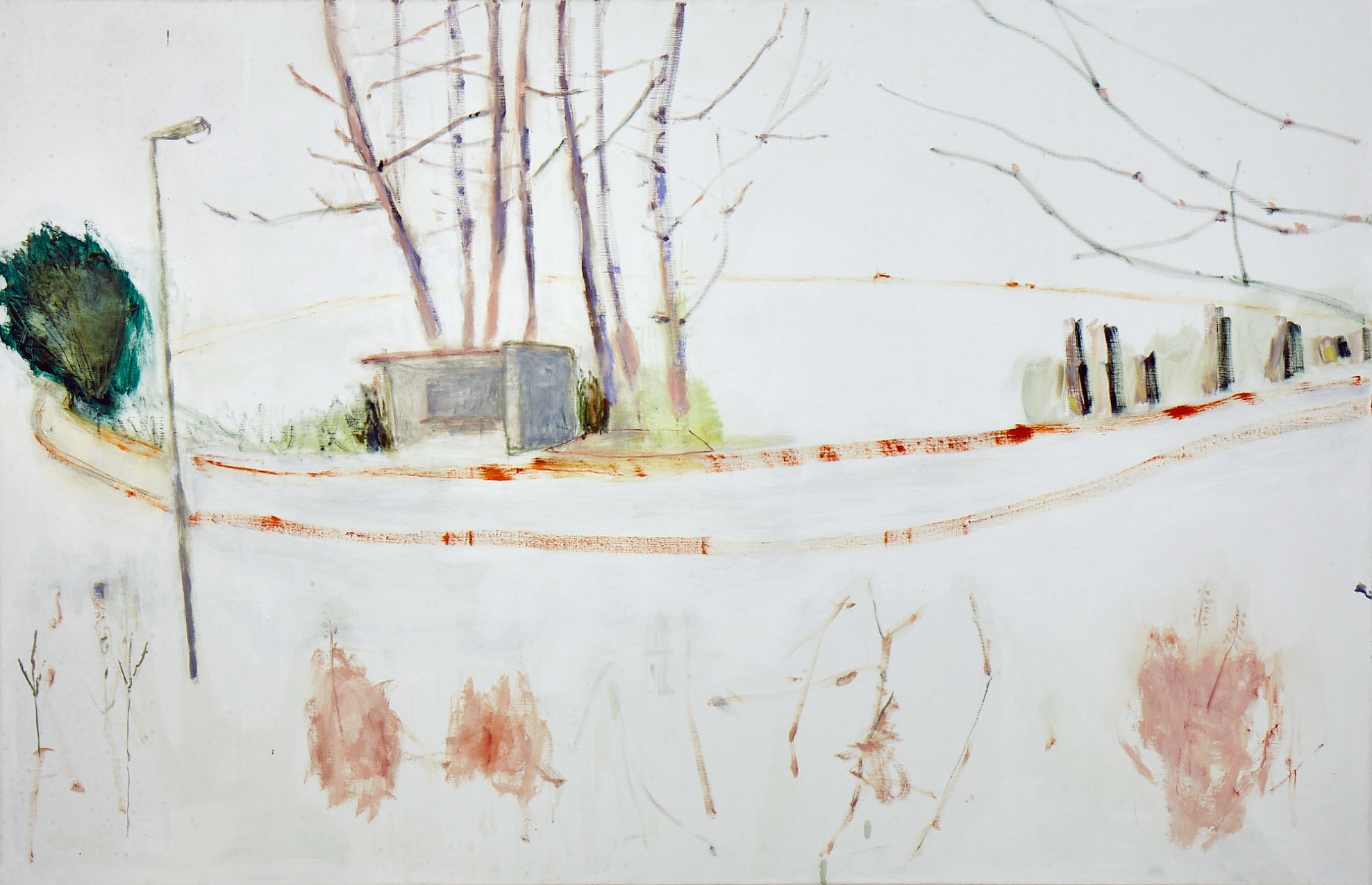 Street II, 2015
 
Barbara Camilla Tucholski (b* 1947, Loitz) lives and works in Oevelgönne, Vienna and Rome. Tulcholski studied at the Academy of Fine Arts Düsseldorf followed by studies of art history, philosophy and German philology in Bonn. From 1989 until 2013 Tucholski had a professorship in the arts at the University in Kiel.
In her paintings and drawings Tucholski shows a delicate observation of her surroundings. She encounters her motifs with caution and precision. Her motifs and objects of visual research are mostly sites that are closely tied to her biography like her native town or places of residence. Again and again she depicts the same street or flight of stairs or transitory space applying different perspectives or angles. Tucholski paints and draws her works on site what accounts for their subjective narrative and breezy impression. 
Tucholski has partaken in many national and international exhibitions in museums and galleries since the late 1980s. Her works are represented in several public collections, for example the Albertina Vienna, Graphische Sammlung Städel Museum Frankfurt, Kunstmuseum Bonn, Städtische Graphische Sammlung Munich or the Staatliche Kunstsammlung Dresden. In 2015 Tucholski won the Egmont-Schaefer-Prize for Drawing.
Selected Solo Exhibitions

2016

Egmont-Schaefer-Preis für Zeichnung, Galerie Parterre, Berlin

2015
Straßen, Sfeir-Semler Gallery, Hamburg, Germany 
2011
Im Schloss meiner Erinnerung, Zeichnungen und Bilder, Galerie Werner Klein, Cologne, Germany 
2010
Im Schloss meiner Erinnerung, Sfeir-Semler Gallery, Hamburg, Germany 
2015
Straßen, Sfeir-Semler Gallery, Hamburg, Germany 
2009
Loiter Kunstverein, Loitz, Germany
2006
Landesmuseum Gottorf, Germany 
2005
Casa di Goethe, Rome, Italy  
2004
Kunstverein Freiburg, Germany  
2003
Sfeir-Semler Gallery, Hamburg, Germany
2001
Joachim Blüher Gallery, Cologne, Germany  
2000
Albertina, Vienna, Austria
Kunstmuseum Düsseldorf, Germany  
1999
Sfeir-Semler Gallery, Hamburg
1998
Kunstverein Göttingen, Germany  
1997
Sfeir-Semler Gallery, Kiel, Germany
Marianne Grob Gallery, Berlin, Germany
Kunsthalle Rostock, Germany
1996
Marianne Grob Gallery, Lucerne, Switzerland
Sander und Ebert Gallery, Darmstadt, Germany
1995
Joachim Blüher Gallery, Cologne, Germany
Städtische Galerie Würzburg, Germany
Sfeir-Semler Gallery, Kiel, Germany  
1994
Marianne Grob Gallery, Berlin, Germany
Janine Mautsch Gallery, Cologne, Germany
Sfeir-Semler Gallery, Kiel, Germany
1992
Ostholstein-Museum, Eutin, Germany
Sfeir-Semler Gallery, Kiel, Germany
1990

Kunstverein Bonn
Kunstverein Ulm, Germany

1989
Sfeir-Semler Gallery, Kiel, Germany
Kunsthalle zu Kiel, Germany  
1988
Tomelilla Konsthall, Sweden
Eberhard Mönche Gallery, Berlin, Germany  

Selected Group Exhibitions

2020

Neu aufgestellt, Kunstmuseum Villa Zanders, Bergisch Gladbach, Germany

paysages dans la ville, Musée Boucher-de-Perthes, Abbeville, France

2019
Flugblätter, Clay Street Press, Cincinnati, Ohio, USA
2018

Fünf Positionen der Gegenwart in Mecklenburg-Vorpommern, Kunstsammlung Neubrandenburg, Germany

2016

Zeichnungsräume II, Hamburger Kunsthalle, Galerie der Gegenwart, Hamburg, Germany

Interieur - Die Abwesenheit der Dinge, Museum Schloss Agathenburg, Germany

2015
Gallery 3010, Sfeir-Semler Gallery, Beirut, Lebanon
2014
Menschen, Tiere und Kanonen, Kunsthalle Rostock, Germany
2010

Je mehr ich zeichne, Museum für Gegenwartskunst, Siegen, Germany

innenaussen, 4. Biennale der Zeichnung, Kunstverein Eislingen, Germany

2009
Die Gegenwart der Linie, Pinakothek der Moderne, München, Germany
2008
Kunstsammlung Schwerin, Germany 
2003
Anniverasy exhibition, FRAC Amiens, Picardie, France  
1997
Sammlung Hanck, Kunstmuseum Düsseldorf, Germany
Stadtgalerie im Sophienhof, Kiel, Germany
Kunstverein Braunschweig, Germany
1996

Ostsee-Biennale, Kunsthalle Rostock, Germany
Darius Collection, Rotterdam, The Netherlands
Kunstverein Baselland, Sissach, Switzerland

1995
Joachim Blüher Gallery, Cologne, Germany
La Nuova Europa, Venice, Italy
1994
Stockholm, Modern Museum, Sweden  
1993
Kunstverein Weserburg, Bremen, Germany
Stockholm 'Mare balticum', Sweden
Konsthall Nortäglje, Sweden
Konsthall Sandviken, Sweden  
1992
Jöllenbeck Gallery, Cologne, Germany  
1990
Kunstverein Plön, Germany  
1988
Hohenfelde Gallery, Hamburg, Germany  

Awards

2015
Egmont-Schaefer-Preis für Zeichnung