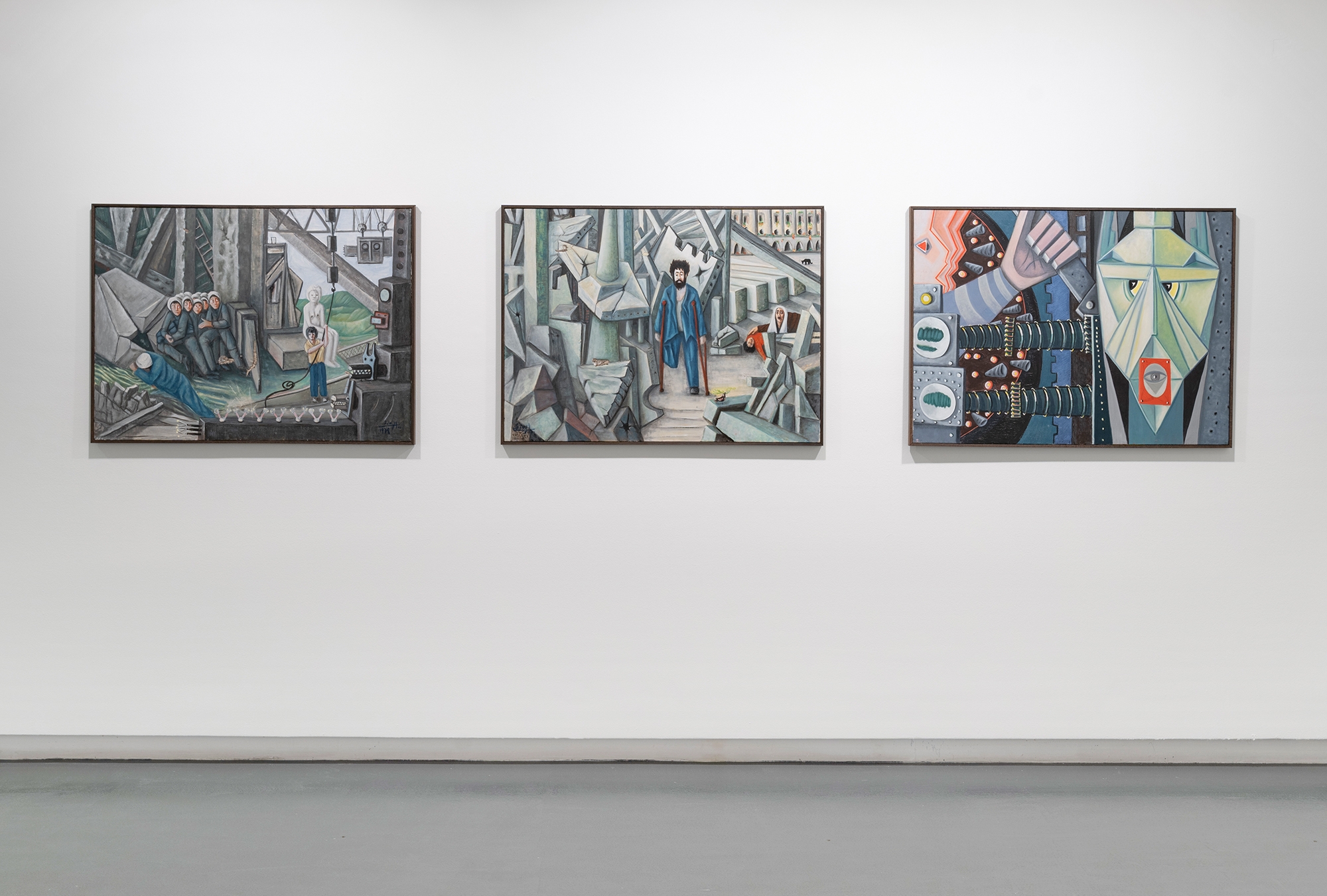 Sharjah Art Foundation, 2022
Born in Aley (Lebanon) in 1928, Aref El Rayess started painting at the age of eleven. In 1948 his first exhibition was held in Beirut with the support of the journalist Arlette Levy, the artist Georges Cyr, the art critic Victor Hakim and the Head of the French Institute of Archaeology Henry Seyrig.
From 1948 to 1957 El Rayess travelled between Senegal and Paris where he studied art at the Academy of Fine Arts, and the free studios of Fernand Leger, Andre Lhôte, and La Grande Chaumière among others. In 1957 he returned to Lebanon and opened a studio and an atelier of Aubusson tapestries with the Canadian Roger Caron. In 1959 after an exhibition at the Italian Cultural Centre he was offered a scholarship to study in Italy. He spent four productive years between Florence and Rome; and in 1963 the Lebanese government commissioned him to produce two sculptures to represent Lebanon at the New York World Fair. El Rayess spent two years in the USA meeting with Expressionists painters and intellectuals.
In 1967 he returned to Lebanon, marked by the events in the Arab World. He was a Founding member of the Fine Arts Department at the Lebanese University where he taught, and Dar el Fan (The House of Art and Culture) with his close friend Janine Rubeiz. From that moment on, El Rayess organized, attended and participated in conferences and exhibitions on politics and arts in the Arab World. In 1972 he published a manifesto titled With Whom and Against Whom. In 1975 he was invited to Algeria where he produced a series of drawings depicting the Lebanese civil war, published as the book The Road to Peace; and in 1978 he participated in the International Art Exhibition in Solidarity with Palestine. He started working in Saudi Arabia around this time, where he produced around 13 sculptures between Jeddah, Tabuk and Riyad. He stayed in Jeddah until 1987 and returned to Aley, Lebanon, in 1992, where he lived until he passed away in 2005.

Selected Solo Exhibitions

2023
Paintings from 1999, Sfeir-Semler Downtown, Beirut
Works 1957 – 1978, IVAM, Institut Valencià d'Art Modern, Valencià, Spain
2022
Works 1960 – 1988, Sfeir-Semler Gallery, Hamburg, Germany
Sharjah Art Foundation, Sharjah, UAE
2021
Paintings, sculptures, collages, drawings, Sfeir-Semler Gallery, Beirut, Lebanon
2002
Espace SD, Beirut, Lebanon
2000
UNESCO, Beirut, Lebanon
1998
French Cultural Centre, Beirut, Lebanon
Caves de France, Beirut, Lebanon
1995
French Cultural Centre, Beirut, Lebanon
1976
Galerie Racim, UNAP, Alger, Algeria
1974
Arab Cultural Centre, Syria
Dar el Fan, Beirut, Lebanon
1970
Dar el Fan, Beirut, Lebanon
1969
Damascus National Museum, Damascus, Syria
1968
Galerie L'Orient, Beirut, Lebanon
Dar el Fan, Beirut, Lebanon
1965
Galeria Excelsior, Mexico
1963
La Licorne, Beirut, Lebanon
1961
Galeria d'Arte del Palazzo delle Esposizioni, Italy
1958
Italian Cultural Centre, Beirut, Lebanon
Alecco Saab, Beirut, Lebanon
1957
Foyer Franco-Libanais, Dakar, Senegal
1948
AUB, Beirut, Lebanon


Selected Group Exhibitions

2023
Beirut and the Golden Sixties, Mathaf: Arab Museum of Modern Art, Doha, Qatar
2022
Beirut and the Golden Sixties: A Manifesto of Fragility, Gropius Bau, Berlin, Germany
Manifesto of Fragility, 16th Lyon Biennale of Contemporary Art, Lyon, France
2003
24th Salon d'Automne, Sursock Museum, Beirut, Lebanon
2000
International Symposium of Sculpture, Aley, Lebanon
1995
Salon d'Automne of UNESCO, Beirut, Lebanon
1978
The International Art Exhibition in Solidarity with Palestine
1975
22nd Salon de Peinture et de Sculpture, UNESCO, Beirut, Lebanon
1974
Lebanese Council, Tubingen, Germany
1972
Centro d'Arte La Baracaccia, Italy
Contemporary Arab Art, Iraq
 1966-67
6th Salon d'Automne, Sursock Museum, Beirut, Lebanon
 1965-66
5th Salon d'Automne, Sursock Museum, Beirut, Lebanon
 1966
International Exhibition of Sculpture, Musee Rodin, Paris, France
 1964-65
New York World's Fair, Lebanese Pavilion, USA
 1963
La Feluca, Italy
 1962
Galeria Nazionale d'Arte Moderna, Italy
Galeria Numero, Italy
 1961
Galeria Numero, Italy
 1959-60
3rd Biennale of Alexandria, Egypt
 1959
1st Biennale of Paris, France
 1957-58
2nd Biennale of Alexandria, Egypt
 1957
6th Salon de Peinture et de Sculpture, UNESCO, Beirut, Lebanon
 1956-57
Salon d'Automne of UNESCO, Beirut, Lebanon


Awards

 1965-66
Prize of Sculpture & Painting, Salon d'Automne, Sursock Museum, Beirut, Lebanon
 1964
1st Prize of Sculpture, Lebanese Ministry of Public Works
 1957
Prize of UNESCO


Public Collections

 
Sursock Museum, Beirut; Barjeel Art Foundation, Sharjah; Saradar Collection, Beirut;  Lebanese Ministry of Culture, Beirut;  UNESCO, Paris;  Musee Public National des Beaux-Arts, Alger