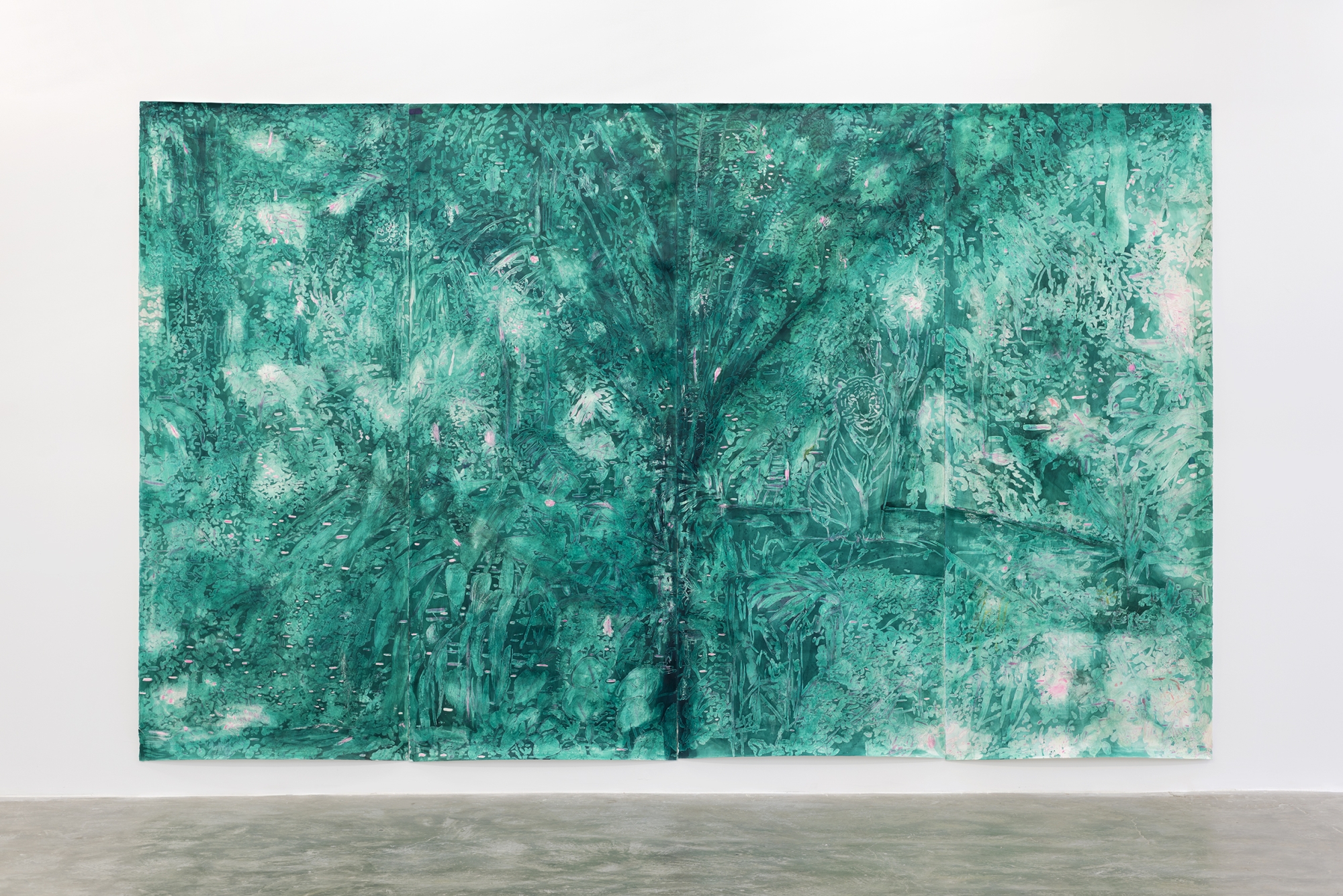 Ania Soliman, Sfeir-Semler Gallery Beirut, 2022 

Ania Soliman is an Egyptian, Polish, and American artist who grew up in Baghdad, and currently lives in Paris. She makes large scale drawings based on digitized imagery and archival material, while also working with text, performance, video and installation.
Her research-based practice focuses on processes of translation between different cultures and their representations. She is especially interested in how this determines our relationships, both real and imaginary, between nature and technology.
Through processes of tracing, desaturating, smudging, coloring, and embellishing, she transforms source materials into layered drawings that often repeat a motif since they represent the action of conflicting ideas working themselves out. Her works function as icons for unconscious negotiations between our bodies and the culturally determined languages that occupy our minds.
Ania Soliman's work has been exhibited at Kunsthaus Bregenz (2020), the Drawing Center in New York (2020), Castello di Rivoli, Turin (2018), the Museum der Moderne in Salzburg (2016), the Museum of Contemporary Art at Antwerp (2015), the Whitney Biennial (2010), the 14th Istanbul Biennial (2015), the Museum der Kulturen in Basel (2014), among other venues, and she has recently done lecture-performances at the Global Art Forum in Dubai and Singapore. She attended Harvard College and Columbia University before participating in the Whitney Independent Study Program. In 2010 she was awarded the Laurenz-Haus residency in Basel, Switzerland.  
Selected Solo Exhibitions

2022
terraform, Sfeir-Semler Gallery Beirut

2017

Explaining Dance to a Machine

, Galerie Sfeir-Semler Hamburg

2015

Inside the Thing is Nothing

, Salt Walter, 14th Istanbul Biennial, Pera Museum, Istanbul

2014

Semiwild

, Museum of Cultures, Basel

2010

Body Riot

, Bollag Project Room, Basel

2000

Biohazards

, The Drawing Center, New York


Selected Group Exhibitions

2021
100 Drawings from now, Drawing Center, New York, USA
2020
Unprecedented Times, Kunsthaus Bregenz, Bregenz, Austria
WHERE THE LEMONS BLOOM…, Sfeir-Semler Gallery, Hamburg, Germany
2019
Age of You, Museum of Contemporary Art Toronto, Toronto, Canada
2018
Metamorphoses - Let Everything Happen to You, Castello Di Rivoli, Italy

2016

BLIND DATE

, Sfeir-Semler Gallery Beirut




1000m2 of desire

, Center of Contemporary Cultura, Barcelona




Art-Music-Dance

, Museum of Contemporary Art, Antwerp

2015

Lodgers

, MUHKA, Museum of Contemporary Art, Antwerp

2012

Nos hicimos la ilusion de avanzar directamente

, Espai Cultural, Caja Madrid, Barcelona

2010

David Adamo and Ania Soliman

, Nelson Freeman Gallery, Paris




Whitney Biennial

, Whitney Museum of American Art, New York

2008

HYBRID III: Eurographic, a Cultural Bridge Across Europe, Cartwright Gallery, Bradford, England

2006

Salad Days

, Artists Space, New York




When artists say "WE"

, Artists Space, New York

2002

Inscribing the temporal

, 3 New York artists' collectives, Kunsthalle Exnergasse, Vienna




25th Anniversary Exhibition

, The Drawing Center, New York


Awards and Residencies

2015

Adam Mickiewicz Foundation




AIR Antwerp / MUHKA

2009

Laurenz Foundation Residency, Basel

2005

Skowhegan Residency

1999

Independent Study Program at the Whitney Museum of American Art